The New MLB Playoff Expansion Is the Dumbest Move in Sports History
March 2, 2012

With the announcement of Major League Baseball's new playoff expansion comes the addition of two more playoff teams.
Instead of one wild-card team from both leagues, the 2012 season will now feature two from both the American and National Leagues. 
Many fans are thrilled to think that their favorite teams now have that much more of a chance to make it to the postseason. 
Teams that have not seen the postseason in years can now smile and think this may enable them to reach the playoffs.
You would assume that I, myself being a Chicago Cubs fan would be thrilled.
My cursed Chicago Cubs now have greater odds to make the post season.
However, I am not thrilled one bit. Nor should any fans be!
This move by Major League Baseball is the most dumbfounded move in professional sports history!
A) A One Game Playoff  
First off, a one game playoff between two wild-card teams to decide who will move on to the Division Series is a slap in the face to the sport of baseball. 
After a 162-game season, two playoff qualifying teams to play one single game is completely ridiculous.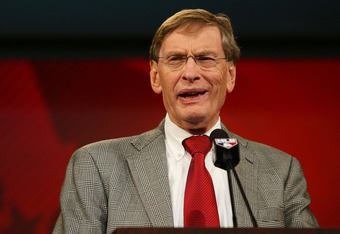 The two Wild Card teams from each League should at least be playing in a best-of-five series against each other with the winner of that series moving on to the Division Series!
A series between the two Wild Card winners would allow for a proper bye for the division winners! A bye that is an earned virtue of winning their respective divisions.
B) A Better Record Means Nothing!
Having a winning record should be respected in sports. MLB's new playoff system is completely disrespecting this. 
Let's use Tampa Bay and Toronto for an example. 
Say the 2012 season ends with Tampa Bay at 88-74 and with Toronto at 81-81.
With this, the wild-card standings end with Tampa Bay as the first wild-card team and Toronto as the second wild-card team.
You're somehow going to say that Tampa Bay winning seven games more than Toronto means nothing!
The fact that Toronto could win one road game and advance to the Division Series is a complete injustice to the first wild-card team!
Or imagine the first wild-card team being better than the second wild-card team by 10 or even 15 games, then losing a one game playoff to the second wild card team.
It's a slap across the face to teams throughout the league.
Overall, the idea of adding a wild card team to each league is awesome!
But the new format is the dumbest playoff format in all of professional sports.