Tiger Woods Honda Classic: Day 2 Score Is a Sign That Tiger Is on the Prowl
March 2, 2012

Mike Ehrmann/Getty Images
The weekend is approaching, and as he tends to be, Tiger Woods is back on the prowl.
Down seven strokes going into day three of the Honda Classic, Woods had his best round yet today, shooting a 68 after having a relatively bad 71 on day one.
As it stands, Woods is currently sitting tied for 32nd on the board, but his two-under day at Palm Beach Gardens was a promising result that could help propel him back into the top 10 after day three is all said and done.
While he has been making some serious strides since his game collapsed, Woods has continued to fight an uphill battle back to the top spot of the PGA Tour.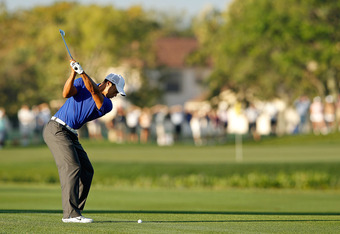 Mike Ehrmann/Getty Images
He currently is ranked 75th and will likely steadily make his way up the charts with solid outings. Not to mention, the PGA's standings are so fluid that Woods can make a comeback much quicker than one would expect.
Woods' day two score isn't the best that we have seen in this tournament, but his ability to break par is a big step forward in shooting up the standings with the final two days ahead.
His short game is going to have to really step up, even considering Woods had five birdies on day two. Fact is, he had a double bogey on a par three, as well as another bogey on a par four. That is destined to happen, but he can't make those silly mistakes through the final two days.
When his eyes are set on the weekend, one thing Woods has shown us over and over again is that he doesn't quit until it is over.
He may be sitting relatively far back right now, but that isn't going to stop the former world No. 1 from trying to break through in days three and four.
The final days are always more exciting when Woods is in the chase, and if he continues to play better each day, we just may see him fighting his way to the top.
Jeff Chase is a Featured Columnist for the Chicago Cubs and Arizona State football.
Follow @Real_Jeff_Chase