Jerry Sandusky Scandal: Prosecutors Release Ugly Details of Awful Case
March 2, 2012

Mark Wilson/Getty Images
New details of the sordid Jerry Sandusky story have been released and they are just as ugly as those fact we already know. 
Mike Dawson of the Centre Daily Times reports on information released via the bill of particulars given to Sandusky's lawyers by prosecutors. 
The information is plentiful and paints a dark picture, which is par for the course on an unfolding tale that is among the worst in sports history. 
The bill issues that six of the 10 accusers were abused within the home of Sandusky and the ages range from eight to 17. 
The report issues eight of the boys were abused on campus as well. Places like Penn State's Lasch Building, the East Area Locker Room, an outdoor pool and on-campus dorms were all cited as locations. 
The report then lists each victim and the particulars of their allegations. Here are some of listed by Dawson in his report. 
Victim 1: The boy, who was 11 to 15, was allegedly abused between 2005 and 2008 at Sandusky's home, as well as an unspecified hotel near Sandusky's home and the alleged victim's school in Clinton County.

Victim 2: McQueary testified in December that he happened upon Sandusky and a young boy in a locker room shower...he didn't see intercourse but thought because of how close they were positioned that it was sexual in nature.
The second victim is the one most heavily cited and the one that former Penn State assistant coach Mike McQueary happened upon in a locker room. 
Victim 8: This allegation stems from a janitor's report that he saw Sandusky performing oral sex on a young boy in the Lasch Building. Prosecutors wrote it occurred on a Thursday or Friday evening in November 2000 in the assistant coach's locker room. The boy is believed to have been between 11 and 13 years old and his identity is unknown, according to prosecutors.
In an interview with Bob Costas, this is brought up and Sandusky denies it happens. Costas then asks how someone could mistake this sight and Sandusky answers with, "You have to ask them."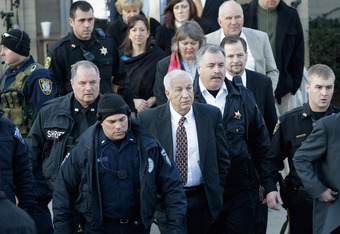 Rob Carr/Getty Images
Nothing released on Thursday was revolutionary and were—for the most part—things that we could have speculated might be uncovered at some point.
What they do show is the wide swath of awfulness that Sandusky is alleged to have committed. The ages encompass boys at nearly every stage of childhood development.
The stage of these alleged horrors took place at everywhere from Sandusky's home and the Penn State campus, to as far way as Tampa for the Outback Bowl and San Antonio for the Alamo Bowl.
What this information does tell us is Sandusky is alleged to be quite the confident monster, operating with free reign to do what he wanted, wherever he wanted.
None of this news is all that shocking because we have come to expect the worst when it comes to the Sandusky scandal—and that is what continues to be given.