Philadelphia Eagles: 5 Reasons Michael Vick Will Dominate the NFL in 2012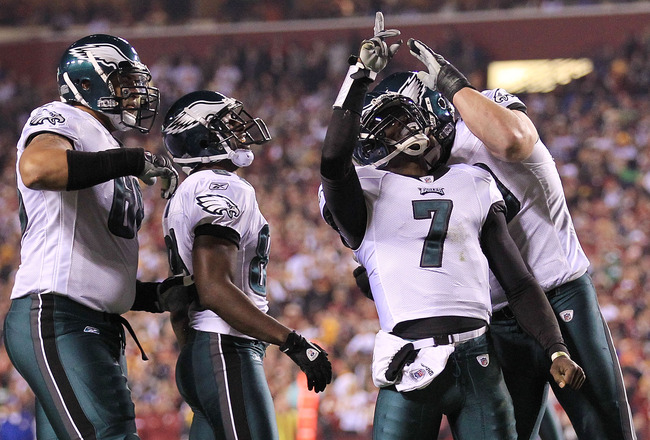 Chris McGrath/Getty Images
Michael Vick is coming off somewhat of a down year in 2011, but he will dominate for the Philadelphia Eagles in 2012.
I've already written a couple of articles on Vick's prospects for the upcoming season. I wrote why he would fail and followed up by naming things he could do to improve and bounce back. Now I'm finally going to have some fun and write about why he's going to be dominant starting this fall.
This season, the NFL's most electrifying player will not only bounce back from a disappointing 2011, he will meet or surpass his 2010 performance. Here's why.
More Cohesive Offensive Line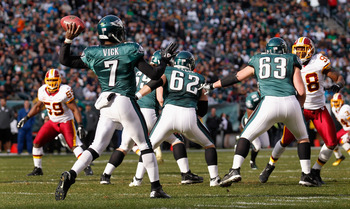 Rob Carr/Getty Images
A lot of Michael Vick's failures last year—his turnovers and injuries, to name the main ones—were a direct result of the failures of the offensive line.
Without the normal offseason, the offensive line was unable to gel until later in the year. Welcoming in first-round pick Danny Watkins was difficult, and the unit had a new coach in Howard Mudd following the promotion of Juan Castillo to defensive coordinator.
But the line did get better over time, and wasn't a huge problem by the end of the season. Given a full offseason, they will be more prepared for the start of the season and better suited to protect Vick.
This will give Vick more time to make decisions and avoid costly interceptions. He won't have to run as much, which will help him cut down on his fumble total. And most importantly, his risk of getting injured will be lower because he won't be pressured all the time.
An improved offensive line will no doubt be the biggest difference maker in Vick's performance, and it will allow him to escape a lot of the problems he had in 2011. When he's given time to stand in the the pocket, Vick is unstoppable.
Improved Defense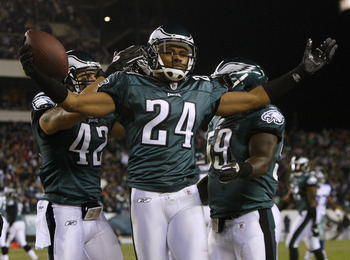 Rich Schultz/Getty Images
Why does an improved defense have anything to do with Vick dominating?
First and foremost, he won't feel pressured to make up for the defense's mistakes as he had to do too often last year. 2011 will be remembered as a year when the Eagles couldn't close out wins, but what you probably didn't know is that they started out behind in five of the eight losses. In the six games that Vick started in, they were behind at the half in four of them.
While he was often able to get the team into the lead by the fourth quarter, he just as often struggled in the first halves. In those four games, Vick either fumbled or threw an interception eight times in the first half alone.
Vick had 24 turnovers on the season, so he essentially had a third of his season's turnover total over the course of eight quarters—the equivalent of two games. Having to make up a deficit caused Vick to make too many risky throws and extend plays when they just needed to end.
In 2012, the defense will be in a similar situation as the offensive line. They will be able to relearn the system put in place by a now second-year coach, and the 2011 additions will be better prepared for the season. Like the offensive line, the defense improved greatly over the course of 2011, which shows that they just needed time. Now they have that.
Having a better defense will not only make Vick more comfortable early in games; it will allow him to have the ball for a larger portion of the game. That translates to bigger and better stats, the thing people always look to when determining dominance. This is also why he'll have the opportunity to surpass his 2010 numbers. The way I see it, 2012's defense will be much better than any the Eagles have had in recent memory.
Dangerous Rushing Game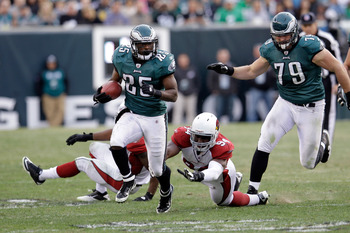 Rob Carr/Getty Images
LeSean McCoy's breakout 2011 earned him the FedEx Ground Player of the Year Award and will help the Eagles' offensive balance greatly in 2012.
Now, opposing defenses will have to focus on stopping McCoy in addition to Vick's running and passing threats. That will leave open more passing windows for Vick, and he will be able to hit them while standing behind a stronger offensive line.
It's a great addition to an already explosive offense. DeSean Jackson's deep threat ability stretches the field, while Vick's rushing threat forces a linebacker to spy during the play. With McCoy, opposing teams can't set up pass defense before the play all the time either. That's got to keep defensive coordinators up at night.
Still Has His Playmakers*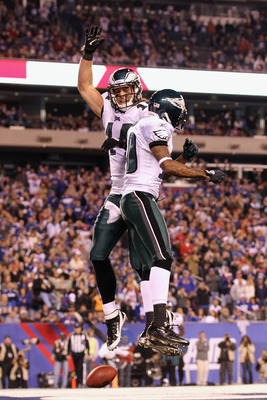 Al Bello/Getty Images
The asterisk is obviously in reference to DeSean Jackson, who may be traded at any point this offseason. He was given the franchise tag, and despite claims from Eagles management that they're happy to have Jackson back, there is still much speculation that he will be playing somewhere else in 2012.
For the sake of argument, however, let's say that the Eagles realize how essential Jackson is to the team's success and keep him around for 2012. With a bigger contract, all of the effort issues from 2011 will be gone and Jackson will be back to a Pro Bowl level of play.
As I mentioned in the previous slide, Michael Vick will have a ton of playmakers around him who specialize in different things. His receivers can be a bit inconsistent at times, but there are few receivers in the NFL that don't drop a pass every once in a while. It's something that teams must live with, and something that can be combated by repetition and focus.
Jackson is the speed guy that stretches the field and gives Vick the big-play option. Jeremy Maclin and Brent Celek each have the ability to go deep, but will mostly take advantage of the holes left open by Jackson's threat. And LeSean McCoy is a great screen passer or checkdown option.
In a perfect world, the Eagles would have a big red-zone target for Vick to throw to as well. With Plaxico Burress expressing interest in coming to Philly, that doesn't seem like much of a long shot either. They could also fill that role by drafting a guy like Alshon Jeffery if he falls to the second round.
Whatever happens with that, it isn't essential for Vick to be dominant again. What is essential, however, is that the Eagles keep Jackson. With all of the big pieces back for 2012, Vick will be set up for some major success.
Still Has All of His Weapons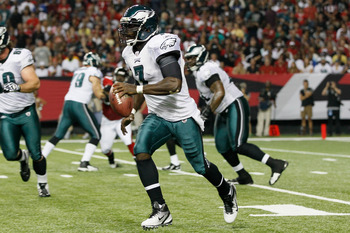 Kevin C. Cox/Getty Images
Michael Vick's skill set makes him the most electrifying player in the game. I also think he has a higher ceiling and upside than any other player, except maybe Cam Newton.
When he's at his best, Vick is unstoppable. He has one of the strongest arms in the game. His accuracy has improved over time. And, oh yeah, he runs like a punt returner. Great acceleration, great speed and great agility.
Put all of that together and you've got a guy that can do whatever he wants on any given play. We saw what he was capable of in 2010, when he set career highs in passer rating, completion percentage, passing yards, passing touchdowns and rushing touchdowns. Keep in mind that Vick wasn't supposed to be the starter coming into the season and it's even more impressive.
Had Tom Brady not been so amazing that year, Vick would have easily won the MVP Award. Some think that he should have won it over Brady anyways. Next season, Vick will have his best chance ever to get the two things missing from his trophy case—an MVP award and a Super Bowl ring. Whether he does that remains to be seen, but he will certainly return to top form and dominate the NFL once again in 2012.
Keep Reading

Philadelphia Eagles: Like this team?