Green Bay Packers 2012 Mock Draft: Buying or Selling Matt Miller's Latest Picks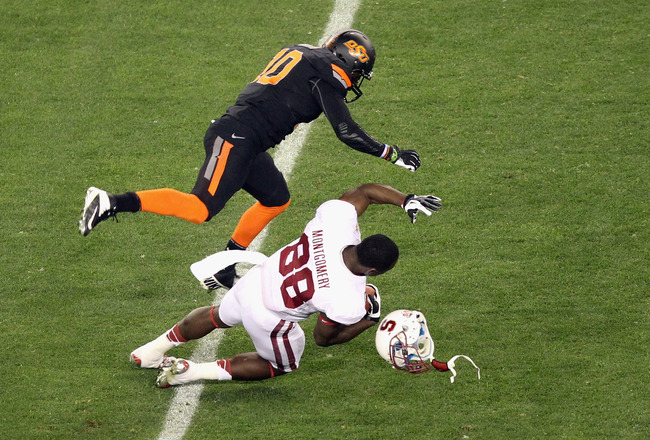 Christian Petersen/Getty Images
This past week, from February 22nd to the 28th, the 2012 NFL Scouting Combine took place.
The only big thing left for these draft prospects is their Pro Days, which will occur on different dates depending on their college.
B/R's lead NFL writer, Matt Miller, has released his latest post-combine mock draft that includes all seven rounds.
It's time to figure out whether to buy or sell on all seven of his picks for the Green Bay Packers.
Note: He has to account for all 32 teams and I only one. Thus, the buy/sell will be based on the players he has left available.
1. Whitney Mercilus, OLB, Illinois: Buy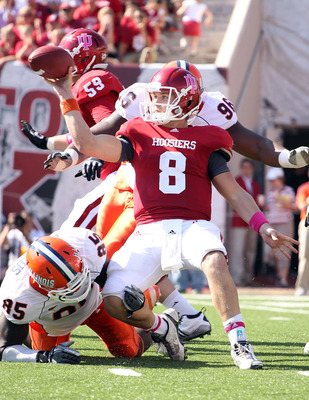 Mercilus is on the ground.
Andy Lyons/Getty Images
It's no secret that Green Bay desperately needs a contribution in terms of pass rush from the outside linebacker spot opposite Clay Matthews.
Mercilus led the NCAA with 16 sacks and is an athletic player who should be an instant upgrade over any OLB the Packers currently have on their roster. He would go a long way in improving this defense.
While it might be difficult passing up a player like Janoris Jenkins or Doug Martin, outside linebacker is one of Green Bay's top two needs.
This is a good pick here.
2. Jared Crick, DE, Nebraska: Sell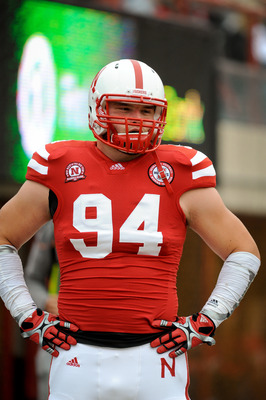 Eric Francis/Getty Images
I'm not completely sold that Jared Crick should be a second-round pick.
Coming into the year, Crick was a late first-round player. He proceeded to tear his pectoral and then underwhelmed at the Combine.
This might be an alright pick if this were Round 3, but there are much better players on the board.
At this point in the draft, I'd rather take Kendall Reyes from UConn or David Wilson from VT. Reyes is a better defensive lineman while Wilson is the quick running back the Packers lack.
3. Markelle Martin, FS, OKST: Buy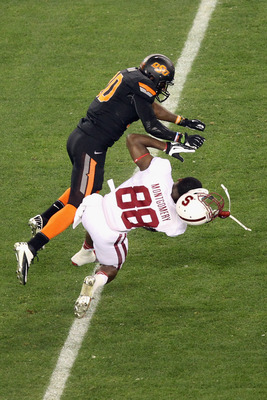 Christian Petersen/Getty Images
With the potential retirement of Nick Collins, Ted Thompson may look to find his next free safety.
That player just might be Markelle Martin, one of the top free safeties in a terribly weak safety class.
Martin is a player who has good instincts in coverage and unleashes vicious hits, such as the one in the picture here during the Fiesta Bowl.
Martin has had some injury problems and is a bit stiff in coverage, but he's arguably the best free safety in this draft class and the Packers would do well to pick him up here.
4. Philip Blake, C, Baylor: Sell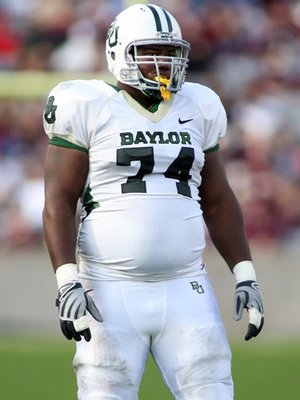 http://cfl.uploads.mrx.ca/league/images/en/inside/2011/03/Philip_Blake_Action_13207.jpg
I like the pick of Philip Blake here; I do. Blake is a big center who anchors well and could surprise a lot of people.
The big problem is that he's 25 years old and not overly quick. He also has average athleticism. Still, at Round 4 I like this pick.
The problem is that Brandon Brooks from Miami (OH) is still on the board. Brooks is a guard who I expect to be drafted much higher than the projected Round 5 Matt Miller has him at.
Brooks is big-bodied and athletic. He also dominated at the Senior Bowl.
With Brooks on the board, Green Bay would have to take him. If not, Blake or a quick RB (if they don't take Wilson back in Round 2) are solid picks.
5. Robert Turbin, RB, Utah State: Buy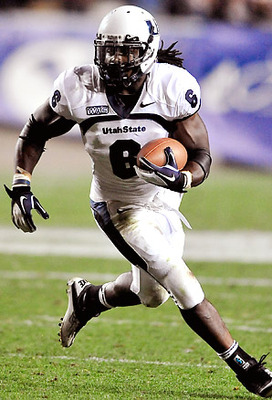 http://i2.cdn.turner.com/si/2011/football/ncaa/12/16/idaho-potato-bowl-preview/robert-turbin-p1.jpg
Buy this pick only if the Packers haven't taken a running back already, as I don't think they'll take two. We'll assume they haven't.
Turbin came into the Combine and looked top-heavy and ripped at 5'10", 222 pounds. Despite his size, he ran a 4.50 40-yard dash at the Combine and really improved his stock.
Turbin has an impressive blend of size and speed that will intrigue NFL teams. However, he has big red flags on his knees and his top-heavy frame doesn't help that.
Still, the Utah State product could see a big rise and be drafted on day two, well before this pick.
6. Matt Reynolds, OT, BYU: Buy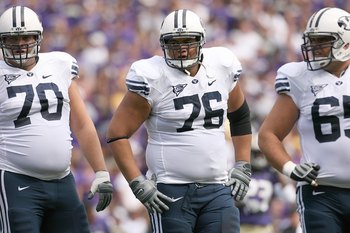 Otto Greule Jr/Getty Images
Like Philip Blake, who we saw earlier, Reynolds is 25 years old, though his older age is due to his religion.
Reynolds doesn't have the potential or athleticism to play on the left side in the NFL, but could move to right tackle or kick inside.
Overall, he's a cerebral, well-rounded player who could be a quality backup if he indeed is able to play guard and tackle.
Ted Thompson could easily go for another late-round defensive lineman here, but there's nothing wrong with this pick.
7. Darron Thomas, QB, Oregon: Sell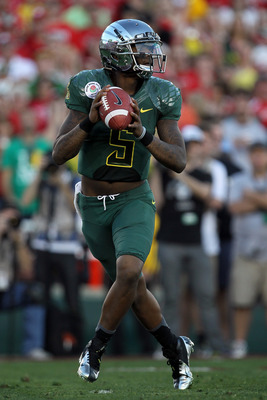 Stephen Dunn/Getty Images
It is likely that the Packers draft and develop a late-round prospect in the sixth or seventh round to compete with newly-signed Nick Hill for their third-string quarterback job.
Thomas made a surprising decision to leave college early, especially when he could use a lot of work on his fundamentals.
He isn't a good enough athlete to make a position switch, which makes his decision more surprising.
GJ Kinne of Tulsa is a good athlete, a better player at this point and a developmental player in his own right. I'd rather have him over Thomas.
Keep Reading

Green Bay Packers: Like this team?