Post-Combine: What the Packers 7-Round Draft Should Look Like Now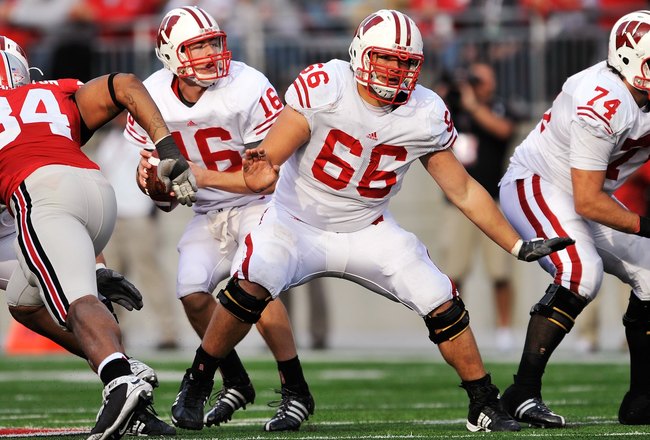 Jamie Sabau/Getty Images
It's that time of the year again.
The NFL Scouting Combine has concluded and the NFL draft is a little under two months away. General managers around the league are taking care of their draft boards -- dotting their i's and crossing their t's.
Writers around the country are also running out of material and turning to the always faith mock draft to fill their columns.This writer is no different from the norm.
A few notes about the upcoming draft selections.
Firstly, picks will be made based on where I believe players will go. Because of the combine, some players are jumping into new rounds, while others are falling into lower rounds. I am not going to project a player like Nick Perry to the Packers in the 1st, mostly because I feel as if his stock has driven him out of Green Bay's reach.
Secondly, I will be mocking compensatory selections as well. The Packers have two or three extra picks headed their way for players who departed in free agency last off season. The official order and selection(s) have not yet been announced by the league office, but I will be doing my best to project those selections.
It's time to get my mock on...
Round 1, Pick 28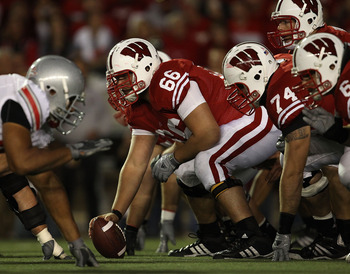 Jonathan Daniel/Getty Images
Peter Konz | Center | Wisconsin
Konz's stock has been on a roller coaster over the last 3-4 weeks.
Not so long ago, very few projected him as a first-round pick. However, after the Packers decided to let Scott Wells walk, Konz's stock began to rise.
Scouts were looking at him as a mid 1st selection because of his ability to anchor the line, and for his strength and power to eat up defenders in both the run and pass game.
And then, unfortunately for Konz, he showed up at the NFL Scouting Combine. He couldn't muster even 20 reps on the bench press, and all the doubters began to come out of the wood work. His stock took a dive once again, this time, right into the lap of Packers GM Ted Thompson.
This pick becomes a necessity with the absence of Wells, and the lack of depth at the position on the roster currently.
Round 2, Pick 28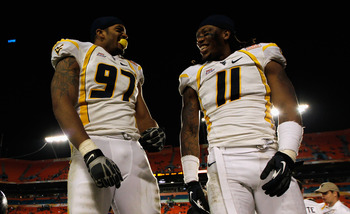 Streeter Lecka/Getty Images
Bruce Irvin | OLB | West Virginia
The Packers struggled mightily on defense last year. One of the main reasons: the uncharacteristic lack of a pass rush.
Irvin would come in and fix that instantly. He had a great combine and has solidified himself as a 2nd round selection.
He is a little raw as an all-around player, but gets off the line incredibly quickly and knows how to get to the quarterback. He reminds me a little of Aldon Smith from a year ago as far as his raw athletic ability.
Round 3, Pick 28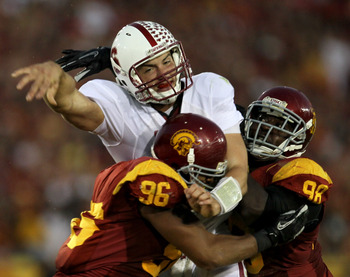 Stephen Dunn/Getty Images
DaJohn Harris | DT / DE | Southern California
With the lack of pass rush still on their minds, the Packers will look to bulk up their defensive line.
While players like Jairus Wynn and Mike Neal are far from bad players, neither possesses the ability to rush the passer, which the team lacks completely. Not only that, but fellow starting DE Ryan Pickett is getting older and can't possibly have more than a couple of years left in him.
Harris has a lot of potential as both a pass rusher and a run stuffer. He has good size for the position, and could be a force in the trenches. He has some consistency issues as far as his stance and play style go, but it's nothing that can't be fixed.
He has a ton of upside long-term.
Round 4, Pick 28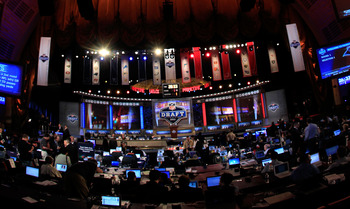 Chris Trotman/Getty Images
*** Projected Trade ***
With the possible addition of an NFL maximum four compensatory selections, the Packers are going to be willing and able trade partners.
If the Packers play their cards right, they could end up with a 3rd round selection in the 2013 NFL Draft.
Just the way Ted Thompson likes to operate.
Round 4, Pick 33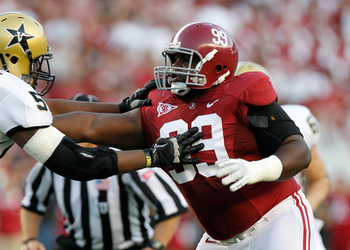 Kevin C. Cox/Getty Images
*** Projected Compensatory Selection ***
Josh Thompson | DT | Alabama
Thompson is a strong and powerful body who can dominate the point of attack. He is nearly immovable, and eats up blocks like Garfield eats lasagna.
He has some questions, medically speaking, that have been largely unanswered. However, the Packers rarely pass on great talent for any reason.
Thompson would largely work behind NT BJ Raji, with his skill set. Green Bay's primary backup at NT, Howard Green, is aging and is not expected to return to the Packers. Raji has played an alarming number of snaps the last two years, and as a result looked absolutely exhausted for much of the Packers 2011 campaign.
Round 4, Pick 34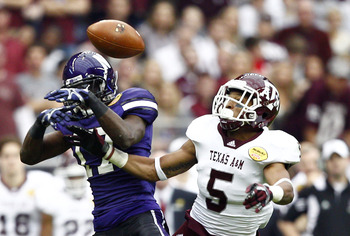 Bob Levey/Getty Images
*** Projected Compensatory Selection ***
Coryell Judie | CB | Texas A&M
Cornerback isn't a real need for the Packers, as they are three deep already and have Davon House waiting in the wings for an opportunity. However, you can never have too many players with the ability to cover.
Judie is a better zone coverage guy at this time, who is going to need a little mentoring and development time to better his man cover skills.
He is a physically gifted players who plays the ball extremely well and has great closing speed. He isn't afraid to attack opposing wide-outs, and has the ability to jump up and get to the football before it reaches it's intended point.
Round 5, Pick 28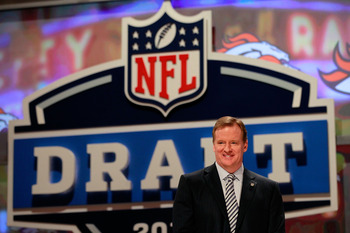 Chris Trotman/Getty Images
*** Projected Draft Day Trade ***
The Pacers still have two compensatory selections in their back pocket, which according to NFL rules, are not able to be traded.
With that in mind, GM Ted Thompson continues to think of the future, and trades away his 5th round pick for a future (2013) selection.
Round 6, Pick 28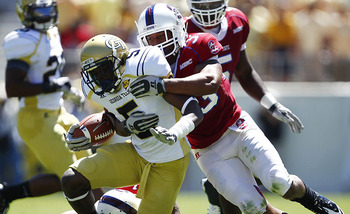 Photo courtesy of JDW Photography
Christian Thompson | FS | South Carolina
Who knows what the future of Nick Collins holds right now? With his future prognosis still a month away, the Packers may risk one of their late round picks on a new free safety.
Morgan Burnett manned the position for most of 2011, while Charlie Peprah took over at strong safety. Peprah really suffered and didn't carry his momentum from 2010 into the new season. Burnett was drafted as a SS and is probably best suited there.
Thompson is a strong, powerful safety with good speed and agility. He can often dislodge the receiver from the football with his bone-shattering hits. He has a little trouble locating the football, but it's nothing that can't be improved upon.
Round 7, Pick 28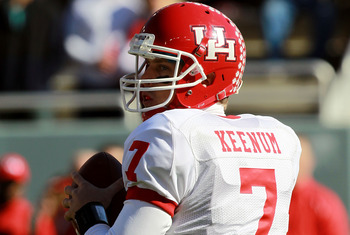 Ronald Martinez/Getty Images
Case Keenum | QB | Houston
The Packers will be losing Matt Flynn in free agency in the next couple of weeks. They already have Graham Harrell on the roster who will likely assume the role as Aaron Rodgers' primary backup. They also signed AFL veteran Nick Hill to a contract, but won't see much from him before the draft rolls around.
Keenum is a phenomenal athlete and one that can throw accurately from inside the pocket or on the run. He is a great teammate and everyone around him loves to play with him.
He's also battled a lot of adversity throughout his football career thus far, and constantly plays with a chip on his shoulder -- something the Packers rather enjoy in their players.
Keenum has had some consistency issues with his footwork and those subtle movements in the pocket that take a pro QB from average to elite. He's also going to have to learn to take snaps from under center.
There is no better place for Keenum to wind up. The Packers have multiple QB-oriented coaches on their staff who will all strive to make him a better football player and quarterback.
Round 7, Pick 37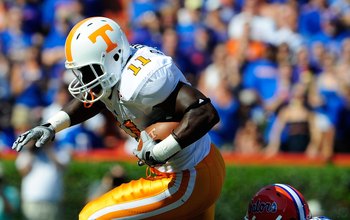 Sam Greenwood/Getty Images
Bryce Brown | RB | Kansas State
The Packers have three backs on the roster with less than three years of NFL experience. Ryan Grant may or may not be re-signed, depending on how the market values him in free agency.
Brandon Saine is a favorite of the coaches. Alex Green, who was hurt for most of 2011, is a former 3rd round selection and all but guaranteed a roster spot. And James Starks deserves more carries and the opportunity to carry the load.
Bryce Brown has a ton of talent. He is a bigger body at the position, which the Packers really lack without Grant. He has good speed and great lateral movement.
He isn't the shiftiest of backs, and has some character issues that need to be addressed, but he proves to be a relatively low risk selection in the 7th round.
Round 7, Pick 39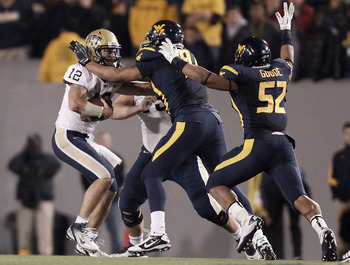 Jared Wickerham/Getty Images
Julian Miller | DE / OLB | West Virginia
The Packers lack of a pass rush has been well documented throughout this mock draft, and that need won't be solved with one draft selection or one free agent signing.
I already have the Packers taking one talented pass rusher out of West Virginia (Round 2: Bruce Irvin), so why not another?
Miller is a blue-collar type player who has thrived off consistently working hard and producing results on the field. He possesses a good first step off the snap. He has a great motor, and can shed blocks even if held up at first.
Miller is a lengthy and versatile player who will likely moved to OLB in the Packers 3-4 scheme. He'll likely need some development time, which should be expected out of a late 7th round player.
Keep Reading