5 Reasons Philadelphia Flyers Fans Are the Best in Hockey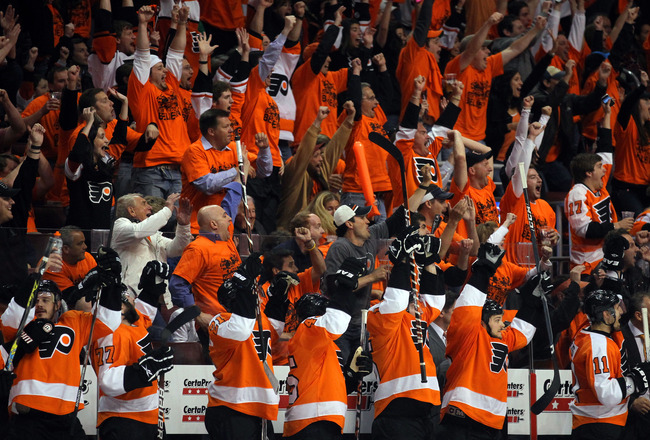 Al Bello/Getty Images
Sports teams compete against each other for championships. A ring, a trophy, a banner in the arena…there are tangible, measurable representations of a team's success or a lack of it.
Fans, on the other hand, have a competition of their own that they wage.
When a fanbase loves a sport, they are destined to believe that no other fanbase loves it quite the way that they do. Philadelphia is no stranger to this concept when it comes to hockey.
We stand by our team despite the fact that the Flyers have lost the last six Stanley Cup Finals series they have played. We ridicule fans in Washington and Boston for only showing up when the team is playing well, while we have turned out through the good times and the bad. We insist that if the Penguins offered to trade us Sidney Crosby tomorrow, we would absolutely refuse the trade out of pure dislike for the notorious Flyers-killer.
Call us passionate, call us obnoxious, call us rude or call us scary. They all sound like compliments to us, and they only make us yell louder.
Here are five reasons the fans at the Wells Fargo Center are the best hockey has to offer.
Keep Reading

Philadelphia Flyers: Like this team?