Tennessee Volunteers Basketball: Cuonzo Martin Should Be SEC Coach of the Year
March 1, 2012
Joe Robbins/Getty Images
On Oct. 24, the Tennessee Volunteers men's basketball team was projected to finish 11 out of the 12 teams in the SEC. Few people—including much of the Vol faithful—were upset by the prediction because they knew the Big Orange were going to have a tough year.
After the flash-in-the-pan that was Bruce Pearl, Tennessee's roster had been decimated by graduation, transferring and bad recruiting (at the end) by the former staff. Fans knew the team would struggle.
With Kentucky returning to its position atop the SEC, Florida's Billy Donovan fielding a terrific team and in-state rival Vanderbilt starting one of its best lineups in school history, fans knew it could be a long season.
New coach Cuonzo Martin had success in the Missouri Valley Conference with Missouri, but experts knew he would have to take his lumps during his first few seasons at a major college program.
What we didn't know is that Coach Martin would prove us all wrong.
An Unlikely Season
Cuonzo Martin's team that was picked to almost finish dead last in the conference is looking at a potential second-place finish. It's unbelievable.
With a win over Vanderbilt on Saturday, the Vols will only need a Florida loss to Kentucky to secure a bye in the conference tournament with the second-best record.
The Commodores are an excellent team, and they'll most likely be favored to win, but the fact that Martin has Tennessee in position is a testament to his great coaching this year.
Over their past eight games, the Vols are 7-1, an important factor when the NCAA Tournament Selection Committee begins picking teams. (Can you believe we're even thinking about March Madness?)
Three of Tennessee's last five losses have come at the hands of Kentucky and Vanderbilt, which means the Big Orange are competing and winning games against the middle-of-the-pack SEC teams. That's great news from a team picked to finish 11th.
As a matter of fact, in one of those five losses, Kentucky received something that only two other teams have dealt them this season: A close game.
Indeed, Tennessee joins powerhouses North Carolina and Indiana as the only teams to play the Wildcats within five points.
With a starting lineup that features one senior, one sophomore, a former walk-on, one second-year transfer and an 18-year-old who should still be in high school, anything but a standing ovation for Coach Martin is a sign of disrespect.
The Player Moves
Skylar McBee never was the shooter he was supposed to be under Bruce Pearl, but something in his game has clicked under Martin, and he is now a starter.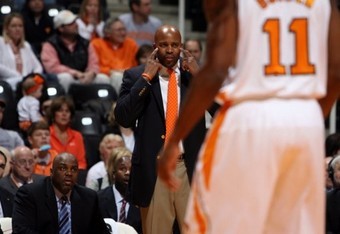 Jeronne Maymon is getting the minutes he deserved last year as ruthless rebounder and enforcer under the goal.
Cameron Tatum is still plagued by inconsistency, but Martin has been able to gauge that this season and insert sophomore Jordan McRae when necessary. This amid the rumors that McRae considered transferring at the end of last year.
And then there's Jarnell Stokes, the midseason addition that rejuvenated the team at just the right time. His successful recruitment to Tennessee signaled that Martin is a capable salesman, the Vols are still a destination for quality players and Memphis and Vanderbilt have competition within the state.
We lauded Pearl as a master of managing players, so what does that make Martin?
Cuonzo Martin - SEC Coach of the Year
It has to be a two-man race at this point. John Calipari is doing another incredible job with a bunch of youngsters at Kentucky, but he has done it so many times before, it's almost expected.
Calipari might be a victim of his own success when it comes to this award, but so be it.
Cuonzo Martin is the only other coach even close to earning the title. He has put the Vols in place to compete in the conference tournament and then make some noise in a postseason tournament, as well.
From second worst to second best in a matter of five months? Yeah, he's my Coach of the Year.