Fantasy Baseball Rankings 2012: Breakout Stars to Target in Middle Rounds
March 1, 2012

Jed Jacobsohn/Getty Images
Finding breakout players is one of the biggest keys to fantasy baseball. Getting production from players drafted in the latter part of the draft is often the difference between a championship contender and a team that fails to make the league playoffs.
Here are three names to keep in mind when you sit down at the draft table.
Dustin Ackley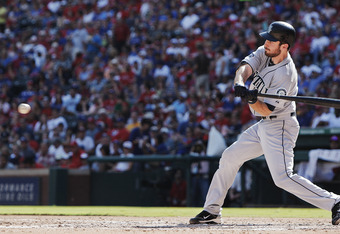 Brandon Wade/Getty Images
Ackley had a pretty solid rookie campaign even though he was limited to just 90 games. He posted a .348 on-base percentage while showing the potential to become a really solid hitter at a weak fantasy position.
His power should begin to develop in his second season as he becomes more comfortable with major league pitching. One he reaches his peak, his fantasy value is going skyrocket and you won't get him cheap in drafts again.
That means owners should be willing to take a chance on him at second base this season and hope they are ahead of the curve on the Seattle Mariners future star.
Mike Moustakas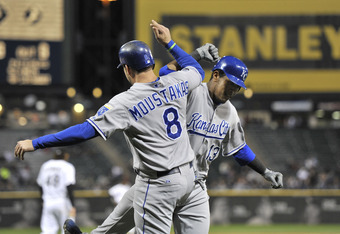 Brian Kersey/Getty Images
Like Ackley, Moustakas was able to get his first taste of major league pitching last season, which should help his development heading into 2012. He hit 36 home runs a few years ago in the minors, so the pop is there; owners are just waiting for it to arrive.
Once again, when it comes to breakout stars, it's important to buy low while you still can. The third base position has several stars, so Moustakas is sliding quite a bit in drafts, but that won't be the case for much longer.
He should near 20 long balls this season. He provides more upside than veterans like Scott Rolen and Chipper Jones, who are being drafted in the same range.
Colby Rasmus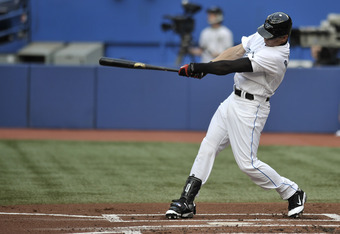 Brad White/Getty Images
Rasmus struggled mightily after being traded to the Blue Jays last season. After having an offseason to settle in, he should be ready for a strong bounce-back campaign. His first two years (39 HR) provided a good-enough glimpse into his game to know he's not as bad as he looked with Toronto.
The Rogers Centre is a perfect park for a young slugger to play in. His batting averaging will likely always be a liability due to his lack of patience, but his other stats should provide enough help to make him worth starting on a weekly basis.
Players like Rasmus tend to slide in drafts because disgruntled former owners aren't willing to overlook his rough stretch. Snag him late and hope Jose Bautista teaches him a couple tricks. He'll be well worth the investment.