By the Numbers: The Best Chicago Cubs of All Time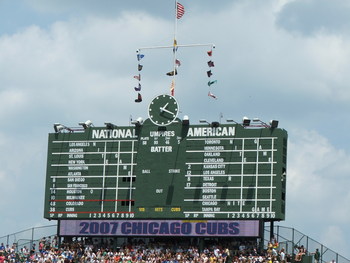 The Chicago Cubs have one of the great, storied histories in the history of baseball. While fans of other teams may have won 26 championships, or have sold Babe Ruth, or have had a Big Machine or Bash Brothers, the history of the Chicago Cubs is unique.
As is the love affair the fans of Chicago have with their team. Long before there was a YES network or MSG in New York, the Cubs had a relationship with WGN.
Generations have grown up with the Cubs, from transistor radios on summer afternoons to sprinting home from school to catch the end of a Friday 2:05 start, the Cubs have been a central part in the lives of their fans.
From Jack Brickhouse to Harry Caray and Steve Stone, some greats of broadcasting have brought Cubs games to their fans. And no, Joe Carter isn't among them. Whether it's "Hey Hey!" or "Holy Cow!" or the thought of warm beer on a hot day, the Cubs are something special in Chicago.
On a freezing Chicago night in January, here is my tribute to the Cubs. The best players they've ever had...by the numbers.
No. 1: Lance Johnson
There haven't been any stalwart One's for the Cubs, though some recognizable names have worn the jersey. The top of the heap has to be One Dog - Lance Johnson.
Richie Ashburn wore it in the early '60s. Kenny Lofton wore it after being acquired during the magical 2003 season. Doug Glanville wore it in the late '90s as well.
It's currently being worn by the first Japanese player in Cubs history, Kosuke Fukudome.
No. 2: Gabby Harnett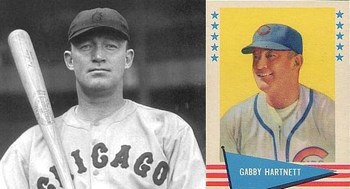 When, after Hartnett, the next best option is current Cubs shortstop Ryan Theriot, you know the list is thin.
Vance Law was the deuce in the late '80s. Rick Wilkins wore it in the '90s. No other player of note wore No. 2.
Honorable mention, and a strong honorable mention, goes to the late Leo Durocher, who managed the Cubs from 1966-'72.
No. 3: Wendell Kim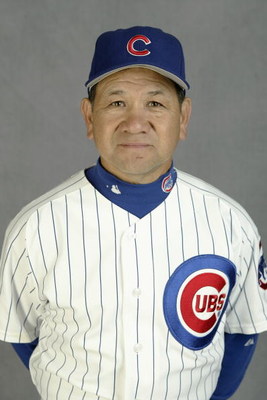 Yes, Wendell Kim.
This number has been largely worn by coaches and managers over the years, with the most memorable being Kim. Kim served as the Cubs' third-base coach in 2003-'04, and was adorably short.
Player options that have blessed the No. 3 have been such legends as Jeromy Burnitz and Chad Hermanson. Thus, Kim is the choice.
Three is currently being worn by bench coach, and Detroit Tiger legend, Alan Trammell.
No. 4: Don Zimmer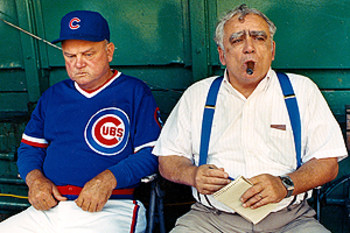 Zimmer is a legend in all of baseball, from his playing days to his long running coaching career. In Chicago, we know him best as the manager of the great team in 1989.
Honorable mention goes to former manager Lee Elia, which is one of the great ironies in the history of the Cubs. Elia wore No. 4, and is best remembered for using words with that many letters.
No. 5: Randy Hundley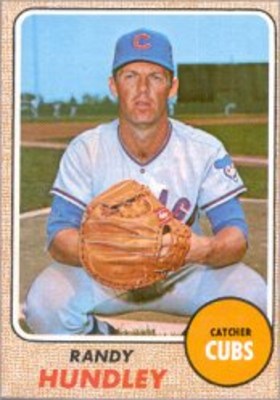 Randy Hundley only wore No. 5 in 1976.
But who else would seriously be considered? Nomar? Michael Barrett? Tony Womack? Ronny Cedeno?
Hundley was the rock of the Cubs in the late '60s and early '70s, catching the likes of Fergie Jenkins.
No. 6: Stan Hack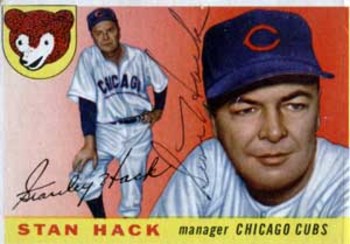 Stan Hack was both a player and a manager for the Cubs, with a playing career in Chicago that lasted from 1937-47. Hack hit .301 in a career that saw him collect 2,193 hits and end with a .394 on-base percentage. He would manage the Cubs from 1954-56.
A serious honorable mention goes to Keith Moreland, the left fielder on the teams of the mid 1980s. A less serious mention goes to Glenallen Hill, Ron Coomer, and Ramon "the Razor" Martinez.
No. 7: Rick Monday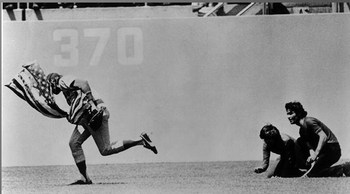 Monday played for the Cubs from 1972-'76 and is best remembered for the act depicted in the photo above; fans attempted to light an American flag on fire in the outfield, and Monday would have none of it. He swiped the flag before the vandals could do their damages.
Also having worn seven in Chicago have been the late Bobby Murcer, Jody Davis, who caught through most of the 1980s, most recently Mark DeRosa.
No. 8: Andre Dawson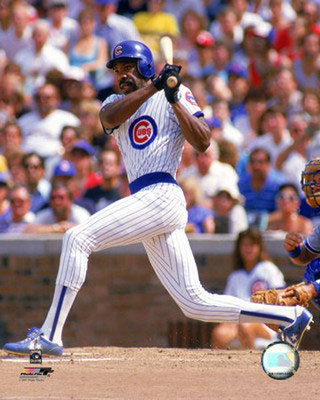 "The Hawk" is the greatest victim of collusion in the history of baseball, and showed the rest of baseball what they were missing by becoming the first, and only, player on a last place team to be the Most Valuable Player for the Cubs in 1987. He was also a crucial part of the 1989 playoff run.
No. 9: Randy Hundley (Again)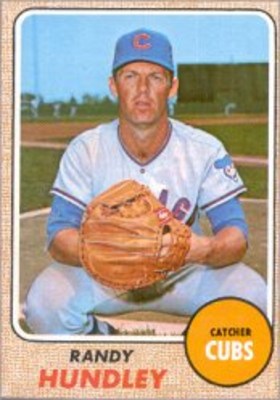 Hundley's son would later disgrace the number, while another member of a father-son team followed Hundley in the No. 9 in 1974: current New York Yankee Nick Swisher's dad Steve.
Damon Berryhill followed Hundley's lead by being a solid catcher in the number in the late 1980s.
No. 10: Ron Santo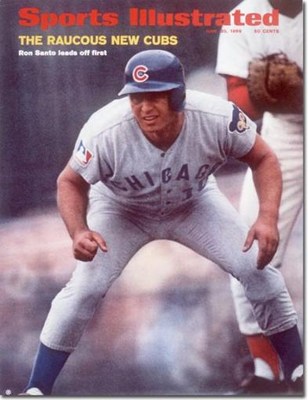 The should-be Hall of Fame third baseman has his number retired by the Cubs and currently is the radio color commentator for the team on WGN radio.
Some other great Cubs wore the number, however, before it was retired. Leon Durham wore it, as did Dave Kingman.
No. 11: Don Kessinger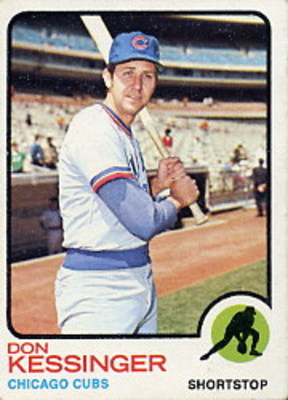 Kessinger was the shortstop in the great Cubs infield of the late 1960s, with Santo, Ernie Banks, and Glen Beckert. He play short for the Cubs from 1964-'75.
Two significant names in Cubs history also wore No. 11, but they're significant for a different reason than their personal significance on the field. Ivan DeJesus and George Bell both wore the number during their Cubs careers.
Why are they important? DeJesus was traded to Philadelphia for Larry Bowa and a young third baseman from Washington named Ryne Sandberg. Bell was traded to the White Sox for a young, speedy outfielder named Sammy Sosa.
No. 12: Shawon Dunston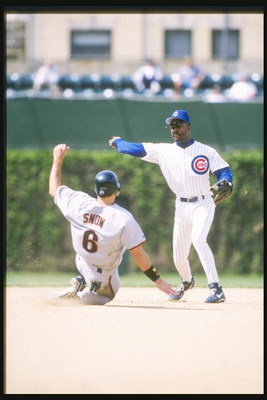 There hasn't been a player with his own "O-Meter" since Dunston left. The Shawon-O-Meter was a fixture at Wrigley for 10 years, displaying the shortstops batting average. Dunston never lived up to the potential that led the Cubs to draft him first overall, in front of a kid named Dwight Gooden.
Alfonso Soriano wears the number now.
No. 13: Turk Wendell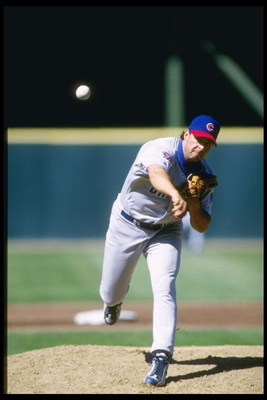 Only eight players have worn the unlucky number in the entire history of the Cubs. Wendell, and his goofy superstitiousness, get the nod here.
On another ironic note, someone in marketing must have overlooked the obvious mockery of fate that took place from 2006-'07, when a team that is allegedly cursed allowed someone names Ohman to wear the unlucky No. 13.
Wil Ohman pitched for the Cubs for just two years.
No. 14: Ernie Banks
Mr. Cub wore the number from 1953-'73 in a Hall of Fame career. He is still the face, the name, and the spirit of the Cubs. I would pay to watch him play two today.
The number is retired and has not been worn by a Cub since Banks retired.
No. 15: Domingo Ramos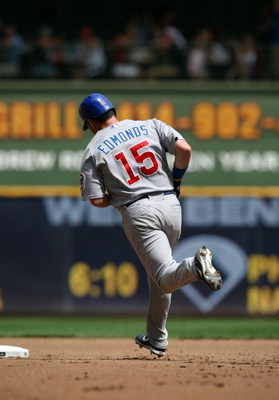 Not many options, and fewer pictures to pick from. The favorite is Ramos, but Jim Edmonds did as well as anyone who's put the 15 on their back.
Other favorites to wear this number have been Julio Zuleta, Gary Gaetti, Davey Lopes, and Kevin Orie.
No. 16: Aramis Ramirez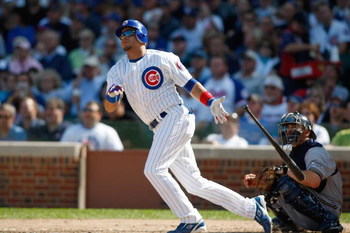 Ramirez is the first legit third baseman the Cubs have had since Santo retired and is quietly climbing many of the all time ranks for the Cubs in many offensive categories.
A little known fact about this number is that the great Jimmie Foxx wore it in 1942. Another 16 in Cubs history is current Boston manager Terry Francona.
No. 17: Mark Grace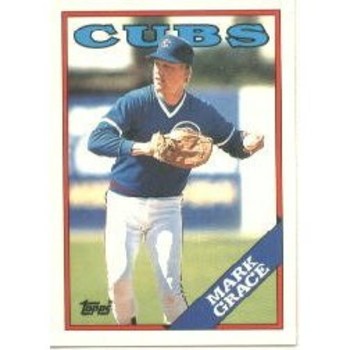 Sorry Mike Fontenot, but Grace's number should be retired. He led all of major league baseball for the entire decade of the 1990s in hits and doubles; the only player to lead all of baseball in either category over a full decade to not get into the Hall of Fame other than Grace: Pete Rose.
No. 18: Glen Beckert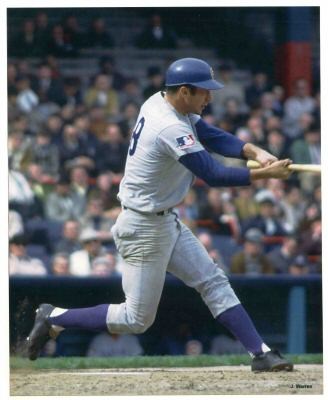 Beckert was the second baseman for the Cubs from 1965-'73, in the infield mentioned previously with Santo, Kessinger, and Banks.
Current Cubs catcher, and reigning Rookie of the Year Geovany Soto may someday be at the top of the list of others that have worn this number. The list includes the likes of Bill Madlock, Rookie of the Year Runner-Up & National Anthem singing outfielder Dwight Smith, Jose Hernandez, and Moises Alou.
No. 19: Hector Villanueva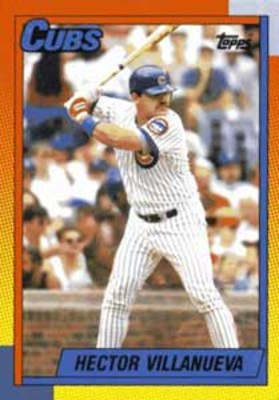 You know it, you love it. Villanueva was a little used backup catcher with the Cubs from 1991-92.
No. 20: Bobby Dernier
Since 1984, if you could run, you wore this number.
Dernier was the Daily Double, leading the Cubs off from 1984 to '87. Other speedsters have followed suit, including 1989 Rookie of the Year Jerome Walton, Corey Patterson, and, most recently, Felix Pie.
Anyone remember who wore No. 20 in 1995? He's got a restaurant with an orange roof...That's right. Former NY Mets Howard Johnson.
No. 21: Sammy Sosa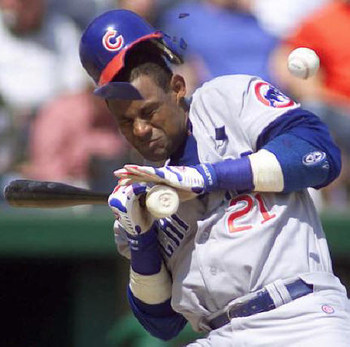 This number has changed hands less than any other number since the Cubs playoff appearance in 1984. Sosa became a legend with the Cubs, chasing home-run records while sprinting from the dugout every day to greet his fans in right field.
What he was doing in the dugout before coming out might become as much question as his performances at the plate have become legend, but the numbers are there.
Milton Bradley will try to cleanse the number from the stink of the Sosa departure and the Jason Marquis Era in 2009.
No. 22: Bill Buckner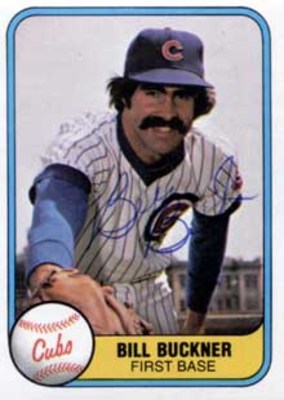 The number is most associated now with Mark Prior, but Buckner had a wonderful career in Chicago from 1977-84. And no, I refuse to mention Mookie Wilson. Buckner drove in 105 runs for the Cubs in 1982.
No. 23: Ryne Sandberg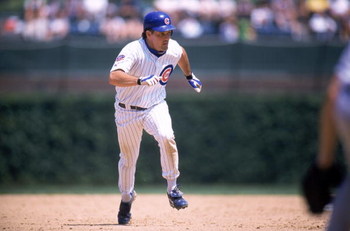 No matter what Joe Morgan thinks, Sandberg is one of the best second basemen of all time. The Hall of Famer led the entire National League in All Star voting in 1990, was an MVP, Gold Glove winner and stole as many as 54 bases in a season.
23 is a special number for many Chicagoans, as Sandberg was a contemporary of another player wearing the same number for the NBA team in town. The Cubs have rightfully retired the number.
No. 24: Lou Brock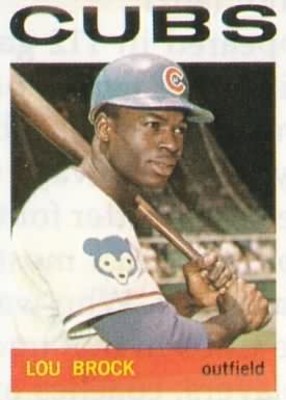 Now collecting all Chicago regrets.....
Brock was traded early in what turned out to be a Hall of Fame career...A career that happened to rocket to stardom in St Louis, at the expense of the Cubs.
In the Honorable Mention - Mullett category, Steve Buechele wore 24 from 1992-'95.
No. 25: Derrek Lee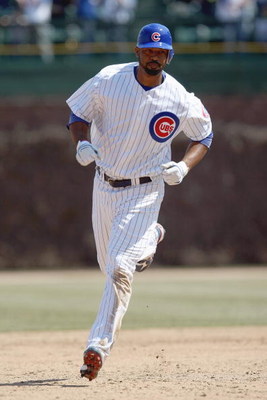 Fun fact about D Lee: He turned down a basketball scholarship to begin his baseball career. Had he chosen basketball, he may have been the small forward between Rasheed Wallace and Jerry Stackhouse on the National Champion North Carolina Tar Heels.
Two intriguing honorable mentions here: Bobby Bonds and Rafael Palmeiro.
No. 26: Billy Williams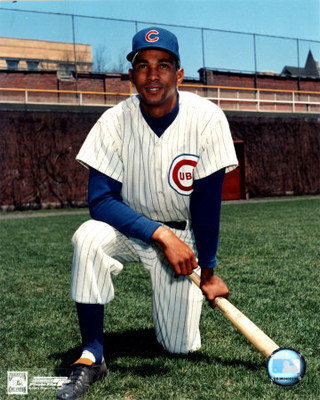 Williams, another Cub in the Hall of Fame, also has his number retired. He had one of the sweetest swings in the game during a tenure with the Cubs that lasted from 1961-'74.
No. 27: Eddie Waitkus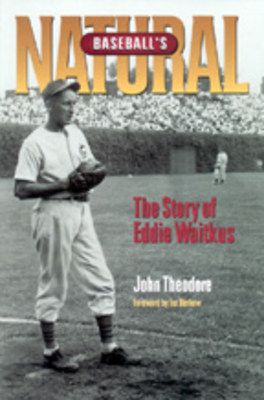 Odds are you've never heard the name of Eddie Waitkus. But if you've seen the great baseball movie "The Natural" you know his story (or a version of it).
Highly recommended: Read the book in this photo. Great read about a player that should have been a true legend of the game.
No. 28: Jim Hickman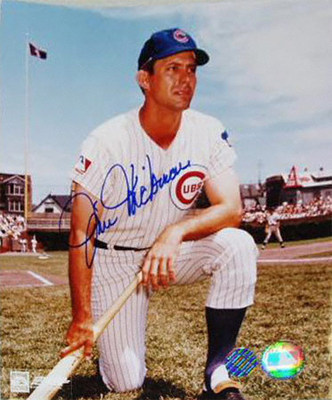 In 1970, Hickman had 32 homers and 113 RBI for the Cubs. An outfielder who spent some time at first base as well, Hickman was a key member of the famous team that collapsed in 1969.
This number would move from the outfield to the bullpen, being worn by Mitch Williams and Randy Myers during their times in Chicago.
No. 29: Doug Dascenzo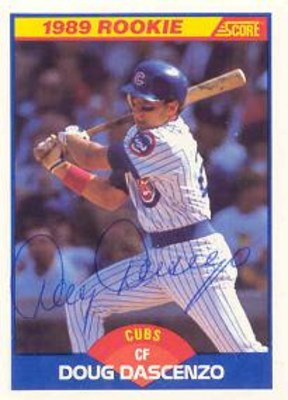 Dascenzo was big enough that his baseball cards could almost say "Life Size" on the front. But he would spend time backing up in center field and, on occasion, pitching for the Cubs between 1988-92.
2001-'02 saw the Crime Dog, Fred McGriff wear 29. It's currently being worn by Jeff Samardzija.
No. 30: Ken Holtzman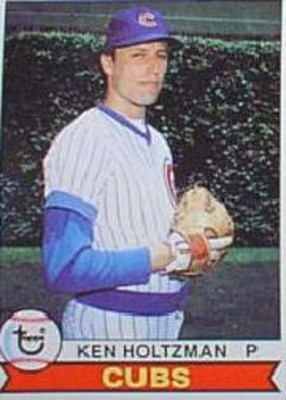 Holtzman pitched for the Cubs in the late 1960s and late '70s and threw two no-hitters for the Cubs.
A strong honorable mention goes to Steve Stone, who wore this number while pitching for the Cubs as well.
No. 31: TIE - Ferguson Jenkins & Greg Maddux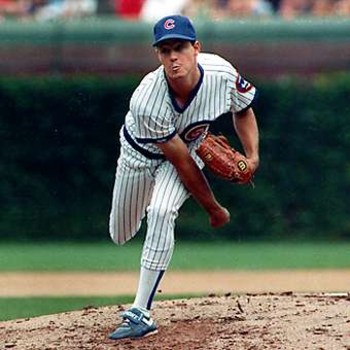 Jenkins is already in the Hall and was one of the great pitchers of his generation. Maddux was arguably THE best pitcher of his generation, and will join Jenkins in the Hall soon.
This number will likely be retired soon.
No. 32: Milt Pappas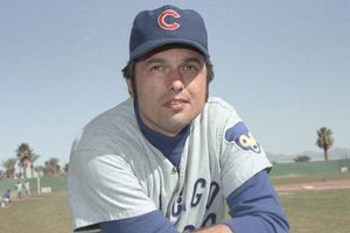 Pappas was the trivia question answer most depressed when Carlos Zambrano threw his no-hitter this past season.
Pappas was the last Cub to throw one before Big Z did it, in 1972. It was a perfect game, except that the umpire, Bruce Froemming, opted to call a fourth ball to a pinch hitter on a full count with two outs in the ninth inning of an 8-0 game.
To this day, Pappas will curse Froemming for taking away the perfect game.
No. 33: Mitch Webster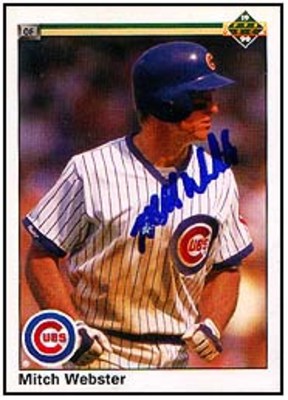 One of few players to rival Lenny Dykstra in the chew-packing contests, Webster spent little time in Chicago. He had an elastic cheek, though, and would fill it with tobacco any time there was a game on.
Fun Fact on 33: In 1983, Joe Carter broke into the big leagues wearing the number in Chicago.
No. 34: Kerry Wood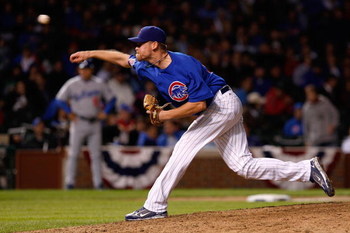 Kid K grew into a man in front of Cubs fans, from the kid who struck out 20 Astros in 1998 to the man who would save 30 games in 2008.
He'll be pitching for the Indians in 2009 and will be missed.
No. 35: Randall Simon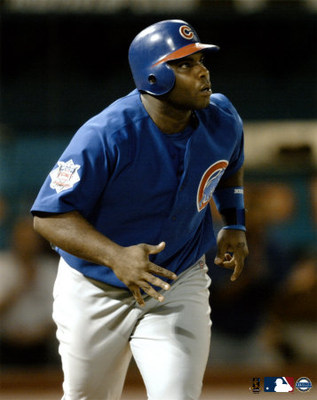 It was between a guy who clubbed a sausage in Milwaukee and Brant Brown, who dropped a fly ball.
No. 36: Mike Bielecki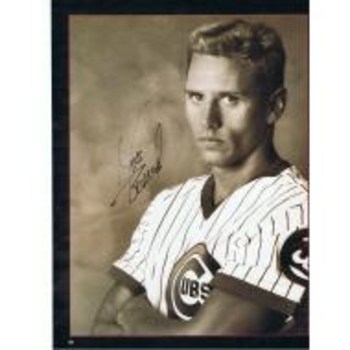 Bielecki edges The Sarge, Gary Matthews Sr. Kevin Tapani also served this number well during his years in Chicago.
No. 37: Ed Lynch
Lynch wore this number during a brief stint as a pitcher with the Cubs. He's more well known as the President of the team, who resigned in July of 2000.
No. 38: Carlos Zambrano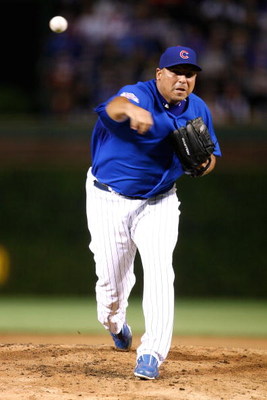 Disappointed to not see a picture of Jaime Navarro or Mike Morgan?
Zambrano grew up in the shadow of Prior and Wood but has outlasted both to be the Cubs highly paid ace for the next decade.
Not the super freak, but a baseball player named Rick James wore 38 in 1967.
No. 39: Mike Krukow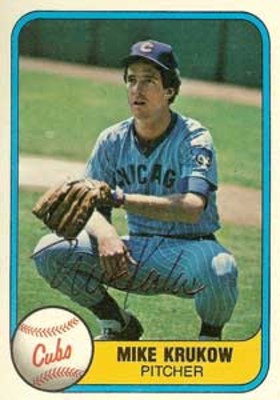 Let's just look at some of the other names that have worn this great number:
Paul Kilgus, Scott May, Willie Greene, Steve Smyth...
Krukow at least lasted from 1977-'81 in Chicago.
No. 40: Rick Sutcliffe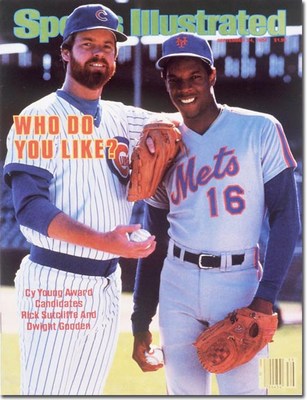 Until CC Sabathia was so dominant in Milwaukee this year, many had forgotten just how good Sutcliffe was after being acquired mid-season.
In 20 starts for the Cubs after being acquired from the Indians, Sutcliffe went 16-1 with a 2.69 ERA in 1984. I would tell CC to eat his heart out, but he might.
No. 43: Dennis Eckersley
Forget he was a Cub? And a starter?
No. 46: Lee Smith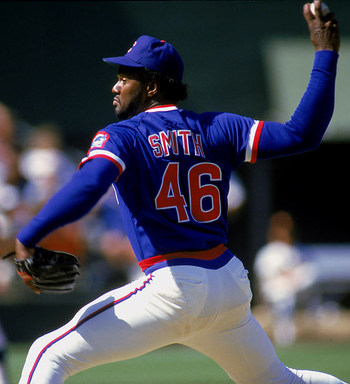 Now third on the all-time saves list, Lee Arthur Smith is annually on the edge of being elected to the Hall of Fame.
No. 47: Rod Beck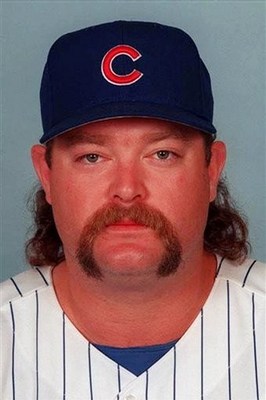 Rest in peace, Shooter.
This number was also worn by Rick Rueschel... yes, the same Rueschel who ran the Cubs out of the 1989 postseason. Sunuva....
And for those keeping track, I won't let this number go by without mentioning Shawn Boskie.
No. 49: Jamie Moyer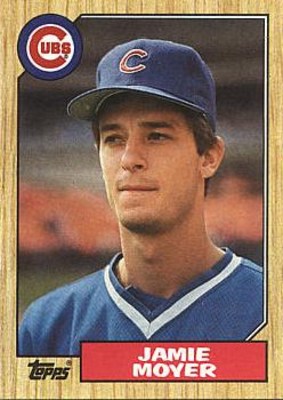 AND Frank Castillo....
To think the Cubs have been looking for a lefty starter for almost 20 years, and Moyer just got a World Series ring.
No. 50: Les Lancaster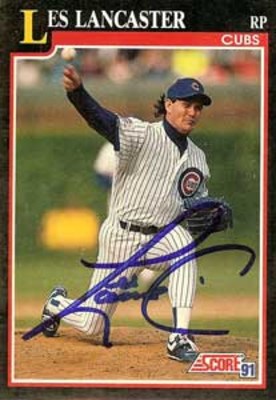 One of the great mullets of all time.
No. 54: Goose Gossage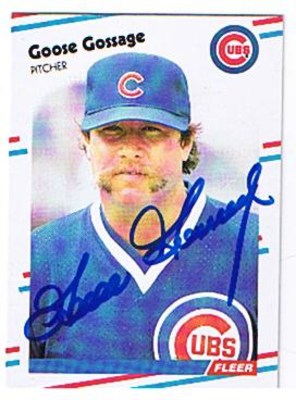 Between Gossage and Beck, there's gotta be a bicycle somewhere missing its handlebars...
No. 57: Antonio Alfonseca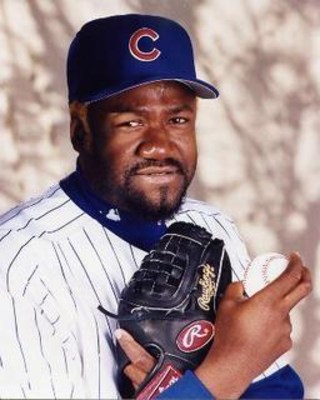 Let's just say I have already sent my condolences to the Ugly Stick.
The good Lord just wasn't kind when he put Antonio together. Six fingers on both hands? Six toes on each foot? You'd think with extra digits he might have come up with an effective pitch....
Keep Reading

Chicago Cubs: Like this team?