Michigan Football 2012: Early Game-by-Game Predictions for the Wolverines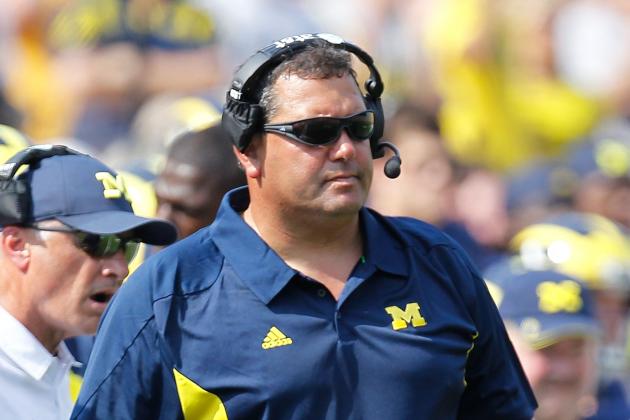 Gregory Shamus/Getty Images

The Michigan Wolverines had a magical season in 2011, filled with an 11-2 record that surpassed just about everybody's expectations.
While the haters are quick to point out that Michigan had the luxury of eight home games and didn't have to play Big Ten winner Wisconsin or Penn St., nobody can take away the fact that the Wolverines were able to beat "Ohio" (Ohio State) and were able to win the Sugar Bowl.
Now the attention is focused on the 2012 season as Michigan gears up for year two in the Brady Hoke era. The schedule is much, much more difficult this year and will factor highly into how I believe the Wolverines will fare this season.
The Michigan Wolverines enter this season with 895 victories; just think, Michigan will be the first college to hit 900 wins!
Begin Slideshow

»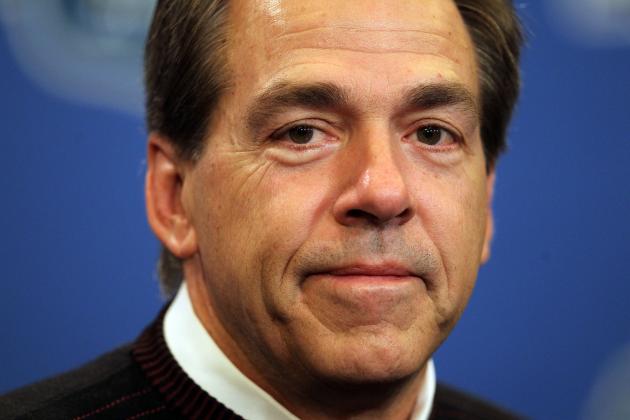 Andy Lyons/Getty Images
Nick Saban is coming off a BCS Championship in 2011.
The defending BCS Champions are going to be playing in Jerry's House against the Wolverines on September 1st.
Alabama is a bit of a mystery right now. They lose a lot of players—especially on the defensive side of the ball—including Courtney Upshaw, Dre Kirkpatrick, Dont'a Hightower and Mark Barron, so there are a lot of questions about how this team will replace those stars.
However, since Nick Saban has been the sheriff at Alabama, they've been able to recruit very well, so it would be extremely unwise to underestimate how prepared his team will be for the first game of the season.
Meanwhile, Michigan needs to reload both its offensive and defensive lines. Also, the Wolverines need to find some answers at the TE and WR positions since Kevin Kroger and Junior Hemingway graduated and Darryl Stonum was kicked off of the team.
With all this in mind, I'm expecting a low-scoring affair as both defenses will punish each other. However, in the end, Michigan will lose its first game of the season.
Predicted Score: Alabama 24, Michigan 14 (0-1)
Rob Carr/Getty Images

Air Force is not a joke of a football program. Since 2007, the Falcons have a respectable 41 wins and 24 losses. They run the triple option, which can be extremely tricky to defend against.
The bottom line here is simple. If Michigan does happen to beat Alabama, I don't think they're going to be prepared against this dangerous Mountain West Conference foe initially.
If they happen to lose against Alabama, the Wolverines will extremely focused to get their first win of the season from the beginning.
The Falcons don't have the defense to stop Denard Robinson and Fitz Toussaint, but I also think Greg Mattison will have a tough time getting his players to stop Air Force's offense as well.
Predicted Score: Michigan 38, Air Force 24 (1-1)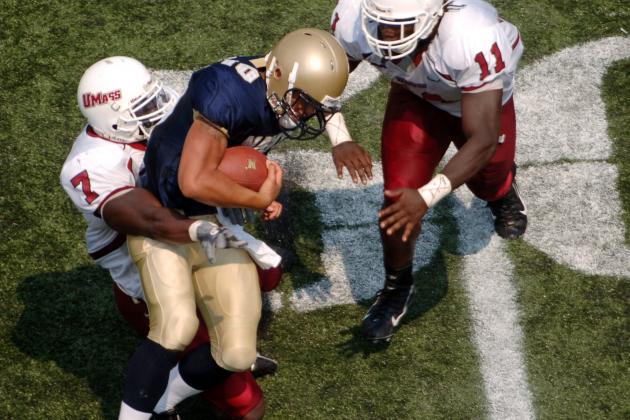 U.S. Navy/Getty Images

When Rich Rodriguez coached Michigan in 2010, they played UMass and the Wolverines barely won 42-37.
This year, the newest MAC member will get crushed by an angry defense and a high-scoring offense.
Welcome to the FBS, UMass.
Predicted Score: Michigan 49, UMass 7 (2-1)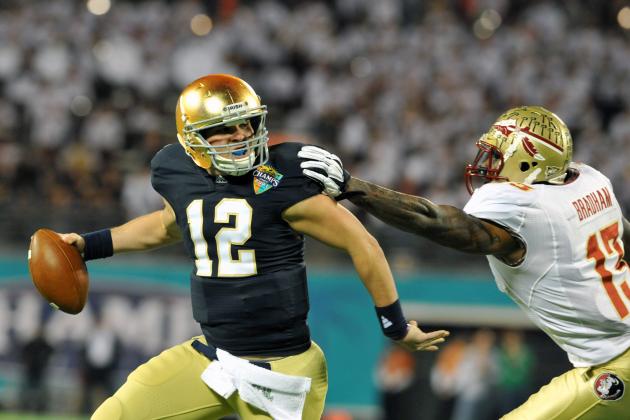 Al Messerschmidt/Getty Images

When Denard Robinson was a sophomore, his performance at Notre Dame elevated him to a national status symbol.
In only his second game starting, he ran for 258 yards and scored two touchdowns while passing for 244 yards and another touchdown. You read that right, his combined rushing and passing yards that day at Notre Dame came to 502 yards.
In this game, Denard will be a senior and will want to keep Michigan's three-game winning streak alive against the Irish. But it's not going to be easy.
Notre Dame has most of its players from last season, excluding future first-round draft pick Michael Floyd.
Last season, Michigan was down entering the fourth quarter 24-7 and somehow pulled out 28 fourth-quarter points to win 35-31. Michigan essentially was DOA until the fourth quarter last year.
Both teams have very little to replace on both sides of the ball and since this game is at Notre Dame, I have a gut feeling Notre Dame is going to break its losing streak to the Wolverines.
Predicted Score: Notre Dame 31, Michigan 28 (2-2)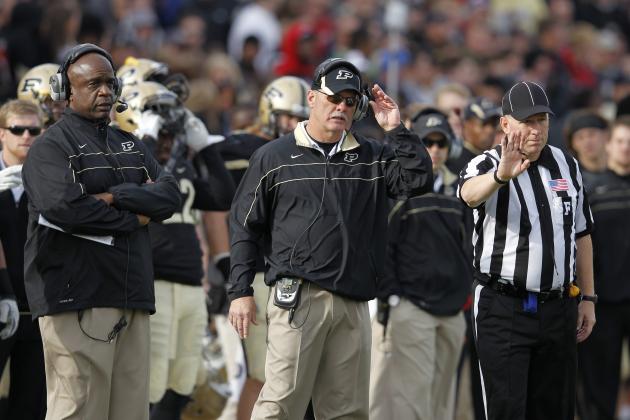 Joe Robbins/Getty Images

Coming off of an early bye week in 2012, Michigan will have had a lot of time to study the Purdue Boilermakers. They're considered dark-horse candidates to play for the title game for the Leaders division since "Ohio" is ineligible, while Wisconsin and Penn St. are rebuilding with a new staff and replacing a lot of lost players.
What Purdue has going for them is that they're returning most of their players on both sides of the football. Michigan has a more talented football team with solid players returning on both sides of the football field.
This game will be closer than the 36-14 beatdown Michigan put on Purdue last year, but the Wolverines will come out victorious nevertheless.
Predicted Score: Michigan 31, Purdue 17 (3-2)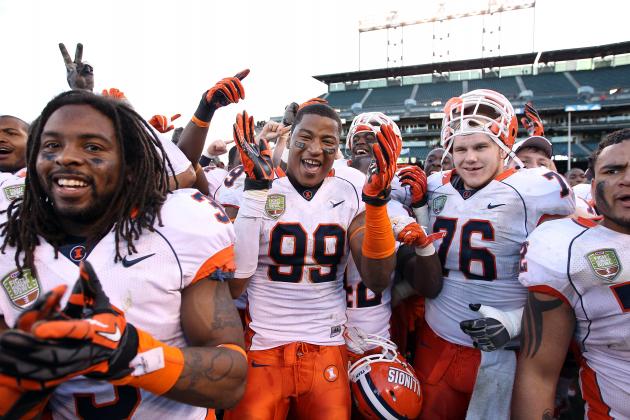 Ezra Shaw/Getty Images

Remember how strange Illinois's season was last year?
They started out the season 6-0 and were ranked in the top 25 in both major polls. Then, they dropped their final six games and finished the year 6-6 before defeating UCLA in the Kraft Fight Hunger Bowl.
Tim Beckman is the man in charge now, and while he was able to turn around the Toledo Rockets quickly, he's going to have to work for at least a couple of seasons to get his spread offense in place at Illinois.
Illinois also loses a lot of talented defensive players so I think it's going to be a long season for the Fighting Illini.
Michigan cruises again.
Predicted Score: Michigan 34, Illinois 10 (4-2)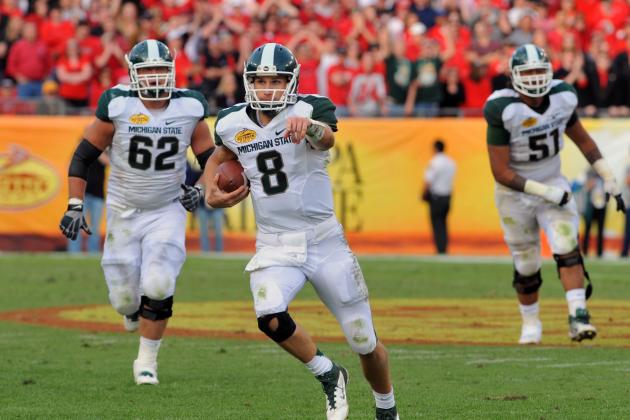 Al Messerschmidt/Getty Images

Michigan State's four-game winning streak against Michigan will come to an end this day. Mark Dantonio has lost a recruiting foothold in Michigan to the Wolverines, and within the next few seasons it's going to start showing.
Michigan State retains a lot of its great defense from 2011 minus Jerel Worthy and Trenton Robinson. Boxing specialist William Gholston is going to be a fierce pass-rusher and run-stopper for the Spartans. Their defense, as a whole, will remain very strong.
Replacing all of the lost offensive stars is Michigan State's huge concern for 2012. Quarterback Kirk Cousins, wide receivers BJ Cunningham and Keshawn Martin and running back Edwin Baker are all gone and trying to get into the NFL.
There are just too many question marks this season on the offensive side of the ball for the Spartans to beat Michigan.
Predicted Score: Michigan 24, Michigan State 13 (5-2)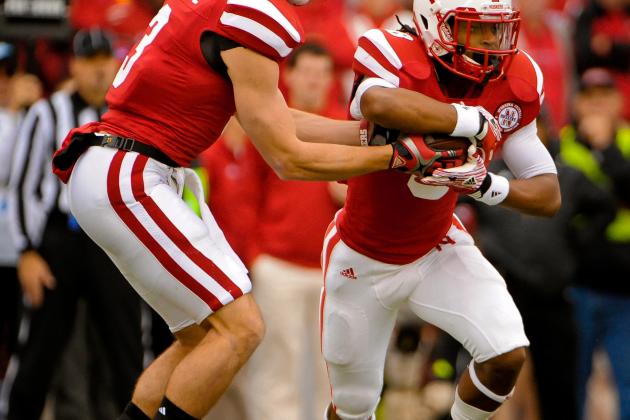 Eric Francis/Getty Images

Nebraska won't soon forget its crushing defeat in Ann Arbor last season by the score of 45-17. Bo Pelini cried about the defeat after the game, accusing the Michigan players of faking injuries to slow down Taylor Martinez and the Nebraska offense.
While Brady Hoke and Greg Mattison of course denied the accusations, one can't help but to be rather annoyed with the fiery Pelini. It was like he was making excuses for his team getting demolished by a superior opponent.
Oh well, that was last season.
The Wolverines take a trip to Nebraska, where the Cornhuskers rarely lose since Bo Pelini has been the head coach. They're 23-6 at home since 2008. Needless to say, that's very, very, good.
Nebraska loses a key cornerback in Alfonzo Dennard but quarterback Taylor Martinez and running back Rex Burkhead return to head a pretty potent offense.
I'm predicting a pretty close game here, but in the end I'm giving the Cornhuskers the edge at home.
Predicted Score: Nebraska 24, Michigan 21 (5-3)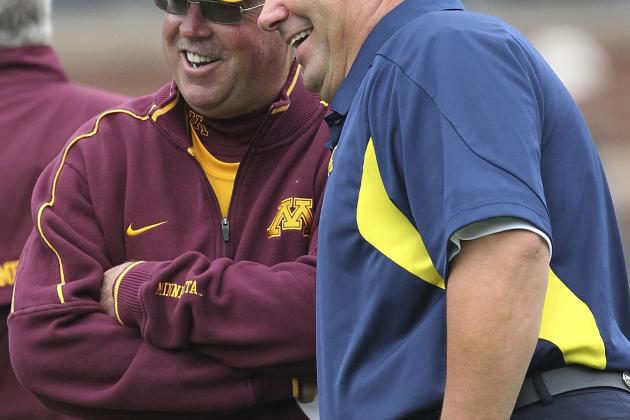 Leon Halip/Getty Images

Michigan destroyed Minnesota last year, 58-0. Jerry Kill had his fair share of health issues, but despite that the Golden Gophers managed to rally around him to upset Iowa and Illinois and finish 3-9.
Marquis Grey has another year in the system and while they're certainly going to miss safety Kim Royston, Minnesota essentially has just about all of their starters returning on both sides of the football.
Minnesota needs to find a defense somewhere out there and greater offensive consistency. Michigan will win this football game, but I guarantee it's not going to be the blowout like it was last year.
Predicted Score: Michigan 38, Minnesota 17 (6-3)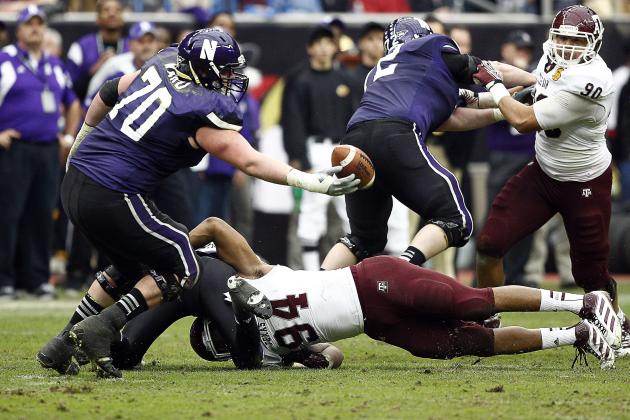 Bob Levey/Getty Images

Last season when these teams played, Michigan was down at halftime by the score of 24-14. Denard Robinson played a terrible first half and it looked like an upset was in the making.
But last year was a year of incredible second half adjustments.
The Wolverines roared back with four unanswered touchdowns and didn't allow any points in that second half.
This year, Northwestern loses QB Dan Persa, but the new quarterback is Kain Colter, who can move pretty well on his feet.
Like Minnesota, Northwestern lacks defensive playmakers to really stand a chance in the game. The Wildcats usually have pretty effective offenses, but you're not going to contain Denard Robinson very long if you're a below-average defense.
Predicted Score: Michigan 42, Northwestern 21 (7-3)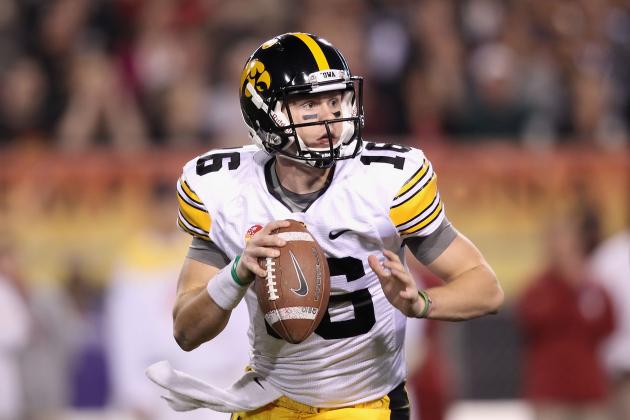 Christian Petersen/Getty Images

Last season, Iowa won in a pretty controversial fashion. Junior Hemingway made a catch in the end zone, or so he thought. The referees disagreed and the Hawkeyes came away with the victory, 24-16.
Iowa takes their longest winning streak against Michigan to the Big House, where that winning streak of theirs will come to an end.
Why do I say that?
For starters, the Hawkeyes had to replace both of their offensive and defensive coordinators. Offensive coordinator Greg Davis came from Texas where he ran the spread offense. Yeah, I just don't think Iowa has the personnel for that type of offense.
Iowa is going to go through too many changes this season and while they didn't lose much to the NFL or graduation, Michigan is going to be fired up for this game after what happened last season.
Predicted Score: Michigan 31, Iowa 21 (8-3)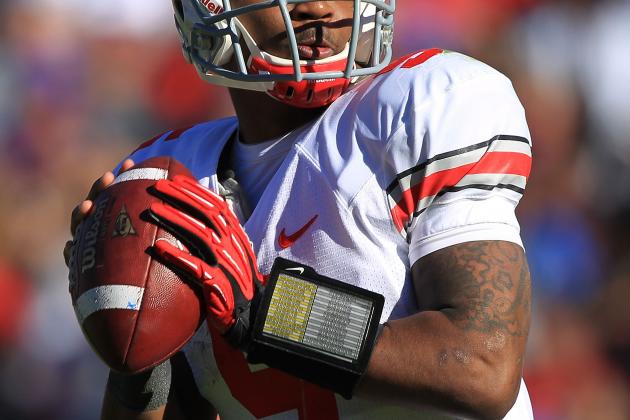 Scott Halleran/Getty Images

"The Game" will celebrate its 109th meeting between these Big Ten powers.
Last season was the one game where the Michigan defense looked like the 2010 Michigan defense. They let the Buckeyes put up 34 points and it took a lot of scoring by the Michigan offense to pull out a victory against them.
Urban Meyer will be installing his version of the spread offense at "Ohio" and sophomore Braxton Miller seems to be the man to run it.
While Meyer has said he needs more speed at the receiver positions, through recruiting it will most certainly come—but not right away.
Because the Buckeyes have been banned from playing in a bowl game for 2012, the game against Michigan is going to be their bowl game. It's at Ohio and because of that, I'm giving them the edge in this one.
Predicted Score: "Ohio" 28, Michigan 24 (8-4)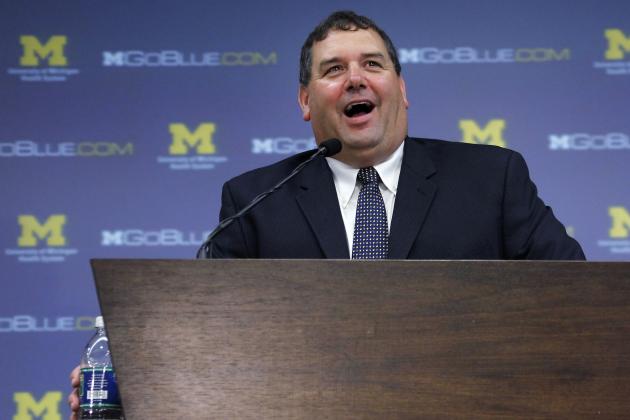 Gregory Shamus/Getty Images

The Michigan Wolverines don't have the benefit of a soft schedule this season. They don't have eight home games. They have to play Alabama in Texas to start the year, at Notre Dame, at Nebraska and at "Ohio."
Michigan has by far the toughest schedule in the Big Ten so this predicted record isn't indicative of the players or the coaching staff. Rather, this record is showing just how tough their schedule really is.
As a Michigan fan, I certainly hope they win more than eight games during the regular season, but I'd be surprised if they do.
If they did win 10 regular-season games like last year, I'd be pretty surprised at that for certain. What I've seen of the 2013 schedule so far looks a lot more manageable than this upcoming season.
Let me know what you think about the games in the comments below.