New York Rangers: Bet Heavy on Prospect Chris Kreider Joining Team for Playoffs
March 1, 2012

Tom Szczerbowski/Getty Images
There were no names used. There were no references to specific universities made. There wasn't even any mention of whether offensive or defensive assets were being discussed.
Regardless, with just a few soft, almost mumbled words in his post-trade deadline press conference, Rangers general manager Glen Sather put the world on notice that Chris Kreider is on his way.
For those of you not familiar with Kreider, it is sufficient to say that the Rangers have simply not possessed a more promising prospect since, well, maybe forever. Perhaps the only prospect that has ever rivaled the anticipation associated with Kreider was the amazingly gifted Alexei Cherepanov, the Rangers' No. 1 pick in the 2007 draft, who died so tragically in October 2008 in Russia during a Kontinental Hockey League game.
Kreider, for his part, has remained non-committal when asked of his intentions following the Boston College season and playoffs. It is no small secret that he is very interested in obtaining his college degree, however we do live in a world where one can finish their education from under a rock if they so choose. Lets' just say, then, that Kreider's aspirations for a college degree will not suffer if he is wearing a New York Rangers sweater at some point in April.
The fact that Kreider is very much on his way is owed in large part to the decision by the Rangers management not to sacrifice him in any combination of assets during their serious pursuit of Columbus' Rick Nash.
Columbus GM Scott Howson, who came away with nothing for Nash at a time when his value is likely at its highest, made some truly curious decisions along the way. While turning down a package that would have included defenseman Tim Erixon, forward Christian Thomas, forward Brandon Dubinsky, and 2011 No. 1 pick J.T. Miller, Howson insisted on the inclusion of Kreider at all costs.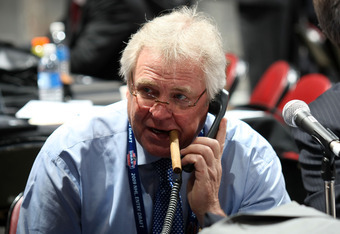 Bruce Bennett/Getty Images
It is clear that Kreider was ultimately the deal breaker for both sides. From the Rangers' perspective, it may be that they realized that in surrendering Kreider they would essentially be losing a younger, more talented version of Nash himself. That Nash is locked in through 2015 with an annual cap hit of around $7.8 million didn't seem to deter the Rangers, which is very revealing in and of itself.
What this shows is that the Rangers were willing to take on all the obstacles and limitations that would have inevitably come with Nash's contract, but they decided that losing Kreider would have been a bigger sacrifice. That's quite the insight into the organization's thoughts on Kreider. And for good reason.
First, Kreider comes with elite, world-class speed. He is actually rumored to be faster than Carl Hagelin, the same Cark Hagelin who just won the NHL's Fast Man Competition, and the same Carl Hagelin who, at 5'11" and 182 lbs., is roughly four inches shorter and 40 pounds lighter than Kreider. So, we now know that Kreider is both big and exceptionally fast, meaning he possesses the two most prominent characteristics this current Rangers team has been molded around over the past few seasons.
Additionally, Kreider is currently producing at a better than point-per-game pace against some of the nation's top programs game in and game out. Potential is one thing, production is quite another. His 13 goals in 26 international matches for Team USA is no small detail either, and it bodes well that his game hits another level when the competitive bar is raised.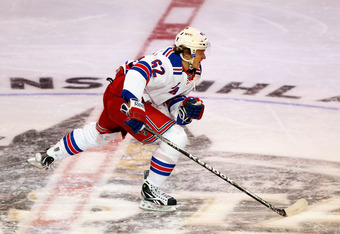 Gregory Shamus/Getty Images
With all that said, the World Juniors and college is not in any way representative of the speed, pace and intensity of NHL hockey. It is entirely possible—though not highly plausible—that Kreider will be somewhat underwhelming upon his arrival. Stranger things have happened, and hockey history is not short on examples of can't-misses missing completely.
Presuming that Kreider's talent, elite speed and tremendous size (6'3", 225 pounds) does actually translate, however, the Rangers will have some decisions to make. They may very well not have the opportunity to see Kreider play any NHL games prior to the NHL playoffs, what with the NCAA championships ending on April 7th. This presupposes that Kreider's Boston College squad will make the finals, of course, but it is entirely possible for the current Eagles squad.
The question then becomes whether John Tortorella would bench a player who has had a hand in getting the team to the rodeo in favor of a young stud that may or may not be able to have an impact from Day 1.
Glen Sather may be the official head of the organization, but it is difficult imagining him overruling Tortorella,  should the coach indeed object. The 2011-2012 Rangers have been described in some circles as having a cult-like culture; removing one of the high priests, then, could be problematic.
How it all plays out remains to be seen. Does a player like Kreider unseat a Ruslan Fedotenko, Stu Bickel, John Mitchell, John Scott or Mike Rupp? Or does Kreider watch from the press box?
Again, we'll see. However, the question that must be asked is why Sather would even hint at the arrival of college players as a year-end boost, as he does in the accompanying video link, if the prospect of it happening didn't have a very high probability attached to it.
However things play out, one thing is for certain: The New York Rangers will enter the NHL playoffs with far higher expectations than what existed back in October. With this in mind, the choices made regarding game by game personnel will be debated endlessly should the Rangers not perform admirably. This doesn't mean that the Rangers need to win the Cup for fans to be satisfied, but if they get canned in the first round the Rangers' will have a number questions that require answering.
One question that may very well be asked at some point is why exactly was Kreider in the stands watching when he could have been on the ice contributing. While it may ultimately be asked, good luck to the reporter who asks John Tortorella that one.