Kansas City Royals: What to Expect Out of the Kauffman Kids in 2012
March 1, 2012

Rob Tringali/Getty Images
Brief 2011 Recap
The Kansas City Royals entered 2011 without any significant expectations, but with a farm system loaded with 10 of Kevin Goldstein's top 101 prospects, the future looked plenty bright.
The future does still look quite bright with the graduation of Moustakas and Hosmer off the prospect list, but a number of prospects took steps back, including John Lamb, Mike Montgomery (who fell out of the Top 101 altogether with an arm injury) and Chris Dwyer.
None of this actually sheds any light on what occurred at Kauffman in '11, so I digress. The club may have only won 71 contests (78-84 Pythagorean record), but Eric Hosmer emerged as a very good first baseman and seems poised to ascend the rungs of the AL first-base ladder.
The Royals got considerably more production than expected out of Jeff Francoeur and Melky Cabrera, and the latter was shipped off to the Giants for mercurial but talented lefty Jonathan Sanchez.
On the pitching side, Bruce Chen put together a very solid season, and Luke Hochevar finally started showcasing some of the talent that made him the first overall pick in 2006.
Joakim Soria started rough out of the gate and was briefly demoted from the closer's role, but he really picked up steam down the stretch and was awesome in the second half (10.9 K/9, 5.4 K/BB). 
Brief 2012 Prediction
This is a team that's starting to find its voice, but it's still maybe a year or two away.
A big step forward from Mike Moustakas would go a long way in improving an offense that was actually in the upper half of teams on the junior circuit.
The pitching should be better with Jonathan Sanchez joining the fold, and a couple younger players to watch will be Johnny Giavotella at the keystone and Lorenzo Cain—a key part in the Zack Greinke deal—in centerfield.
A good starting point for this team would be to neutralize its run differential from last year (minus-32 runs). If it can do that, there's a slight chance this could be last year's Indians-like feel-good story of the year.
Projected Starting Lineup
C—Salvador Perez
1B—Eric Hosmer
2B—Johnny Giavotella
3B—Mike Moustakas
SS—Alcides Escobar
LF—Alex Gordon
CF—Lorenzo Cain
RF—Jeff Francoeur
DH—Billy Butler
Top Bench Options
C—Brayan Pena
IF—Chris Getz
IF—Yuniesky Betancourt
OF—Mitch Maier
Projected Rotation
Luke Hochevar
Jonathan Sanchez
Bruce Chen
Aaron Crow
Felipe Paulino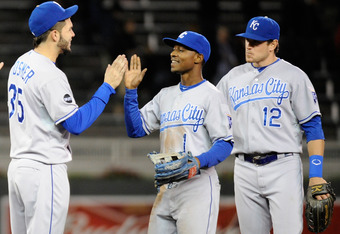 Hannah Foslien/Getty Images
Projected Bullpen
Joakim Soria
Greg Holland
Jonathan Broxton
Tim Collins
Jose Mijares
Louis Coleman
Blake Wood 
Top 101 Prospects (According to Kevin Goldstein of Baseball Prospectus)  
OF Wil Myers (19th)
OF Bubba Starling (27th)
P Jake Odorizzi (47th)
P John Lamb (82nd)
3B Chelsor Cuthbert (83rd) 
Why the Royals Will Contend in '12
Each of the newcomers to the Royals—Cain, Moustakas, Sanchez—would have to have a big season, and Salvador Perez would have to continue his early career magic. It's not likely to happen, but as previously alluded, it could be another Indians '11-type scenario.
On the pitching side, someone would probably have to step up and grab the ace role (likely Sanchez), and Broxton/Holland/Soria would have to nail down a ton of close games. 
Why the Royals Will Not Contend in '12
Point blank, the team is still just a bit too wet behind the ears.
Moustakas came on strong at the end of last season (.352/.380.580 in September), but he, Butler, Gordon and Hosmer still need just a little more help before the club can be deemed ready to put a real scare into the Tigers. 
Final Prediction:  Fourth, AL Central (Out of Five)
O/U Wins: 77.5