NY Yankees Pitching Update: Garcia Will Not Claim Fifth Spot in Rotation
March 1, 2012

Chris Trotman/Getty Images
It's lovely, of course, that the Yankees hierarchy is saying all the right things about the "competition" in determining the starting rotation for the 2012 season. In this politically correct world that we all suffer through, it would be hard to imagine any other kind of approach; far be it that grown men should hear the truth about their job status, as if the potentially "bad" news wouldn't be mitigated by the reality that they still get to cash enormous checks at the end of every pay cycle.
And while it is all lovely and such, within all of the carefully parsed words and responses from Yankee management there still exists an undeniable truth; barring serious injury, Freddy Garcia will not be in the starting five when the Yankees go north.
Make no mistake, Garcia performed wonderfully last year. The Yankees would have been overjoyed had he pitched to the same line that he had in 2010 with the White Sox, 12 wins, six losses, and an ERA of 4.64. As it turned out, while his won/loss record for 2011 with the Yankees was 12-8, his ERA was actually a full run lower (3.62). In other words, Freddy Garcia was everything the Yankees could have hoped for and then a whole lot more than that.
So, with all of this in consideration, why is it that Freddy Garcia will be, at best, the long man in the Yankees pen? In straightforward terms, Phil Hughes is the better option, and he will be given every opportunity to prove that to be the case.
While some would contend that Ivan Nova could be considered on the bubble as well, the reality is that Nova is slated for the rotation presuming that he both pitches decently enough over the coming weeks and that he remains healthy.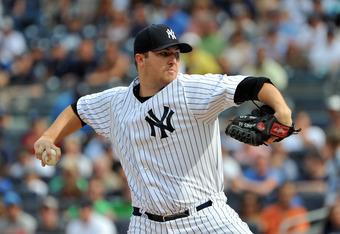 Christopher Pasatieri/Getty Images
Nova's 16 wins as a rookie plus admirable work in the postseason is all that's required with the Yankee starting options being what they are, and remember that Hughes got a pass last year based on his 18-win 2010 season; this was despite that fact that he pitched horribly and was not healthy during spring training 2011.
So, in the end, with Nova, C.C. Sabathia, Michael Pineda and Hiroki Kuroda as sure things, it really comes down to whether Phil Hughes can prove that he is healthy and has regained the movement and velocity on his fastball.
If those conditions are present, and early indications seem to suggest that they are, then you simply do not ask a 25-year-old potential mainstay to sit in favor of a 35-year-old who relies more on his pitching intelligence than he can on his stuff. It would undermine not only the development of Phil Hughes, but it would also cast doubt on Brian Cashman's commitment to the development of internal pitching talent.
With several key pitching prospects knocking on the big league door, favoring Freddy Garcia over Phil Hughes would be sending a message that youth will not be served. This is not the message that Manny Banuelos or Dellin Betances, the top two arms in the Yankees' minor league arsenal, need to hear, not now or ever.
Hughes, of course, has to live up to his end of the bargain. He must first demonstrate that he can maintain velocity deep into his spring training starts, and as the season progresses he will of course be required to produce results. If Hughes is throwing 88 mph in the third inning in mid-April, however, then it is is highly likely that his hold on a rotation spot will be in question even if his win-loss line and ERA are acceptable to that point.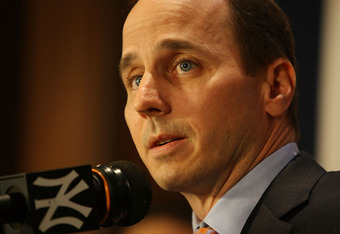 Nick Laham/Getty Images
It is a long season, and the Yankees, as it is with all teams, will inevitably use somewhere in the range of 8-10 starting pitchers before the season is out. That is simply how things play out in the modern era of major league baseball, and teams prepare for this reality accordingly.
Phil Hughes, though, is truly at a crossroads. He will either become the rotation anchor the Yankees organization projects him to be or he will reveal himself to be a middle/long man, another promising Yankee pitching product that fails to establish a foothold at the big league level.
We know how passionately Brian Cashman wants Hughes to succeed, now we just have to wait to see if Phil Hughes wants it just as badly.