Boston Red Sox: Who Should Be the 4th & 5th Starters?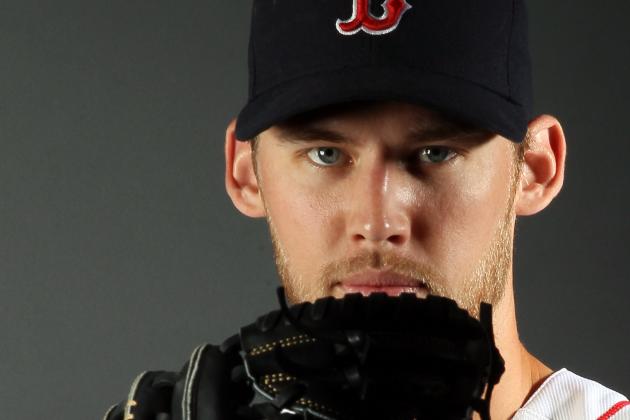 Elsa/Getty Images

One of my favorite quotes of all time comes by way of Rogers Hornsby, who said, "People ask me what I do in winter when there's no baseball. I'll tell you what I do. I stare out the window and wait for spring."
Well folks, spring has arrived and now is the time for the Boston Red Sox to sift through their plentiful bounty of starting pitchers and narrow the field down to fill out the final two slots available in the rotation.
While many believe that the fourth spot is Daniel Bard's spot to lose, there are eight pitchers vying for just two openings. Of the list, Bard is the most obvious and heavily rumored starter. Among the other players who have a dog in the race: Aaron Cook, Vincente Padilla, Carlos Silva, Andrew Miller, Alfredo Aceves, Ross Ohlendorf and Felix Doubront.
Looking at all eight men I decided to examine the last five years of work (where applicable) and rank the likelihood of each man landing a spot in the starting rotation. With the help of both the Fangraphs and Baseball Reference websites, I examined each man in the following categories: games played (which served only as a gauge for my own personal reference and bears no weight on my actual decisions), K/9, BB/9, ERA, WHIP and WAR.
That being said, here is how each player fared.
Begin Slideshow

»
Elsa/Getty Images

Over the last five seasons Andrew Miller has played in a total of 88 games, 17 of which coming with the Boston Red Sox.
In 2011, Miller proved to be a turbulent pitcher at best. While joining the Red Sox in June, he would post a 3.09 ERA in two starts and 11.2 innings pitched, while maintaining a 1.457 WHIP. Not bad for a spot starter.
Looking back at his last five seasons, he does have the third best K/9 ratio of the lot, with a 7.27, however his 5.29 BB/9 was last among his peers, as was his 5.78 ERA and 1.832 WHIP.
Somehow, he manages a 2.9 WAR.
From my perspective, there is a zero percent chance of Miller getting either starting gig. At most, he'll get a spot start here and there.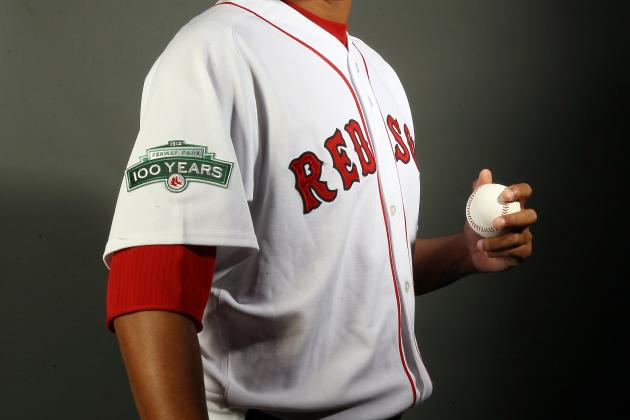 Elsa/Getty Images

I tried to be bold recently and stated that Felix Doubront could land the coveted fifth spot. Looking at what the young lefty was able to do for the Red Sox in 2010, my hopes were high.
In 2011, however, Doubront appeared to be utilized less by the Red Sox, granted there were injury issues last year, but he did relatively pitch well in the minors (with a slightly elevated ERA in the fours).
There is a chance that he could still impress manager Bobby Valentine enough to break into the rotation, however, history and direct competition does not bode well for the 24 year old.
Among his peers, Doubront does have the smallest resume, having only pitched in 23 games in his Major League career.
Doubront's K/9 is impressive at 7.39, good enough for second among the competition, but his 4.58 BB/9 hurts him at seventh best. His 4.84 ERA places him sixth, while his 1.613 WHIP is just good enough for seventh. His WAR is a lowly 0.2.
His chances of getting that four spot are zero, while I would say he has about a five percent chance of the fifth spot.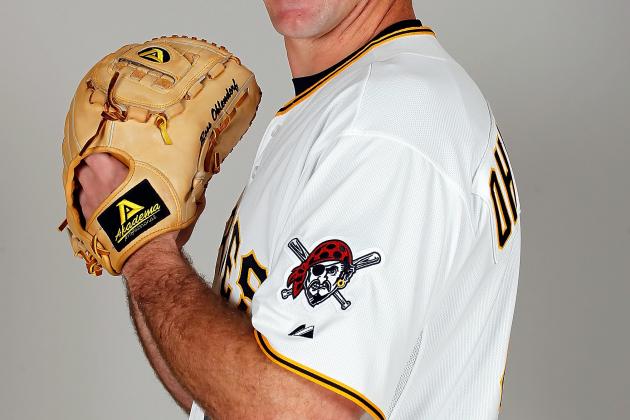 J. Meric/Getty Images

The Red Sox front office have high hopes of a low-risk high reward when it comes to Ohlendorf. His 2011 was abysmal, posting an 8.15 ERA and 1.940 WHIP in just nine games for the Pittsburgh Pirates.
While only 29 years old, he is young enough to right the ship and have a solid bounce-back year.
Comparitively, Ohlendorf shared the fifth best K/9 with Alfredo Aceves at 6.26, while also snagging the fifth best BB/9 at 3.32.
His ERA over the past five years is once again, fifth best at 4.77 with a 1.44 WHIP, fourth best among his peers.
Unfortunately, his 2011 hurt his WAR, offering him only a 1.3 in that regard.
Being shut down last season because of shoulder pains as well as being "behind" the rest of the Red Sox pitchers in camp because of back tightness is not a good sign for the veteran.
This is another player that I see having no shot of the fourth spot in the rotation. I give him about a 10 percent chance of the fifth spot unless he can prove his health and return to a 2009 version of himself with a 3.92 ERA and 1.234 WHIP.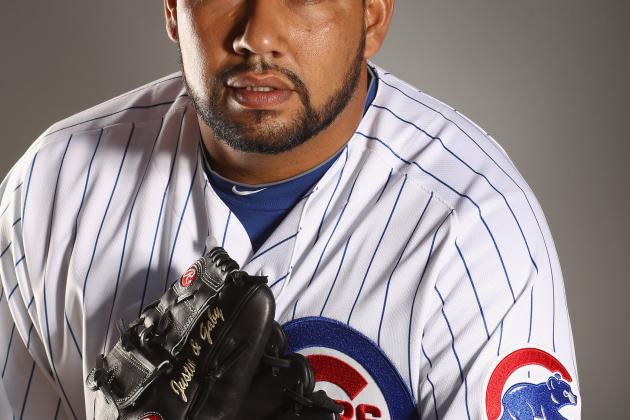 Ezra Shaw/Getty Images

Historically speaking, Carlos Silva has always been a solid bottom of the rotation pitcher.
Actually, historically speaking, Carlos Silva was a great pitcher for the Minnesota Twins.
Once again, the Red Sox hope to capture some of that old magic in a bottle. While he posts a career 4.68 ERA and 1.397 WHIP, Silva was MIA the entire 2011 season after being signed and then cut by the New York Yankees.
The Red Sox are hoping for another Alfredo Aceves situation out of the Yankees drop offs.
Among his peers, Silva has the fourth best K/9 over four seasons (2007-2010) with the fourth best BB/9 as well at 3.29. His ERA is slightly higher than his career average at 4.76 with a elevated WHIP of 1.475 as well.
His ERA is good enough for fourth on this list, while his WHIP for fifth.
Silva does post the third best WAR though, with a 5.8.
All that in mind, one has to factor in his attitude and time away from the game.
That said, he has no shot at the fourth starter, but I would give him about a 15 percent chance of landing the coveted fifth spot.
Elsa/Getty Images

Vicente Padilla is a very intriguing member of the Red Sox.
He has been around for 13 seasons already and is looking to have a bounce-back season with Boston as well.
Compared to his peers, his K/9 was seventh best at 4.48, while he had the best BB/9 at 1.86. So, he doesn't strike out a ton of guys, but he also doesn't walk a lot of them either.
His ERA over the past five years is on the high end, at 5.16, seventh among his competition, but his WHIP is third best at 1.397. Add in a 6.7 WAR, second best among his peers, and Padilla stands a better chance than originally anticipated.
The question will come down to his health.
While I can see Bobby Valentine using him somewhat extensively early on, I can't guarantee him a starting spot in the rotation.
I'd give him a five percent chance of landing the fourth spot, with a 20 percent chance at the fifth spot.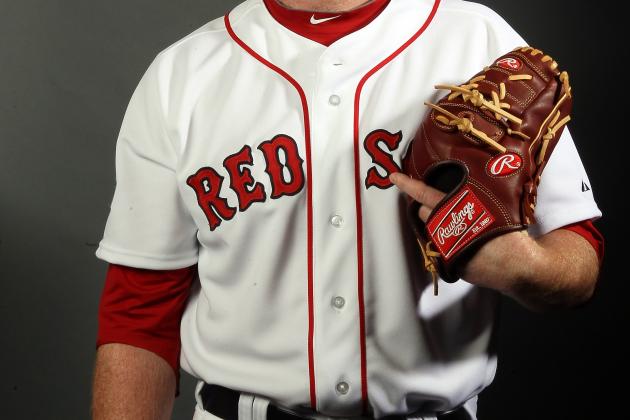 Elsa/Getty Images

Another reclamation project, another pitcher with shoulder issues. That is what it appears to be in the case of Aaron Cook.
While Cook has been a mainstay in the Colorado Rockies rotation for the last 10 seasons, he finds himself in much denser air in Boston.
When put up against the others vying for a spot in the rotation, Cook averages out fairly well.
His K/9 is lower than one would hope—at 4.09 it is the lowest of all the pitchers on this list. However, his 2.70 is the second best BB/9 of all the pitchers and his 4.49 ERA is third best overall. The problem is his WHIP of 1.467 is only fifth best.
All of that in mind, he leads the charge in WAR with an impressive 11.9.
If healthy and ready to roll, I could see Cook proving himself as the fifth starter. Until I see him both healthy, and proving himself—15 percent chance of being the fourth starter, 20 percent chance we'll see him as the fifth starter.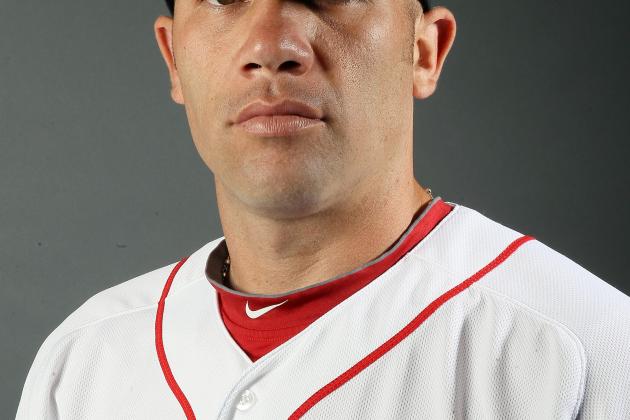 Elsa/Getty Images

I think that Alfredo Aceves has proven himself to this Red Sox team, especially in how well he performed in 2011 with whatever role Terry Francona threw at him.
He has said he wants to be in the starting rotation, and while I have always kind of bought in to Francona's previous line of thinking—I rather use him five times a week in relief than just once. I think it is time to really assess what Aceves would be able to do in the starting role.
Against his peers, his K/9 is 6.26 is tied for fifth best with Ross Ohlendorf. He hosts the second best BB/9 at 2.70 with the second best ERA as well, at 2.92.
His WHIP also is second to just one, at 1.083 and yet his WAR is only sixth best at 2.5
The man was all over the place in 2011. He started games, he finished games and he pitched in long relief. Contrary to my previous thinking, Aceves deserves to be a starter.
I give him a 25 percent shot of getting the fourth slot and a 30 percent shot at the fifth slot.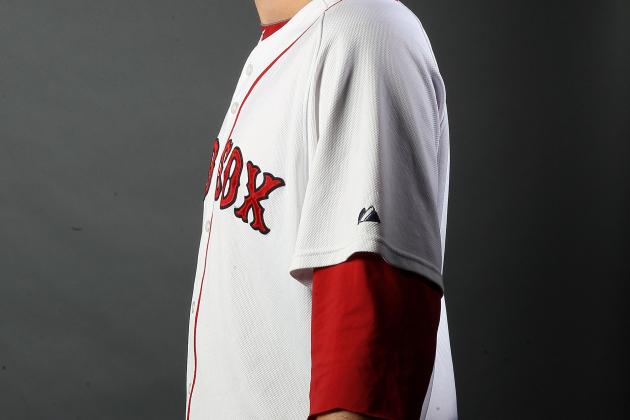 Elsa/Getty Images

It should come as no surprise that Daniel Bard scored the highest, so to speak, among his peers.
His 9.73 K/9 was first overall, while his 3.47 BB/9 was a bit disappointing at sixth best.
However, his 2.88 ERA and 1.056 WHIP were both best among his peers. While his WAR was just 4.2, I can see that spiking this year as he lands a starting gig.
The only way he is not a starter is if he gets injured in spring training.
That being said, he has a 55 percent piece of the pie for the fourth spot and he won't even need to worry about the fifth spot.