Knicks Rumors: Baron Davis Going All-in with Jeremy Lin Is Crucial for New York
March 1, 2012

Chris Trotman/Getty Images
Jeremy Lin put up 19 points and 13 assists in the New York Knicks' come-from-behind victory over the Cleveland Cavaliers last night. While Lin's fifth double-double as a starter is a big deal, the best part of the night was the Baron Davis-led second team taking and expanding the lead for New York in the late third quarter.
Steve Novak buried three-ball after three-ball as Davis did his best Jeremy Lin impression, allowing the Knicks to turn a 17-point deficit into a 13-point lead before Davis left the court with five minutes to go in the game.
His final stat line was four points, eight assists, two rebounds and a steal in 15 minutes of play. That certainly doesn't sound like a lot when Lin is playing 33 minutes per night and filling up every bit of the line, but it is exactly what the Knicks need.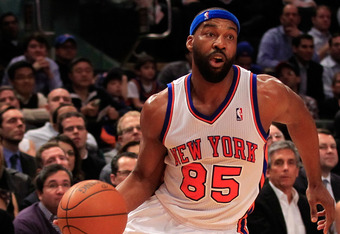 Chris Trotman/Getty Images
On top of that, he led a second team that absolutely dominated defensively. Again, that is exactly what the Knicks need.
Davis joined the Knicks with the impression of being their starting point guard (and possibly their savior) once he was healthy. That was well before Jeremy Lin emerged, but Davis is adapting and fully embracing his new role.
ESPN New York quotes the former All-Star as saying:
"I told [Lin] before the All-Star break that he's been an inspiration and the key to really bringing this thing together," Davis said. 

"We're going to continue to work together and read defenses and study defenses and other point guards so we always have an advantage going into every game."

"If I see things that can help him and help us as a team, I always say something. I try to watch film with him sometimes, but it's more talking to him in practice." 
The Knicks literally could not ask for more from the veteran guard.
A win over the rebuilding Cavaliers isn't the same as beating the Mavericks or the Lakers, but it is a solid start to the second half of the season, especially considering they did it with defense and a stellar performance from their bench.
Coach Mike D'Antoni is currently running with a 10-man rotation. When rookie Josh Harrellson is healthy, that may even expand to 11 men.
Does that make the Knicks the deepest team in the league? Quite possibly.
Does that make the Knicks a title contender? Not yet.
If Lin can continue playing at an elite level, and Davis seamlessly replace him with the league's most exciting second string, the Knickerbockers will be ridiculously dangerous.
It hinges on these two point guards, though. As important of an acquisition as Tyson Chandler, Iman Shumpert and J.R. Smith were this year, nothing is more important than the point guard position in D'Antoni's offense.
For the Knicks to make a legitimate run this year, it starts and ends with Jeremy Lin and Baron Davis.