Wladimir Klitschko vs. Jean-Marc Mormeck: Mormeck Set to do Boxing a Favor
March 1, 2012

On Saturday, Mar 3, 2012, Frenchman Jean-Marc Mormeck is set to send a shiver down the spines of boxing's fraternity when he rips all five coveted titles from Wladimir Klitschko's steely grasp.
Am I crazy? Maybe.
Everything about this matchup points to a landslide victory via brutal KO for the former WBA and WBC cruiserweight champion.
Mormeck has never faced off against such a calibre of opponent as Dr. Steelhammer, who many believe is on course for his 50th career KO.
However, I believe it's time to show Mormeck some love and a teensy weensy bit of respect, because it takes a whole lot of cojones to step into the ring with the heavy-hitting Klitschko (56-3-49 KOs).
The 39-year-old will be giving up almost seven inches in height, a reach disadvantage of 9" and not to mention a vast weight differential.
Succinctly put, all Mormeck will have going for him come fight night is his heart and a determination to win.
Though, one crucial factor that shouldn't be overlooked is that age old boxing adage "it takes one punch to change a fight." And that's all "The Marksman" needs to change the course boxing of history—a punchers chance.
Any and every fighter is susceptible to a KO, more so, one that has been on the receiving end of not just one but three stoppages, as Klitschko found to his cost against, Ross Puritty, Corrie Sanders and Lamon Brewster.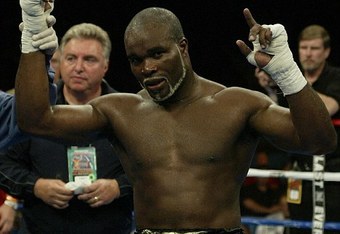 Sure those defeats happened when Klitschko was in his early 20s, but the point still stands.
The sweet science has had its fair share of underdogs who've overcome adversity and against all odds have struck a victory for, as well as shocked the world of boxing. Think Mike Tyson vs. Buster Douglas, Darryl Pinckney vs. Junior Jones, Lennox Lewis vs. Hasim Rahman and Oliver McCall, to name a few.
It's a long shot, but I'm putting my money where my mouth is, and that's on the supposed journeyman Mormeck (36-4-22 KOs) to knock Klitschko off his pedestal and do a small favor for both the heavyweight division and once great sport of pugilism.
For additional information, follow Nedu Obi on Twitter.