Boise State Football: Updating Player Performances from the NFL Combine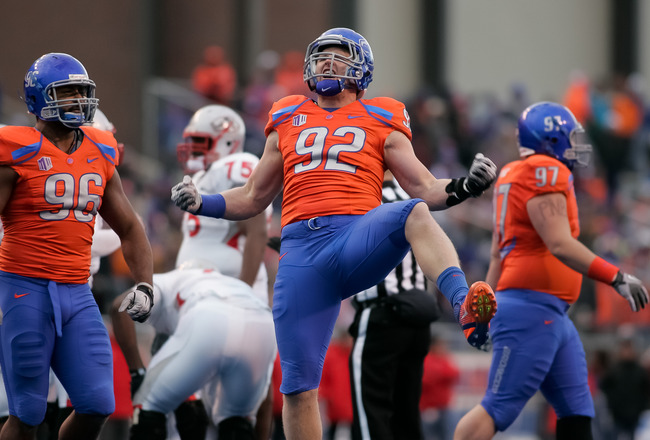 Otto Kitsinger III/Getty Images
Seven Broncos recently participated in the 2012 NFL Scouting Combine in Indianapolis. It was a historic week for the Broncos with seven players from last years squad taking part in the action.
Kellen Moore, Doug Martin, George Iloka, Shea McClellin, Billy Winn, Tyrone Crawford and Nate Potter all had their day under the microscope of NFL scouts.
Overall these seven players did Bronco Nation proud. Some of them certainly increased their stock and it will be intriguing to see where each one of them land come draft time.
With that in mind, let's look closer at each players performance and what it means for their future in the NFL.
Kellen Moore
Joe Robbins/Getty Images
One of the biggest stories of the combine was that Kellen Moore reached the six-foot mark. Okay, maybe that is an exaggeration, but it was finally determined that Mr. Moore is an even 6'0''.
He didn't participate in the bench press, which is no real surprise. However, he did run a sub-5.0 40-yard dash. The official time was 4.94 seconds. That was good enough to be 13th out of 14 participants.
The rest of his timed and measured events weren't much to write home about, but again, that was to be expected.
Where Kellen did shine was in the interview time and when he threw the ball. As Moore threw the ball to prospective NFL receivers from all over the nation, the NFL commentators were gushing about his ability to anticipate.
As you watched the drills it was obvious that Moore was one of the best and most accurate arms out on that field. Those same gushing commentators complained about Kellen's arm strength, but if you watched him perform, he had no trouble throwing the long ball or getting some zip on his passes.
Overall, Kellen did what Kellen does. He impressed while at the same time he was a target of criticism. It will be interesting to see where he ends up.
Some projections have him going in the sixth or seventh round while others say free agency.
The free agency path may not be a bad route to run. That gives Moore the ability to pick the best situation for him. Still, some NFL team will probably take a chance on him in the late rounds to make sure they get the first look at him.
Prediction: Round 6
Doug Martin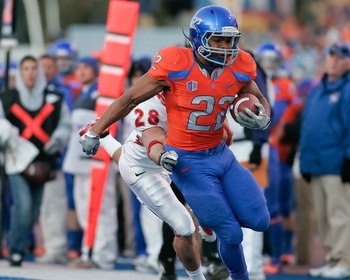 Otto Kitsinger III/Getty Images
Doug Martin tore it up at the combine. His bench press performance turned some heads right away by tying Robert Turbin with 28 reps. If you know anything about Mr. Turbin, you know he has legs for arms, and for Martin to tie him it really says something.
Martin went on to run a 4.55 40-yard dash and jumped a 36-inch vertical. In the broad jump, he broke 10'0'', and in the three-cone, 20-yard shuttle and 60-yard shuttle, Martin finished second, fifth and second.
Martin measured 5'9", and weighed 223 lbs and looked solid and strong. He was already projected as going as high as third or second round. That hasn't changed.
Look for someone to pick Martin up quickly. He is an all-around back, and during the 40-yard dash segment the commentators on the NFL Network said that he could be an every-down back in the NFL. That is a great compliment, and with Doug's ability to run, block and catch the ball and his power and speed, he could certainly be a force on Sundays.
Prediction: Round 2
George Iloka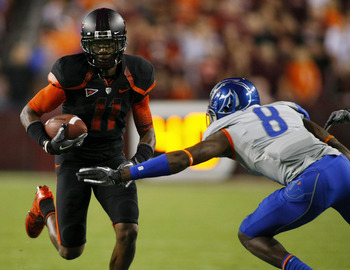 Geoff Burke/Getty Images
George Iloka measured 6'4" and 225 lbs. That is bigger than some expected, and it only helps his stock.
He ran a 4.66 40, which is a bit slower than some might have thought, but with his size no one seems to be holding it against him.
Iloka went on to put up 20 reps in the bench which was forth among his group. His vertical was 34.5 inches and his broad jump was an impressive 10'4''. He also finished first in the 20-yard shuttle with a time of 4.03.
Scouts are high on Iloka, but his performance at the combine didn't necessarily help him out. It didn't hurt him either, but look for him to step it up at the Boise State pro day on March 22.
Prediction: Late Round 2 or early Round 3
Shea McClellin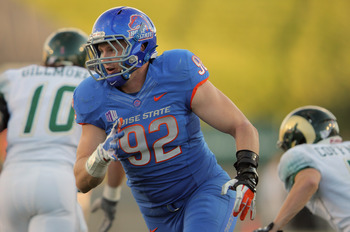 Doug Pensinger/Getty Images
Shea McClellin just continues to improve and impress. His draft stock has risen steadily and has no sign of slowing down.
McClellin came into the combine on a mission, and it is safe to say he accomplished it.
The only area that came in subpar was the bench press, but in this day and age scouts realize that lower body strength is many times more important than upper. Still, it was surprising that he finished tied for last out of 44 competitors at 19 reps.
After the bench press, however, McClellin did nothing but shine. He ran a 4.63 40-yard dash, which outpaced his teammate George Iloka. You know he won't let George live that one down. That time was good enough for second out of 49 participants in his group.
The rest of his drills were great. He jumped 9'10" in the broad jump. He also had a 31.5" vertical and he ran a 7.07 three-cone drill which was good for sixth out of 46.
With his speed, his performance at the Senior Bowl and now his latest performance at the NFL Combine, you can expect teams to look at him at defensive end as well as linebacker.
Prediction: Round 2-4
Billy Winn
Doug Pensinger/Getty Images
Billy Winn had a solid performance at the combine. It wasn't overwhelming, but it didn't have to be.
Winn has already proven himself as a solid NFL pick.
Winn measured 6'4", 294 lbs. He did just fine in his drills and measured events.
He ran a 5.0 40, 7.37 in the three-cone and 4.44 in the 20-yard shuttle.
He is big, strong, and plays with heart. It will be interesting to see what he does come pro day, but even without that he will be an early mid-round pick.
Prediction: Round 3 or 4
Tyrone Crawford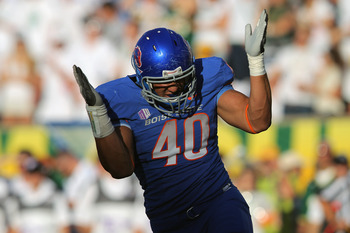 Doug Pensinger/Getty Images
Crawford did a lot to improve his stock at the combine. He came in at 6'4", 275 lbs. He did 28 reps on the bench and ran a 4.89 40-yard dash.
His vertical was 33'' and he jumped 9'5" in the broad jump. Tyrone ran a 7.09 three-cone drill and a 4.44 20-yard shuttle.
Scouts are high on Crawford and his quickness and strength have teams giving him a serious look.
When it is all said and done you can expect Tyrone Crawford to go as high as the third round.
Prediction: Round 3-5
Nate Potter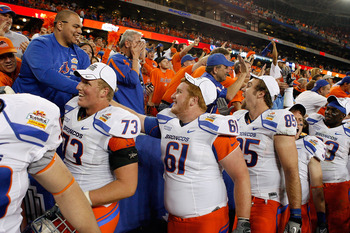 Christian Petersen/Getty Images
Nate Potter did some good things at the combine. At 6'6", 303 lbs, he is a lot of man, but moves quickly.
Potter ran a 7.49 three-cone drill, which was good enough to tie for fourth out of 43 participants.
He also ran a 4.67 20-yard shuttle which was 14th.
Nate had a 28.5" vertical, an 8'4" broad jump and ran a 5.36 40-yard dash.
His draft stock had suffered lately, but his performance at the combine seems to have stopped the slide. Look for him to do some individual workouts with select NFL teams before the draft.
Prediction: Round 5
Keep Reading

Boise State Football: Like this team?