Arjen Robben: The Key to Dutch Victory at Euro 2012
March 3, 2012

Clive Rose/Getty Images
Arjen Robben was the driving force behind Jose Mourinho's first English Premier League title with Chelsea in 2005.
He spearheaded Bayern Munich's run to the 2010 Champions League final.
He even labored through a debilitating injury to help push Holland to the World Cup final just a month and a half after he'd come up short against Inter Milan at the Bernebeu.
Two goals in five matches amounted for a fantastic return for the winger. Robben had missed Holland's first two group stage matches while recovering from a hamstring injury.
He was instrumental in their wins against Slovakia (goal), Brazil (assist) and Uruguay (goal), all while laboring through the lingering effects of that debilitating tendon knock.
Imagine how dangerous he could be at 100 percent.
On Wednesday against England, we saw just what an in-form Robben can do to an opposing side, even one playing in vaunted Wembley Arena, site of an English win against Spain just three and a half months ago. Sure, it was a friendly, but still.
The man was a class apart.
Robben at full tilt makes for a visual akin to a whirlwind coupled with a whirling dervish. Basically, think the Tasmanian Devil with a tad more class and far greater sense for technique.
I assumed Robben has a clearer diction, as well. But I digress...
We saw an attacking Robben at full effect on Holland's first goal, which he crafted out of nothing.
Londoners might have forgiven themselves a moment of disbelief as they watched the Dutchman embark upon a 60-yard run, perhaps mistaking what became a sensational solo goal by Robben for a certain former Gunner who used to make a habit out of full-field sprints followed by cool finishes.
The distance seemed covered in an instant. Robben's goal fired what had been a plodding event into full-fledged life. We'd see four more goals after that one before Holland took a 3-2 win thanks to, you guessed it, a Robben injury-time winner.
The former PSV Eindhoven and Chelsea man had started out on the left wing for Holland, a departure from his normal positioning on the right for Bayern. That allowed Dirk Kuyt to start at his preferred position on the right flank for the Dutch.
But that mattered little where Robben was concerned.
While he is renowned for preferring to attack from the right, which allows him to cut inside and open up onto his magnificent left foot (see: Holland's third goal against England), his is the type of class that can influence proceedings from any position on the pitch.
Robben got himself into the action against England early on, using his pace to get behind England right-back Micah Richards, and cutting infield to link up with attacking midfielder Wesley Sneijder and forward Robin van Persie.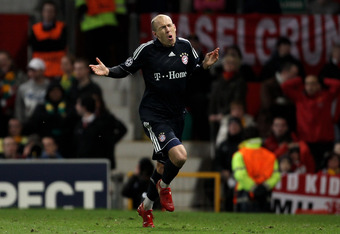 Alex Livesey/Getty Images
Those three served as a triumvirate of sorts for the Dutch attack, producing some sublime combination play.
It was a lovely move between Robben, Sneijder and Van Persie—one-touch passes all—that saw the Dutch No. 9 try out his best Charlie Adam penalty impersonation (see: Carling Cup final) by firing miles over Joe Hart's goal.
That came in a first half that was, to put it lightly, slow.
To put it, I guess, darkly, it was quite boring.

Yet just like one of those vintage Robben runs, the second half saw the 28-year-old with the octogenarian hair (it seems like his mane has been receding since his early 20s) steadily grow in stature until the Dutch threatened to overwhelm the Three Lions entirely.
His performance for Holland was the sort of dominance we've come to expect from Robben firing on all cylinders.
Yet that's hardly been the case of late for his club.
Robben lashed out at recent criticism directed at him for some of his latest Bayern Munich performances, including his role in a 1-0 loss to FC Basel in the Champions League Round of 16 first leg.
The winds of dissatisfaction seem to be coming from all directions, with Franz Beckenbauer calling the winger "selfish," and Robben maintaining that he "doesn't have the confidence" of manager Jupp Heyneckes.
"I could say I don't care and I read or hear nothing, but you can't avoid it," Robben told ESPN's Soccernet (h/t Yahoo!). "It is not always fun, especially because in my opinion it is not justified. If I play badly, you may criticise me, but in Germany it is personal warfare."
It appeared that his call-up to the Dutch side amounted to a holiday of sorts given the stress that has been steadily enveloping him in Munich.
When asked whether he would consider signing an extension with the Bavarian club (Robben's contract is up in 2013), he responded, "It's not an ideal situation at the moment."
He does appear to have an advocate in Bayern president Uli Hoeness, however.
"If we had not had that [criticism] in recent weeks, Robben certainly could have scored two or three goals," Hoeness told Bild. "This s***-talk of whether he is an individualist has caused him to now pass the ball, even if he could go on his own. You can influence a football match from outside."
Robben is searching for a run of games to fire back into full fitness (he says he's not 100 percent at the moment), but with two substitute appearances in his last three matches for Munich, he hasn't had the chance to do so.
It is strange that Bayern Munich would forget that it was, in fact, bits of individual brilliance from Robben that helped them get to the 2010 Champions League final in the first place (see: volley vs. Manchester United in the quarterfinals return leg at Old Trafford).
The winger is by no means a "selfish" player, but just like Cristiano Ronaldo, goal-scoring is his greatest attribute. There are few who can impact a game in that manner like Robben.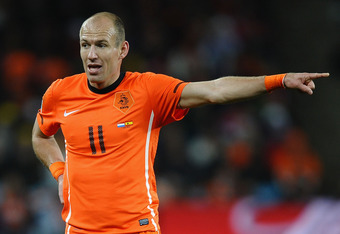 Laurence Griffiths/Getty Images
Why begrudge such a vital contribution, especially when it comes so naturally?
When he's given the freedom to do run at defenses with abandon, like we saw at Chelsea, like we saw two seasons ago for Bayern, and like we saw last Wednesday with Holland, he can lift a team to incredible heights.
Take away that room for spontaneity, and you mitigate his effect as a player.
Should he find his fitness (never a guarantee with him, to be honest) and his form, Dutch coach Bert van Marwijk will be a much more confident man going into this summer's European Championships.
But before that, Bayern still have a Champions League campaign to finish and a league title to win.
That 1-0 defeat on the road to FC Basel is by no means insurmountable, and with the final to be played at the Allianz Arena in May, Bayern have added incentive to forage ahead in Europe's most prestigious competition.
The league is looking a far trickier challenge.
Bayern sit four points behind title holders Borussia Dortmund on 23 games, and will need an inspired run of form to dethrone Jurgen Klopp's side.
Should they heed the words of Hoeness, however, they might just find that they hold the key to unlocking that door.
They just have to remember where they put it. Once that door opens, Holland's opponents should be on alert.