Cleveland Cavaliers Lose to New York Knicks 120-103, 'Linsanity' Strikes Again
March 1, 2012

Chris Trotman/Getty Images
After enjoying a 61-49 halftime lead, the New York lights became just a little too bright for the young Cavaliers.
The Knicks scored 71 second half points, the most points allowed by the Cavs in a half all season, en route to a 17 point victory despite being down by 17 earlier in the game.
Jeremy Lin appeared to be settling in to a suddenly healthy Knicks roster very nicely, as he finished with 19 points, 5 rebounds and 13 assists.
Carmelo Anthony scored 22 points to lead seven double-digit scorers for New York.  Steve Novak connected on five 3-pointers that doomed the Cavaliers in the third quarter, and overall the Knicks scored 23 points off 17 Cavalier turnovers.
Some bright spots for Cleveland included rookies Kyrie Irving and Tristan Thompson.  Irving scored 22 points but more importantly dished out 7 assists.  Thompson was extremely active, chipping in 11 points and grabbing 8 rebounds in a strong 29 minutes off the bench.
Antawn Jamison, if nothing else, continues to increase his trade value with another 20+ point game, putting together a 23-point, 10-rebound game.
New York looked like a championship team down the stretch, playing suffocating defense and getting to the rim with ease against a Cavs team that looked tired playing on the second half of a back-to-back.
After watching Jeremy Lin for the first time for a full game, I have to say he appears to be the perfect fit for this Knicks team.  Skill-wise, I wouldn't put him in the top 10 point guards in the league, but I don't know who would be doing a better job for New York right now.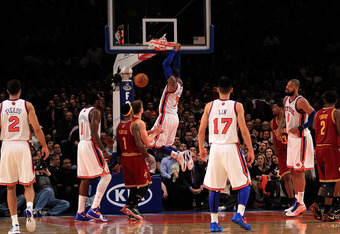 Chris Trotman/Getty Images
With so much talent on the roster, Lin is smart enough to know when to take his own shot and talented enough to get the ball where his teammates need it.  It'll be interesting to see who has the ball late in games when the Knicks need a basket, Lin or Carmelo.
As for the Cavaliers, a great first half couldn't make-up for a terrible second one.  The difference in team talent was painfully obvious, especially down the stretch.
It doesn't get any easier as Cleveland plays next on Friday at home against the Chicago Bulls.  Chicago is tied for first in the East with a 28-8 record.
As the second half for the Cavs is officially underway, the next two months will certainly tell us a lot about the franchise's future.
With Irving and Thompson both starting to play at a high level, hopefully the Cavs future will be as bright as those New York lights.