Forgotten New York Yankees of the Past 4 Decades: "H"
March 1, 2012

Dave Sandford/Getty Images
Ruth, Gehrig, Mantle and Jeter are some of the greatest names in New York Yankees history. However, Holland, Murray and Mills are the names of some of the forgotten Yankees.
This series will focus on the less remembered players to wear pinstripes over the last four decades (1970s-2000s).
Today's letter of the day is "H."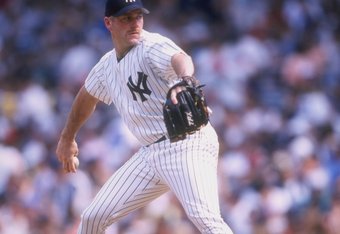 David Seelig/Getty Images
Chris Hammond (2003)
Pitcher Chris Hammond was drafted in the sixth round by Cincinnati in the 1986 draft. By the time he pitched with New York, he had already retired once.
Hammond decided to retire after shoulder surgery in 1998. However, he returned to the majors with Atlanta in 2002 before signing a two-year, $4.8 million free agent contract with the Yankees. Hammond was expected to replace Mike Stanton as the top left-handed setup man.
With Atlanta in 2002, Hammond was 7-2 with a 0.95 ERA. He continued his effectiveness with the Yankees in 2003 with a 3-2 record, a 2.86 ERA and 45 strikeouts in 62 appearances.
Hammond also recorded a team-high 17 holds.
One of his most impressive appearances was on June 29 with the Yankees leading the Mets, 5-3, in the top of the eighth. After allowing a lead off single to Vance Wilson, Hammond struck out Jose Reyes, Roger Cedeno and Raul Gonzalez to preserve the lead en route to the Yankees win.
After allowing five earned runs over a stretch of five consecutive innings from late July to mid August, Hammond finished the season by only allowing one earned run in his last 16.1 innings.
Hammond did not pitch in the ALDS against Minnesota and was not on the roster for the ALCS versus Boston. He pitched two innings in the 6-4 loss to Florida in Game 5 of the World Series, allowing a two-run, fifth inning single to former Yankee Mike Lowell.
Even though he signed a two-year contract, Hammond was traded to Oakland for a pair of minor-leaguers on Dec. 18, 2003. He played one season with the Athletics, San Diego and Cincinnati before retiring for a second time.
Darren Holmes (1998)
With Colorado in 1997, relief pitcher Darren Holmes won nine games with a 5.34 ERA. While his ERA dropped with New York in 1998, so did his win total.
The Yankees signed Holmes as a free agent on Dec. 22, 1997 to strengthen their bullpen. He had saved 25 games in Colorado's first season in 1993.
While New York embarked on their record-setting season, Holmes struggled during the first half of the campaign.
He allowed at least four earned runs in four appearances.
On June 11 at Montreal, Holmes allowed a two out, three-run double to Montreal's Vladamir Guerrero in the bottom of the seventh inning as the Expos overcame a 5-0 deficit to win, 7-5.
Holmes pitched much better in the second half of the season. He suffered the loss in consecutive appearances against Toronto and Detroit, but rebounded to post a three inning save, his first of the season, on July 22 versus Detroit. Holmes only allowed four earned runs over his final 20.1 innings.
In 34 appearances and 51.1 innings pitched, Holmes was 0-3 with two saves and a 3.33 ERA. He did not pitch in the Yankees postseason run to their second championship in three years.
During spring training in 1999, Holmes was traded to Arizona for pitcher Ben Ford and catcher Izzy Molina.
Toby Harrah (1984)
Only two former players from the Washington Senators final season in 1971 were still playing in 1984. The players were Jeff Burroughs and newly acquired third baseman Toby Harrah.
On Feb. 5, 1984, Harrah and a player to be named later (Guy Elston) were traded from Cleveland to New York for pitcher George Frazier and outfielder Otis Nixon. Yankees third baseman Graig Nettles would be traded to San Diego nearly two months later on March 30.
Harrah played at least 103 games each season from 1971 to 1983. He shared third base duties with Mike Pagliarulo in 1984 and batted .217 with a home run and 26 RBI in 88 games.
Harrah recorded a pair of four-hit games with the Yankees. He went 4-for-4 with a double and run scored on July 25 in a 3-0 win at Milwaukee. On Sept. 8 at Fenway Park, Harrah was once again 4-for-4 with two RBI and three runs scored in a 12-6 victory over the Red Sox.
After his disappointing season in the Bronx, New York traded Harrah back to Texas, where he played from 1972 to 1978. On Feb. 27, 1985, Harrah was sent to the Rangers for outfielder Billy Sample and a player to be named later (Eric Dersin).
Harrah played his final two seasons in Texas in 1985 and 1986.
Elrod Hendricks (1976-1977)
Catcher Elrod Hendricks had three different stints with Baltimore in the 1960s and 1970s. Sandwiched between Orioles stints was one season with the Cubs in 1972 and two years with the Yankees from 1976 to 1977.
A native of the Virgin Islands, Hendricks was involved in the 10-player trade between Baltimore and New York on June 15, 1976. He appeared in 26 games for the Yankees and batted .226 with three home runs and five RBI.
In Hendricks's first game with New York on June 24, he went 2-for-4 at the plate in a 6-5 win over Cleveland. Two days later in a 6-3 triumph over Milwaukee, Hendricks hit his first Yankee home run.
Hendricks collected a hit in his only at bat in the 1976 ALCS. He also played in Games 3 and 4 of the World Series against Cincinnati and was 0-for-2 at the plate.
Hendricks appeared in four games in April, 1977 before accepting an assignment to AAA Syracuse. He returned in September for six games but was not included on the postseason roster. Hendricks was 3-for-11 (.273) at the plate with a home run and five RBI.
After the 1977 season, Hendricks returned to Baltimore to serve as their bullpen coach. However, he decided to unretire and played in a combined 14 games from 1978 to 1979.