Andrew Luck, Robert Griffin III and Others: What Does the NFL Combine Tell Us?
April 11, 2017
Joe Robbins/Getty Images
All this talk of who scored what at the NFL Combine is missing the point.
Sure, it's nice to know Dontari Poe from the University of Memphis led defensive linemen with 44 repetitions in the 225-pound bench press. And the combine-wide heptathlon does provide a uniform measure for every player of strength, speed and agility.
According to a 2003 article in the Journal of Strength and Conditioning Research, the combine's numerical results also accurately predict draft status for several positions, including running back and wide receiver.
But unless the NFL is only about draft day, and maybe winning an office pool, then it's possible to put too much emphasis on the numbers from the combine.
After all, the numbers are merely indicators. A sub-4.4-second performance in the 40-yard dash suggests a wide receiver has the speed to get open. But does he have the moves to beat a cornerback with similar speed? Can he catch the ball consistently? Can he juke a defender after the catch and pick up 10 more yards?
For the answers to questions like these, we need to dig deeper. And that's what the combine does through its position drills.
Every player at each position takes part in various workouts that either reflect or actually reproduce what they'll be expected to do in the NFL.
Quarterbacks, for example, throw a variety of routes to receivers, from three-, five- and seven-step drops. Running backs dash over an obstacle course and then break right or left depending on the signal from a coach standing in the secondary.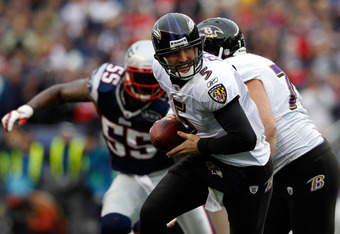 Rob Carr/Getty Images
It's there, with coaches and scouts scrutinizing technique, that players can really raise their stock.
In an entertaining and informative series of videos on NFL.com, former Boston College defensive back Mike Mayock of NFL Network reveals what scouts are looking for. He also discusses various players, such as Baltimore Ravens' quarterback Joe Flacco, who burst forth from obscurity during the combine's position workouts.
The opposite can happen, too. As Bleacher Report featured columnist Eric Ball observed yesterday, University of Arizona quarterback Nick Foles may have dropped from a possible first-round pick to the third or fourth round. It wasn't just that Foles displayed how slow he was, with a 5.14-second 40. He also was considered to have thrown poorly, and that may have the greater impact in scouts' evaluations.
Another recommended video on NFL.com puts Oklahoma State quarterback and former New York Yankees prospect Brandon Weeden opposite ex-San Francisco 49ers and Green Bay Packers head coach Steve Mariucci, now an NFL Network analyst.
Mariucci begins by challenging the 28-year-old Weeden's commitment to football after Weeden flamed out as a minor-league pitcher. He then asks Weeden to teach him one of Oklahoma State's passing plays, and grills him on the intricacies of execution and decision making.
It's a fascinating glimpse at the kinds of conversations coaches and scouts hold with the aspiring rookies at the combine.
As Jerry McDonald of the Bay Area News Group recently wrote, the combine is, "an intensive job fair of sorts." Besides gauging prospects' physical skills, team representatives can also engage in close questioning that reveals their applicants' intelligence and knowledge of their positions.
It's another intangible that may be as important—or even more so—than the numbers posted in the vertical jump or the three-cone drill.
And that's the thing to remember. The numbers are nice—but at the combine and elsewhere, it takes the whole picture to tell the whole story.