Toronto Maple Leafs: Coach Ron Wilson Is the King of Criticism
February 29, 2012

Claus Andersen/Getty Images
After losing for the ninth time out of 10 games, Toronto Maple Leafs coach Ron Wilson had this to say: 
"Everybody is frustrated right now. We did not do anything at the trade deadline and we came out tentative, to say the least, and got behind early."
Saying the team didn't do anything at the deadline was a direct jab at GM Brian Burke, who has always backed his coach throughout his four-year tenure in Toronto.  With only 19 games left in the season, Burke will not fire Wilson, but it would be a shock to see Wilson behind the Leafs bench next year.
A coaching change at this point will not happen for two reasons.  First, there is still enough time for the Maple Leafs to turn their season around and make the playoffs.   Second, if the players have tuned Wilson out, then the team may be better suited to keep him for the remainder of the season so they could bottom out and position themselves in to the draft lottery for a chance to select top prospect Nail Yakupov.
"We weren't ready to start the game. There is no pressure anymore. This is a positive pressure to get into the playoff race and [we're] going from there. We did not help ourselves at all."
No kidding.  Last night's game was just about a playoff game; in fact, their last four games (all losses on home ice) could be described that way.  Not being ready to start a game?  That's unacceptable.  
One thing that has become apparent is that Wilson lacks accountability.  Has he ever said "I made a mistake," or "I had the wrong players out there" or "I was out-coached tonight?"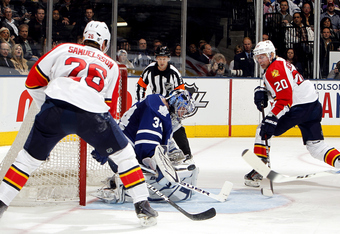 Abelimages/Getty Images
After losing to the Washington Capitals, Wilson singled out James Reimer for the loss by stating: 
"We've got to figure out a way to get a save here and there."
"The two goals early in the game were stoppable chances, they got saves at one end. We didn't."  
He must have a short memory because it was Reimer one who saved his job last season by going 20-10-5, which indirectly led to his contract extension in December after Toronto's strong start. 
If anything, Ron Wilson should be thanking Reimer for the free money he'll be making by not coaching the Toronto Maple Leafs next year and beyond.
Your thoughts: Is it too late or can Ron Wilson save his job by making the playoffs this season?