Why Alexei Emelin Didn't Fight Ryan Malone
February 29, 2012

Ezra Shaw/Getty Images
On Tuesday night, the Tampa Bay Lightning hosted the Montreal Canadiens.
The game was, well, not overly exciting. The Lightning won the game 2-1 and not too much happened. But one sequence of plays in particular was interesting.
At the 14:08 mark of second period, Canadiens defenseman Alexei Emelin hit Lightning forward Ryan Malone, who attempted to tip a pass into the zone. Malone missed the tip, yet Emelin still clocked him anyway. It would have been a good, open-ice hit, but Malone didn't touch the puck, so a two-minute minor penalty for interference was given to Emelin.
After the hit, Lightning defenseman Eric Brewer tried to go after Emelin, but nothing ensued. It was a minor scrum, the linesmen broke it up and Emelin headed to the penalty box alone.
Then at the 11:44 mark, after Emelin's penalty had expired, he was heading to the bench for a line change. Malone was on the ice at the time and knew Emelin was coming out. The play was deep in Tampa Bay's zone and behind the play near the red line when Malone went after Emelin.
Malone dropped his gloves and punched Emelin from behind a few times, as he was just about in the bench. Emelin turned and tried to get away, but Malone held on and kept punching. The linesmen stepped in right away and tried to pry Malone off of Emelin. Malone kept grabbing Emelin, tried to throw him around and then finally let go. Malone was still livid and tried to go after the Canadiens bench, but linesman Darren Gibbs held him back.
Malone kept trash-talking the Habs bench, where Canadiens P.K. Subban and Brad Staubitz were at the end of the bench yapping back.Malone was finally led off the ice and into the dressing room. He was given a two-minute minor for unsportsmanlike conduct, five minutes for fighting and a 10-minute misconduct for being the aggressor. Staubitz was given a two-minute minor for interference and a 10-minute misconduct for his actions from the bench.
Emelin was not given anything on the play.
Now the question: Is Emelin required to fight Malone after throwing a big hit?
The hit was not legal, since Malone didn't touch the puck. Malone probably had snot on his forehead after getting cranked, so he was fuming. And rightfully so.
But he went after Emelin, a tough Russian defenseman, who has a history.
Emelin wouldn't, couldn't and shouldn't fight.
During a 2009 playoff game, while playing with Kazan AK-Bars in the Kontinental Hockey League, Emelin got into a fight with Alexander Svitov, who rearranged Emelin's face. Emelin was left face down, bleeding profusely on the ice after taking a couple solid punches to the face.
Emelin had a concussion, a broken nose and needed facial reconstruction. Now he has several metal plates under his left eye. So, that's a good enough reason not to fight Malone. Why risk more injury to your already-injured face? There could be long-term effects.
Why is it that when there is a big hit, the player delivering the check must quickly look up and be ready for an opposing player coming to attack him? Yes, these opposing players want to stick up for their teammates and want to tell the hitter, "You can't do that to our guy."
Is this taking hitting out of the game?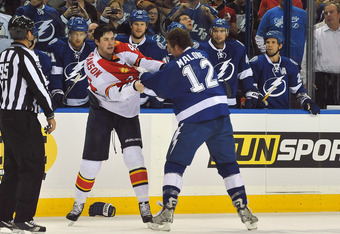 Al Messerschmidt/Getty Images
There are some instances where a player needs to back his actions up. He needs to answer the bell after delivering a dirty check. You see this in the NHL all the time. If nobody stuck up for the guy who got cranked, that shows what the dressing room is like. Players need to have each other's back. They need to stick up for their teammates.
It will become better-known around the league that Emelin is a big hitter who will not fight. So when Emelin throws another big hit and the opposing team takes exception, one of Emelin's teammates might need to answer the bell.
It's just how it is.
Follow me on Twitter: @TaylorShire