Quarterback Report Card for Every College Football Team Heading into Spring Ball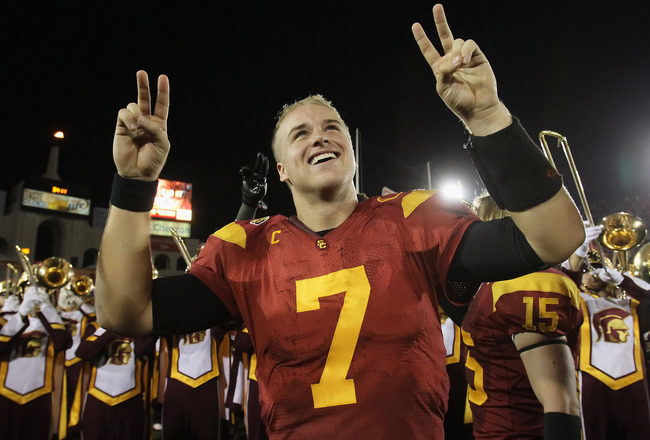 Jeff Gross/Getty Images
The spring football games are only about a month away and before you know it summer practices will be underway.
Looking at every program's quarterback(s) heading into the 2012 season, I hand out my grades based on where my expectations (and how I see the talent level) currently are and will eventually be for every starter.
Many talented players will disappoint us whereas others may shine bright as ever before. So, here are your quarterback grades heading into the spring for every FBS program.
Note: I do not include the four new teams: Massachusetts, UTSA, North Alabama or Texas State. The order is of the following: SEC, Big Ten, Big 12, Pac-12, ACC, Big East, Mnt West, C-USA, WAC, MAC, Sun Belt and Independents
Alabama Crimson Tide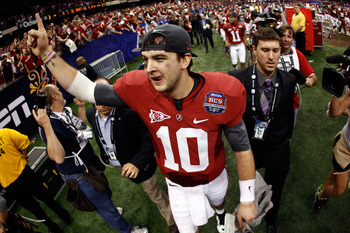 Chris Graythen/Getty Images
A.J. McCarron just won a BCS title, so the pressure is completely off of him in my eyes. He played well (matured quickly throughout the season) against LSU when it mattered the most and just because Trent Richardson is gone will not mean more of the onus will be put on him.
The offensive line ranked among the best in the country last season and they may undoubtedly become the best unit in 2012. Jalston Fowler, Dee Hart and Eddie Lacy will be a deadly trio of backs and McCarron will have a lot more help in the passing game.
Grade: A
LSU Tigers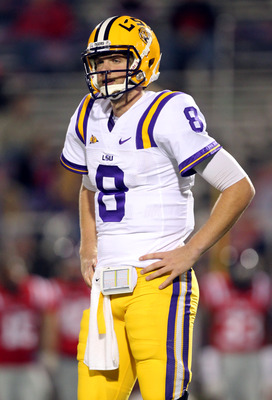 Joe Murphy/Getty Images
Jordan Jefferson wasn't asked to do much against Georgia and luckily he didn't need to, but he struggled miserably against Alabama in the BCS title.
Jarrett Lee and Jefferson are both now gone, so it will be former Georgia recruit (third string at LSU last yr) Zach Metttenberger's job to lose.
The kid has a cannon of an arm and is a big dude (6'5, 250-pounds). The vertical game should improve and I look for an LSU offense to only improve in terms of yardage per game. At the moment though, they aren't the most confident group in the country after a humiliating loss to Alabama.
Grade: B+
Arkansas Razorbacks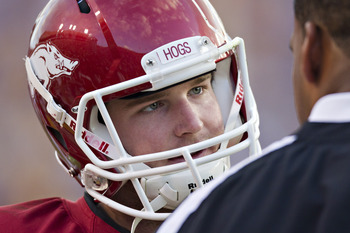 Wesley Hitt/Getty Images
Tyler Wilson is arguably the best quarterback in the SEC and in the entire country. Sure, that Matt Barkley guy might be the best but Wilson cannot be too far behind.
In fact, Wilson is a solid Heisman candidate going into next season and a healthy Knile Davis in the backfield certainly would help. Jarius Wright and Greg Childs won't hurt a whole lot because the depth is strong and a guy like Cobi Hamilton should be ready to become All-SEC.
Grade: A+
Auburn Tigers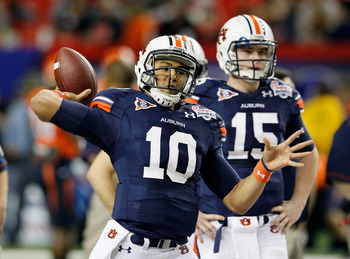 Kevin C. Cox/Getty Images
Kiehl Frazier wasn't and still isn't known for his threading the needle capability, but he has a big season in store of him. Frazier has a boatload of his weapons back that he played with towards the end of the season (specifically Chick-Fil-A Bowl).
Frazier and Auburn may be without their offensive coordinator in Gus Malzahn and running Michael Dyer who has since transferred to Arkansas State with him, but the offense should only improve starting in the spring.
Grade: B
Mississippi State Bulldogs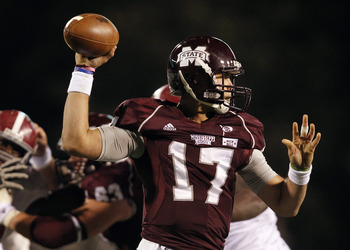 Butch Dill/Getty Images
Chris Relf was benched in a few games during the season and Tyler Russell came in and played well at times.
However, the senior (Relf) eventually won the job back and led the Bulldogs to a winning season. Russell will not be asked to lead this team and it won't be easy without star back Vick Ballard.
LaDarius Perkins should do a solid job taking over, but Mississippi State's passing game struggled last season. They need more receivers to get open obviously, but the lack of a physical presence has haunted them a tad.
Russell is a capable quarterback (8 TD/4 INT), but questions still remain as to whether his team and himself are good enough to sniff a top three or four finish in the SEC West.
Grade: C+
Ole Miss Rebels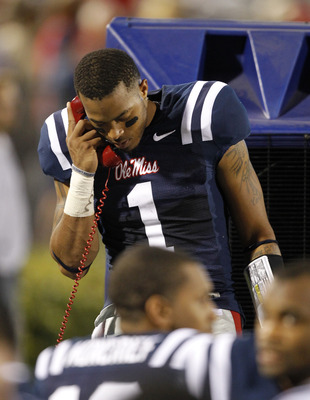 Butch Dill/Getty Images
The suspension of Randall Mackey in the final two games of the season and the firing of Houston Nutt did not help things.
Zach Stoudt tried to stop the bleeding but nothing occurred as the Rebels ended up losing their final two games by a score of 83-6. The Rebels were 107th in passing offense averaging just 151 yards per game. Both former junior college transfers, Stoudt and Mackey will battle it out during the spring.
Grade: C
Georgia Bulldogs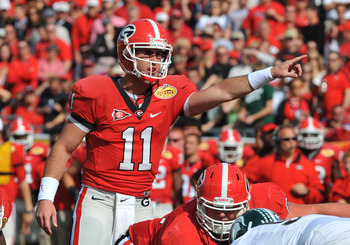 Al Messerschmidt/Getty Images
Aaron Murray similar to Tyler Wilson is among the five best signal-callers in the nation and the talent around him is exceptional.
A loaded backfield and a star-studded cast of receivers (decent-solid OL) will allow Murray to play like an All-American. It is up to Murray on whether or not UGA can become legit SEC and BCS title contenders.
The pocket presence is solid though his accuracy needs to slowly improve. I look for everything to click as Richt and the Dawgs finally look like they have what it takes to perhaps win the SEC.
Grade: A+
South Carolina Gamecocks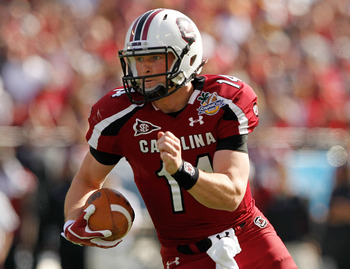 Mike Ehrmann/Getty Images
Connor Shaw wasn't thrown into the fire necessarily when he replaced Stephen Garcia, but it didn't help when Marcus Lattimore went down for the season with a knee injury.
Shaw stepped his game up and scrambled his brains out and it showed watching his games (8 rushing TDs, 14 passing TDs, 6 INTs). Even though they will lose Alshon Jeffery the depth is solid despite what the statistics show.
No other wide receiver outside of Ace Sanders, no other wide receiver hauled in more than 12 receptions. The tight ends are solid and the backs provide depth for Lattimore which should help out Mr. Shaw.
Grade: B+
Florida Gators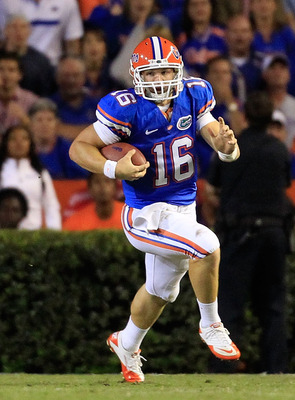 Sam Greenwood/Getty Images
John Brantley's career is finally over in Gainesville and Jacoby Brissett and Jeff Driskel will be the next in line.
Driskel came in with much more hype and deservedly so, but Brissett will be given a fair opportunity as well. Most are expecting JD to be the next guy since he is the better pocket passer.
Throw in a ton of young speedsters and the Gators offense has to improve under new offensive coordinator Brent Pease (formerly Boise State). It starts with deciding who your guy to thread the needle is, though a good spring battle should be entertaining to pay close attention to.
Grade: B
Tennessee Volunteers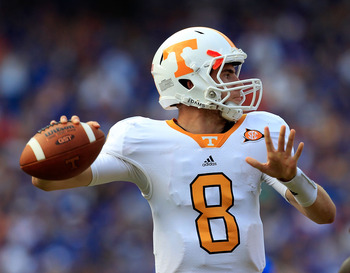 Sam Greenwood/Getty Images
Tyler Bray has a huge season in store for him if he can just stay healthy. Going down with the thumb injury was stressful enough on the program, so it is vital for the Vols to find a running game (116th).
If they help out Bray just a bit, he will shine brightly. Da'Rick Rodgers and Justin Hunter will be among the best duos in America at receiver so if the offensive line can jell, this passing offense will be among the best in the SEC.
Bray has the size (6'6, 210-pounds) and the arm strength to fit the ball in the needed windows and I look for Tyler and the offense to carry this team.
Grade: B+
Vanderbilt Commodores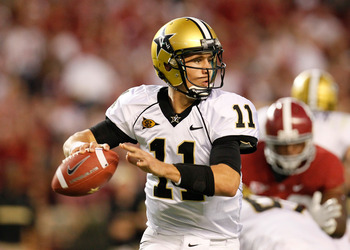 Kevin C. Cox/Getty Images
Jordan Rodgers played lights out in certain games, but he faded down the stretch. Larry Smith was a senior and played well albeit they lost in the Liberty Bowl to post their straight losing season.
Still, James Franklin did a fantastic job and put together one of the best seasons in a long time for the Nashville faithful. Back to the Aaron Rodgers' little brother though because "Champ" junior had a knack for making plays in both the passing and running game.
It is a cause for concern that he threw 9 touchdowns and 10 interceptions so it is imperative he improves alongside legit playmakers in Jordan Matthews and Chris Boyd.
Note: Pete Thomas, formerly Colorado State's starting quarterback has since transferred and will sit out the 2012 per NCAA rule
Grade: B-
Kentucky Wildcats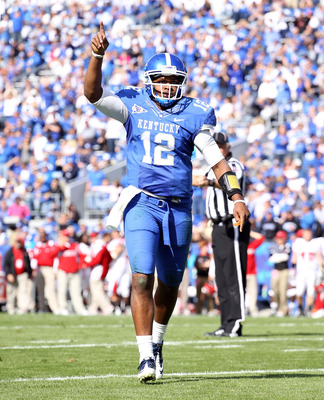 Andy Lyons/Getty Images
Morgan Newton has the body to take on SEC hits (6'4", 235-pounds) but some argue his arm and smarts aren't up to par with the elite.
Newton started in the first eight games (UK went 3-5) and he was then suspended. The wheels came off for the Cats despite decent efforts by Maxwell Smith and Matt Roark (started final game).
Joker Phillips is surely on the hot seat and his quarterbacks haven't been spinning it thus far in his tenure.
Grade: C-
Texas A&M Aggies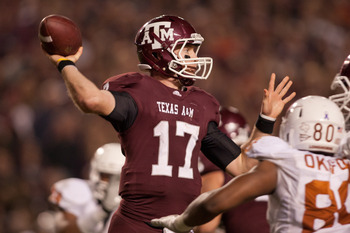 Darren Carroll/Getty Images
Jameill Showers will be taking over for Ryan Tannehill and he is losing a few star targets in Jeff Fuller and Cyrus Gray as well. Luckily, Ryan Swope returns and he will rank among the best pass catchers in the country, but it will be a whole lot tougher in the SEC.
Grade: C+
Missouri Tigers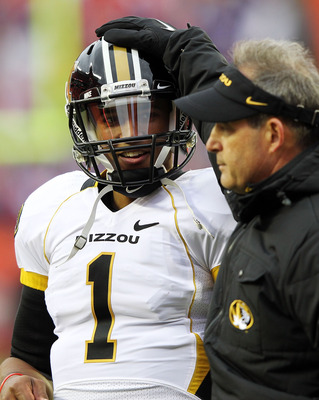 Jamie Squire/Getty Images
James Franklin is a stud and proved it against an unmotivated Tar Heels team to cap off the 2011 season. Still, Franklin is losing arguably his best target in tight end Michael Egnew and the schedule is beyond brutal.
Grading Franklin heading into the spring cannot go in any other direction but a positive one though as he is a potential star in the making.
Grade: B+
Ohio State Buckeyes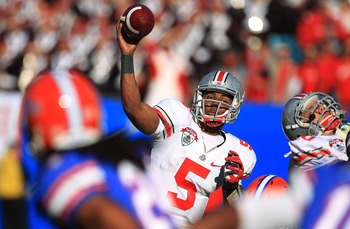 Scott Halleran/Getty Images
Braxton Miller under Urban Meyer should be interesting and many believe he will become a Heisman candidate within the next two seasons.
Entering his sophomore season and playing with house money per se will only help the Buckeyes in the long run.
They need to get back the basics, but they were abysmal threading the needle last year. Most of it was playing with younger and arguably lesser talented players compared to what they are use to. Other reasons such as the loss of their head coach and of a few star players was arguably put them in such a deep hole.
Miller can scramble with the best of them and still has a solid line protecting him despite Brewster and Adams moving on, but look for a new group of young receivers (Smith, Brown, Reed, Fields) to emerge which will ultimately turn Miller into a star.
Grade: B+
Michigan Wolverines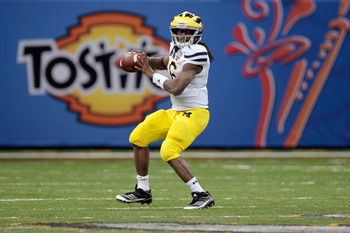 Chris Graythen/Getty Images
Denard Robinson may not be considered among the best pure passers in America, but he was and still is considered the most electrifying duel-threat quarterback out there.
"Shoelace" needs to stay healthy since he took a few too many licks for Brady Hoke's pleasure, but Devin Gardner is a reliable backup that could start for arguably half the teams in the Big Ten.
Robinson struggled in the Sugar Bowl, but the Maize and Blue found a way (lady luck) to win still. It is imperative that he improves his accuracy and decision making albeit he returns one of his favorite targets in Roy Roundtree.
If Michigan wants to win the Big Ten and or appear in another BCS bowl then Robinson better be able to perform like an All-American or an All-Big Ten performer.
Grade: B+
Wisconsin Badgers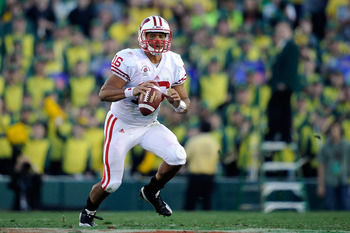 Kevork Djansezian/Getty Images
Jon Budmayr and Joe Brennan will battle it for the starting gig, but Curt Phillips will be back after missing the entire 2011 season (knee).
Losing former NC State transfer Russell Wilson will be tough because of how much he meant towards the team. Wilson was a Houdini back in the pocket and was able to sneak and squeak his way by defenders.
He had an underrated arm but was known for his knack of carrying the team with his leadership ability. That is something the eventual starter must garner or else Montee Ball will not be able to go bonkers like he did last season.
Grade: B-
Penn State Nittany Lions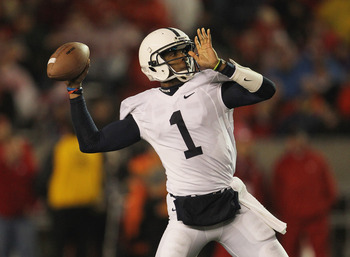 Jonathan Daniel/Getty Images
Rob Bolden isn't nearly as terrible as he may have showed in the Ticket City Bowl, but the offense was in shambles for nearly the entire season. Obviously the squad had to deal with arguably more distractions that any team has ever faced before during the ladder stages of the year.
Matt McGloin will be entering his senior season and he did a better job cutting down on his interceptions (5), but he managed only 8 touchdowns for the season.
The passing game was atrocious and it needs to drastically get better since their division could be wide open. The Buckeyes are ineligible and teams like Indiana and Illinois are (or still are) going through a coaching overhaul.
The only tough competition against PSU are the Badgers and the hope is that they can lean heavily on Silas Redd (1,241 yard and 7 TD). Bill O'Brien will pray that he gets more production from at least one of his signal-callers.
Grade: C
Illinois Fighting Illini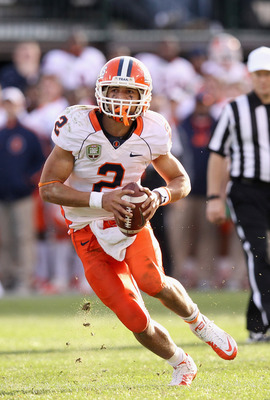 Ezra Shaw/Getty Images
Nathan Scheelhaase and the Illini passing game was just 91st in the nation averaging 184 yards per game. Riley O'Toole had some time as the quarterback in a limited role, but he was no cure for a group of receiver outside of A.J. Jenkins that struggled to stretch the field.
Still the decision making was poor for Illinois QB's (13 interceptions) and they were able to only reach the end zone 14 times via the air. Luckily, Scheelhaase can run with the best of them or else the production would be among the worst in the Big Ten, instead it hangs close to the middle of the pack.
Grade: C+
Purdue Boilermakers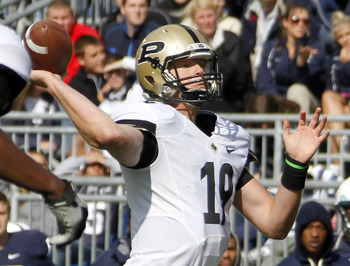 Justin K. Aller/Getty Images
The Robert Marve experiment didn't go all that well, but Caleb TerBush was solid enough and injured starter Rob Henry is expected to become the starting quarterback when the summer rolls around.
Henry ran for over 500 yards as a freshman (8 TD/7 INT) but will be pushed by TerBush's solid junior campaign (13 TD/6 INT).
Purdue's weakness offensively was throwing the ball down the field as they ranked 83rd averaging a pedestrian 195 yards per game. Look for improvement, but will it be enough to get them back into the postseason?
Grade: C+
Indiana Hoosiers
Joe Robbins/Getty Images
Kevin Wilson was expected to have an open battle of quarterbacks, but a lot has happened since the end of the regular season. For starters Ed Wright-Baker and Dusty Kiel have both left the program, so the job for the taking is with Tre Roberson.
Roberson had a solid freshman campaign and was handed the gig towards the end of the season.
Known more of a runner, Roberson reached paydirt twice on the ground and only three times via the air (six picks). If he can mature and learn more of the playbook, he should be able to keep the job while maintaining success.
Grade: C
Nebraska Cornhuskers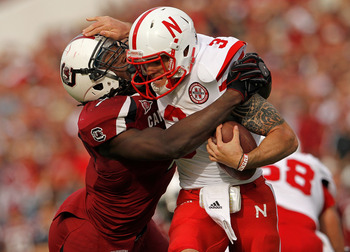 Mike Ehrmann/Getty Images
Taylor Martinez had his chances throughout the season and his accuracy alongside his receivers let him down. No receiver had more than three touchdowns or 32 receptions!
Rex Burkhead carried this team in all offensive facets of the game, but Martinez needs to be more productive than just the running game. The hope is that the incoming freshman recruiting class can make a difference or else more of the same results will occur in 2012.
Grade: B
Michigan State Spartans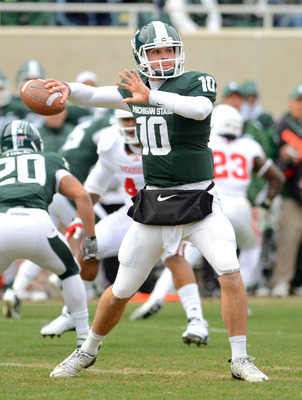 Mark A. Cunningham/Getty Images
Kirk Cousins wasn't the most talented star in Spartans history, but he was a pure leader that finished his season on the right note.
Andrew Maxwell has a stronger arm and can lead MSU back to a ten win season, but there needs to be a few wide receivers who step their game up. B.J. Cunningham (all-time reception leader MSU history) and Keshawn Martin are gone and the depth will play a factor for Maxwell.
Bennie Fowler must be able to step in and produce like he had two seasons ago. The talent pool isn't low in East Lansing with a tremendous coaching staff and some honestly believe they will only get better in time.
Grade: B
Iowa Hawkeyes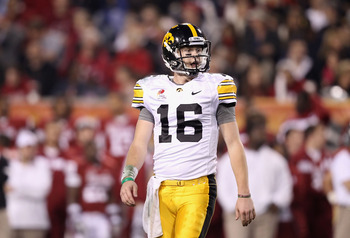 Christian Petersen/Getty Images
James Vandenberg had a solid season throwing for 25 touchdowns and just 7 interceptions in his junior season. The biggest question isn't so much JVB, but rather the talent around him. He loses his stud NFL tackle in Riley Reiff on top of star receiver Marvin McNutt and running back Marcus Coker.
More of the onus will be on Vandenberg so it will be up to him to develop a solid rapport with several young receivers and tight ends.
Grade: B+
Northwestern Wildcats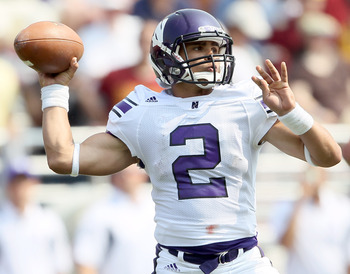 Elsa/Getty Images
Dan Persa is gone but he didn't carry this team despite all of the Heisman hype during last summer. Kain Colter was a triple threat actually with his ability to catch passes out of the backfield, but he will be the guy throwing the ball in 2012.
Guys like Dunsmore and Ebert are gone, but the spread attack that the Cats use doesn't rely upon one guy to carry the offense. Even though Colter is technically a new starting quarterback, NU does not have too much to worry about regarding him.
Grade: B
Minnesota Golden Gophers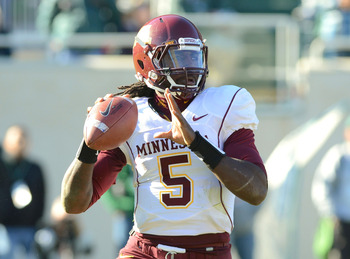 Mark A. Cunningham/Getty Images
MarQueis Gray is heading into his senior season and will need to go bonkers for the Gophers to reach bowl eligibility in Jerry Kill's second season. Gray may run for over 1,000 yards but he needs to throw at least twice the amount of touchdowns (8) in 2012
Grade: C+
West Virginia Mountaineers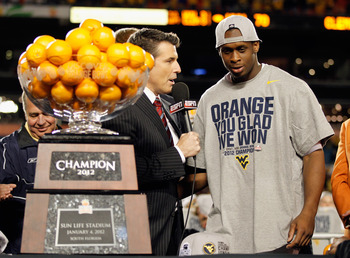 Mike Ehrmann/Getty Images
Geno Smith joins that prestigious list (Barkley, Jones, Wilson, Murray) of top notch quarterbacks for the 2012 season.
His Mountaineers are headed to the Big 12 and have a solid shot of winning the conference thanks to Tavon Austin, Stedman Bailey and a bevy of other stars that waiting in the wings. Smith has quite the precision in the pocket and can torch you in many different ways.
Grade: A+
Oklahoma Sooners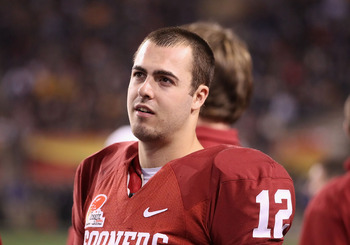 Christian Petersen/Getty Images
Landry Jones alongside Barkley, Murray and Wilson is in that rare talent pool. Losing Ryan Broyles was brutal at first, but he eventually got it threw it and now has a ton of talent coming in.
Kenny Stills and Jaz Reynolds didn't go anywhere so in reality the Sooners aerial attack should not drop much, if at all thanks to the return of Jones.
Grade: A+
Texas Longhorns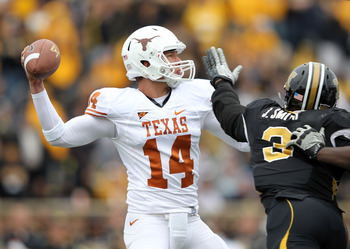 Jamie Squire/Getty Images
Luckily the Longhorns were able to earn a victory in the Holiday Bowl or else a ton of questions regarding the programs future may have arrived.
Mack Brown is expecting David Ash to continue to improve as a pocket passer and Case McCoy should at least push Ash for the starting gig. The talent and speed is loaded with youngsters so heading into the spring as of now is looking decent.
Grade: B
Oklahoma State Cowboys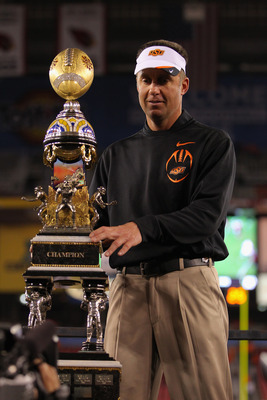 Doug Pensinger/Getty Images
Clint Chelf likely won't put up Brandon Weeden numbers but he should be effective in Todd Monken's and Mike Gundy's offense.
The best offense in the nation last season shouldn't drop off the face of the earth and there are enough pieces to still play at or near a top 25 team. Chelf has experience as a backup and his talent is good enough to make this team relevant.
Grade: B
Kansas State Wildcats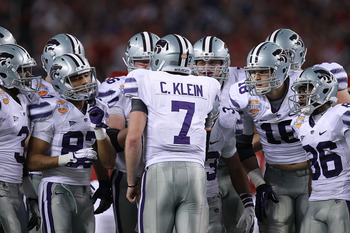 Ronald Martinez/Getty Images
Collin Klein was one of the more productive quarterbacks in the country since he was so successful when the pocket collapsed. He tucked it and found paydirt 27 times, which was second in the entire country (behind Ball, tied with Pierce).
Klein has his receivers back, but will need to carry and take ownership of this team. Not the strongest arm in the Big 12, Klein is a smart thrower that makes the right decisions.
Grade: A-
Texas Tech Red Raiders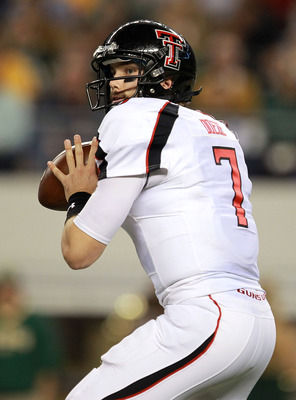 Ronald Martinez/Getty Images
Seth Doege impressed with a virtuoso performance in his upset over the Sooners. He threw for 441 yards and 4 touchdowns. He only ended up throwing 6 more touchdowns in the final five games and was picked off six times (lost six straight games).
Looking to bounce back would be an understatement and Doege has what it takes to do such.
Grade: B
Baylor Bears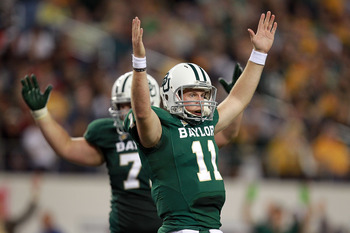 Ronald Martinez/Getty Images
Robert Griffin III won the Heisman and has been the talk of the NFL combine the past few days so it just assumed that the offense will get a lot worse.
Nick Florence is a legit passer and has a ton of his skill players back at receiver. Art Briles is one fine coach and his offense won't be much worse in 2012 with a guy in Florence who can spin it.
Grade: B
Iowa State Cyclones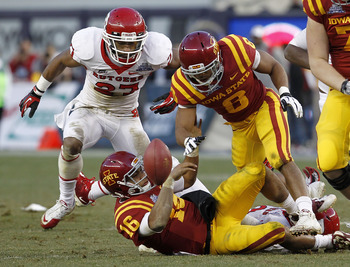 Jeff Zelevansky/Getty Images
The quarterback quandary the Cyclones could have will be interesting. Freshman Jared Barnett went off against Oklahoma State in their upset, totaling for over 450 yards and three touchdowns.
Though he struggled a bit and was nicked up in the bowl game, Steele Jantz replaced him and could have the leg up for the 2012 season opener at home against Tulsa.
Regardless of who starts, the running ability is solid and the passing game needs to improve.
Grade: B-
Kansas Jayhawks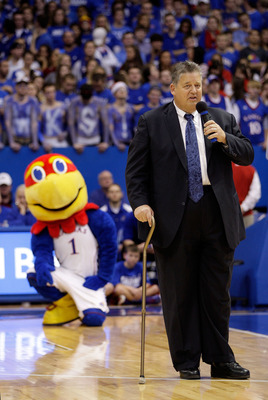 Jamie Squire/Getty Images
Jordan Webb was expected to be the guy until Charlie Weis came to Lawrence and brought over two popular choices. Former Notre Dame quarterback Dayne Crist and former BYU signal-caller Jake Heaps should be the next two quarterbacks. Crist is eligible to play right away and Heaps will be allowed to play in 2013.
Crist has plenty to prove since he struggle at ND, but the bigger issue will be the talent he has around him as well as the one he competes against every week.
Grade: C+
TCU Horned Frogs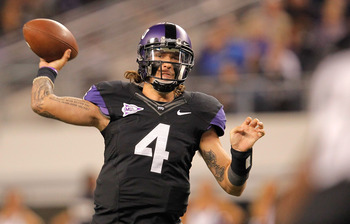 Sarah Glenn/Getty Images
Casey Pachall is returning for his junior season and he developed into a solid quarterback by seasons end. Nearly taking the Horned Frogs to a BCS bowl, Pachall was able to upset Boise State by giving them just their second home loss since 2001.
Threading the needle for 2,921 yards and 25 TDs (7 INTs) are solid numbers and he will be recognized if he can keep it up in the Big 12 next season.
Grade: A-
USC Trojans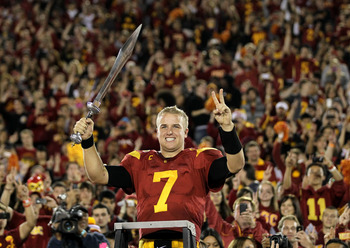 Stephen Dunn/Getty Images
Should we just hand out a perfect grade and call it a day?
Matt Barkley is the unanimous choice to make everybody's First Team All-American selection among many other prestigious awards such as the Heisman, first pick selected as well as the guy to perhaps dethrone the SEC from winning its seventh straight BCS title.
Grade: A+
Oregon Ducks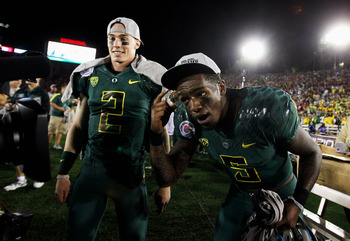 Jeff Gross/Getty Images
Bryan Bennett will all of a sudden have to replace Darron Thomas since he declared for the NFL Draft, but he looked great when he came in during mop-up duty (on top of Nevada game).
Bennett isn't the best signal-caller out there, but he has enough talent with the weapons he has around him. De'Anthony Thomas and Kenjon Barner are simply electrifying and it will show.
Grade: B+
Washington Huskies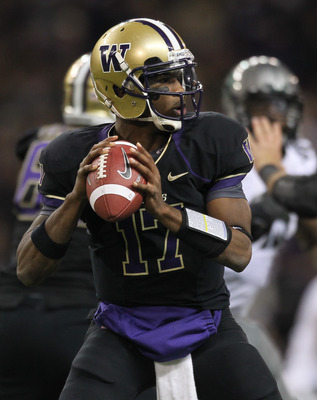 Otto Greule Jr/Getty Images
Keith Price will comes into the 2012 with high expectations after he marveled us in the Alamo Bowl. Against the Baylor defense, KP totaled for 7 touchdowns and over 450 yards of total offense.
The loss of Chris Polk may hurt a bit, but Price isn't lacking the talent. The Huskies remain a super dark horse in the Pac-12 thanks to one of the elite tight ends in the country, Austin Seferian-Jenkins.
Grade: A-
Cal Bears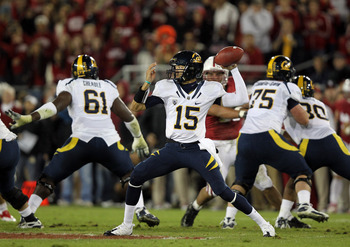 Ezra Shaw/Getty Images
Zach Maynard made nice strides throughout the season, but I expected a much better performance against Texas in the Holiday Bowl.
The Horns defensive speed ate him alive up front, but Maynard's pocket awareness and ability to escape that pressure was tough to watch. Keenan Allen is a top ten receiver in the nation and the half-brother rapport they built last season could go a long way in 2012.
If Maynard can get a quicker delivery on top of fitting the ball into tighter windows, he could put the Bears back into Pac-12 contention.
Grade: B+
Stanford Cardinal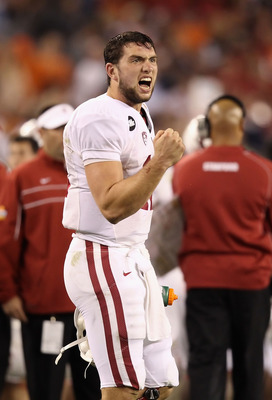 Christian Petersen/Getty Images
Andrew Luck is finally gone and now the replacement will likely have to answer every question in the book regarding the former All-American. Brett Nottingham is the likely starter and he will be a redshirt sophomore though he attempted only eight passes last season.
The former highly touted high school player stands firm at 6'4, 210-pounds and he will have a legit offensive line protecting him on top of a solid cast of skill players. Look for some growing pains throughout the season, but a ton of development as well.
Grade: B
Arizona State Sun Devils
Christian Petersen/Getty Images
Mike Bercovici (3 pass attempts) may head into the 2012 season as the favorite, but this might be the most mysterious battle among any BCS school in the country. Michael Eubank and Taylor Kelly are right in line to get a crack at the starting gig as well.
Kelly played in an extremely limited role similar to Bercovici on account he attempted four passes. Bercovici is perceived to have the stronger whereas Kelly is your typical game-manager. The most athletic of the bunch is Eubank and was even recruited by Todd Graham while at Pittsburgh.
For now, this position remains a mystery though Graham has had a decent track record of putting offenses together.
Grade: C-
UCLA Bruins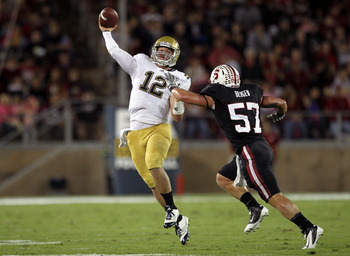 Ezra Shaw/Getty Images
Richard Breahaut had his 2011 season cut short due to a broken leg (did come back against Ducks in Pac-12 title), but he should come back healthy with a legitimate chance of starting.
Kevin Prince struggled a tad more than Brehaut so it comes down to what new offensive coordinator Noel Mazzone and ehad Jim Mora Jr say.
The Bruins passing offense has been abysmal (81st in nation) and it cannot possibly get any worse than it has the last few seasons.
Grade: B
Utah Utes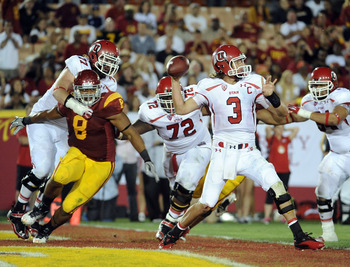 Harry How/Getty Images
Jordan Wynn had issues heading into the 2011 season with offseason shoulder surgery, and he got hurt early and he nearly missed the entire season.
Jon Hays had a decent junior season, but the offense was built around the star running back John White IV.
The wolf fan himself carried the offense and regardless of who starts next season at quarterback, they must take care of the ball and be able to lead this team to a better bowl game.
Grade: B
Oregon State Beavers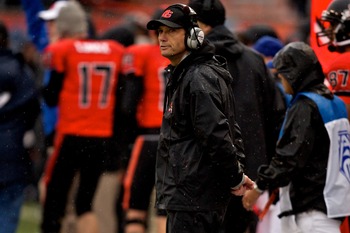 Craig Mitchelldyer/Getty Images
Sean Mannion had a rollercoaster ride of a season during his freshman campaign with 16 TDs and 18 INTS. However, the angry Beavers have struggled miserably for the last two seasons and the turnovers have cost this team shots at pulling off upsets.
Mannion has ran out of the Rodgers brothers and may have to play out his mind if he wants to get OSU back into the postseason for what would be the first time in three seasons.
Grade: C
Arizona Wildcats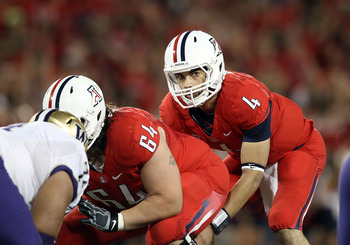 Christian Petersen/Getty Images
Rich Rodrgiuez is use to having a running quarterback with the spread system he runs. Matt Scott redshirted last season and he is an athletic guy that can run Richy's system down pat.
The biggest issue will be to find the perfect mix of running backs and wide receivers to make everything gel.
Scott has started five games thus far in his career, but he quickly has to become the man in Tucson.
Grade: B-
Colorado Buffaloes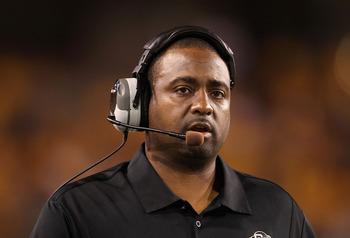 Christian Petersen/Getty Images
Former Texas quarterback Connor Wood is expected to become the next Buffs star as he the size (6'2, 220-pounds) to become a successful one. He replaces Tyler Hansen, who had a solid senior campaign with 20 touchdowns and only 11 interceptions.
Getting a nice solid sophomore season out of running back Tony Jones is a must and the return of just a few offensive linemen cannot become a problem or an excuse for Wood though.
Coming off a 3-10 for soon to be second-year coach Jon Embree wasn't considered a good season, but the schedule was absolutely atrocious. An easier slate and perhaps an upgrade at quarterback could them back into the mix for a bowl bid.
Grade: C+
Washington State Cougars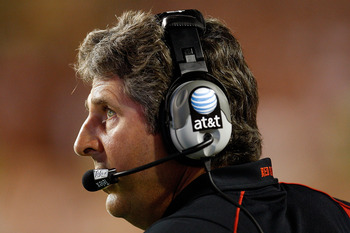 Ronald Martinez/Getty Images
A Mike Leach spread offense is going to light you up at some point and possessing one of the finest receivers out there sure helps. Marquess Wilson is an acrobatic, touchdown reception hauling machine.
Jeff Tuel is back for his senior season and remains as one of the least talked about throwers in the entire nation. Getting hurt and missing most of the season is your top reason why as Connor Halliday saw action alongside Marshall Lobbestael.
Lobbestael is done so the battle will be down to Tuel and Halliday though Tuel looks to have a solid edge heading into spring (Tuel started 17 games last two yrs).
Grade: B
Florida State Seminoles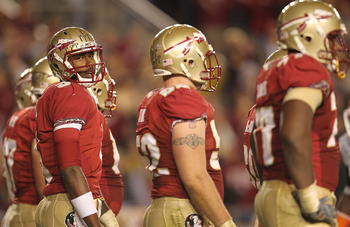 Mike Ehrmann/Getty Images
E.J. Manuel missed all of parts of the Oklahoma, Clemson and Wake Forest games.
The Noles only lost one game (Virginia on time-expiring missed FG by All-ACC Hopkins) the rest of the way and Manuel was able to throw for 18 touchdowns (8 INTs) on top of his 4 rushing touchdowns.
His passer rating was 151.2 with a 65.3 completion percentage, but it was just his first full season as the starting signal-caller. Now entering his senior season, he hopes to get healthy (broken leg in Champs Spots Bowl) in time for the season.
Manuel has a ton of talent and has an absolutely loaded group of receivers that should catch most by surprise. E.J.'s ability to escape pressure gives FSU a serious chance to contend for an ACC and BCS title.
Without him, Clint Trickett would be counted on and incoming freshman Jameis Winston could see playing time as a backup if he does not get redshirted or play baseball (has stated to play football).
Grade: A-
Clemson Tigers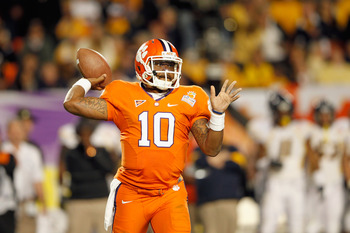 Mike Ehrmann/Getty Images
Tajh Boyd was like a typical rollercoaster because he was up-and-down all season long. He made Florida State's secondary look bad, (though they were exhausted by Oklahoma the previous week) and it helps to have the best receiver arguably in the entire country.
Sammy Watkins would make me look decent as a thrower and Boyd can spin it with the best of them when his footwork and timing is down.
His footing (footwork) were often off due to injuries among member of the offensive line and a lack of a running game. Both of those should improve and so should Boyd's accuracy (33 TD/12 INT, 141.2 rating, 59.7 completion percentage).
Grade: A-
North Carolina State Wolf Pack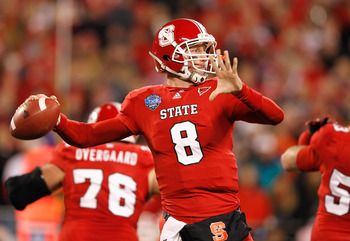 Streeter Lecka/Getty Images
In the final three games of the season (NCST won all three), Mike Glennon was arguably as good as quarterback in the ACC and perhaps more.
He threw 11 touchdowns with only 2 interceptions, but his passer rating was over 150!
For the season, Glennon had 31 TD/12 INT with 3,054 yards and his squad looks like they may become a Top 25 next season.
Grade: B+
Maryland Terrapins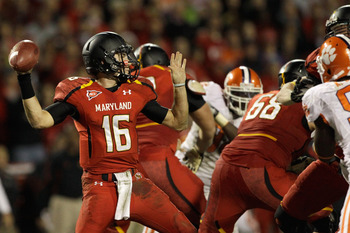 Rob Carr/Getty Images
C.J. Brown will be starting on account Danny O'Brien has since transferred due to the lack of playing time and production. Brown wasn't a whole better since the Terps went 2-10 in Randy Edsall's debut season.
7 touchdowns and 6 interceptions for 842 yards with a 49.4 completion percentage usually spells out disaster and it did. Improvement needs to be made this spring or else Maryland will not be bowling again.
Grade: C
Boston College Eagles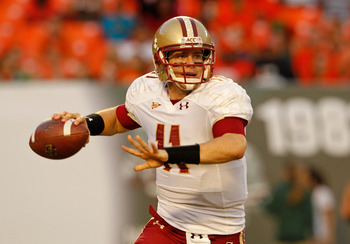 Mike Ehrmann/Getty Images
The Eagles failed to reach the postseason for the first time since 1998. Chase Rettig struggled as a sophomore completing only 53.6 of his passes with a passer rating of 112.4.
No wide receiver had four or more touchdowns on the BCS roster and it was evident that the Eagles could not stretch the field.
The quarterback play will be improved and the return of Montel Harris should help a tad, but that still may not be enough to get them back into the postseason.
Grade: C+
Virginia Tech Hokies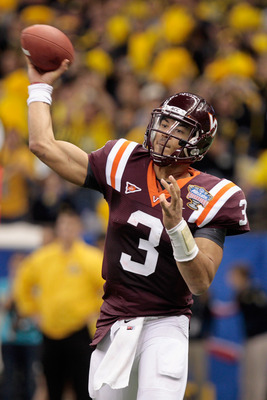 Chris Graythen/Getty Images
Logan Thomas totaled for 30 touchdowns (19 via air) and was only picked off 10 times. His 59.8 completion percentage needs to improve a bit because his receiver are not all returning.
Danny Coale and Jarrett Boykin are both gone, though DJ Coles and Marcus Davis return. Thomas is beast at 6'6" (245 pound give or take) and he is not afraid to tuck it and run.
The loss of David Wilson will be interesting though the Hokies reload in the backfield better than arguably any program in the country.
Daniel Dyer and Josh Oglesby will split some carries and Thomas is still a goal line vulture, but his accuracy down the field needs to go up a notch since he can't improve too much toting the rock.
Grade: A-
Wake Forest Demon Deacons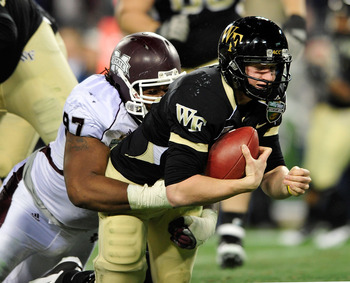 Grant Halverson/Getty Images
Tanner Price will be entering his junior season and he is coming off a solid sophomore season. The southpaw ended with 20 touchdowns and just 6 interceptions, with 3,017 yards and a 60.0 completion percentage.
Throw in his 132.8 passer rating where only Chris Givens and Michael Campanaro could stretch the field, and that season was easily the best one since Riley Skinner's from 2006-2009. Wake has a few issues, but the quarterback position isn't one of them.
Grade: B+
Miami FL Hurricanes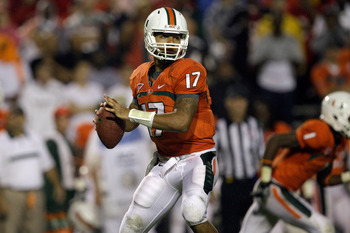 Rob Carr/Getty Images
Stephen Morris will be the starting quarterback, but he backed up Jacory Harris for the past three seasons with a few occasional starts (four).
Morris only attempted 37 passes which resulted into two interceptions (no TDs). Morris was solid in his freshman campaign and the young receivers didn't fall off the face of the earth, so I would look for improvement with the Canes.
Note Stephen Morris is out for the spring with back surgery, so look for former Memphis Tigers quarterback Ryan Williams to get the opportunity to see the field.
Grade: B
Georgia Tech Yellow Jackets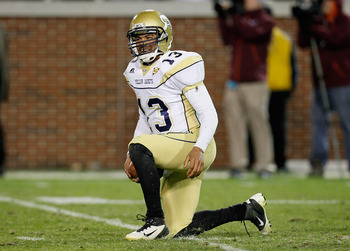 Kevin C. Cox/Getty Images
Tevin Washington was in the top five for rushing touchdowns among quarterbacks this past season, but he also threw for 11 touchdowns and 1,652 yards (8 INTs).
Washington will be considered one of the best signal-callers in the ACC next season and his production is so vital.
I would look for improved numbers despite the loss of Stephen Hill (NFL Draft) at receiver. If 2011 was a sign of things to come, 2012 should be just fine heading into the sptring.
Grade: B+
North Carolina Tar Heels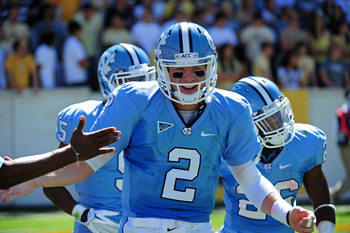 Scott Cunningham/Getty Images
Bryn Renner avoided a sophomore slump thanks to a talented group of receivers. The Tar Heels didn't have the year they would have preferred, but their young signal-caller wasn't the reason why.
Renner had 26 touchdowns and 13 interceptions to go with his 3,086 yards, but his receiving corps helped him out. Look for more of the same with Larry Fedora taking over though over team success may not be as good with nearly the entire defense gone.
Grade: B
Virginia Cavaliers
Kevin C. Cox/Getty Images
Michael Rocco struggled a bit in his sophomore season, but the Wahoo's put together a magical season in Mike London's second season.
Rocco threw 12 interceptions and just 13 touchdowns, but he did have a 60.7 completion percentage (127.1 passer rating).
Kris Burd is gone and he was the star receiver, but Perry Jones (star RB) can do it all. While Rocco may rank among the worst quarterbacks in the ACC, but don't forget this league is loaded with studs.
Grade: C
Duke Blue Devils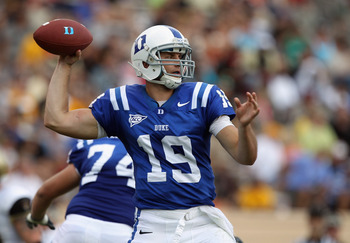 Streeter Lecka/Getty Images
Sean Renfree returns his star wide receiver in Conner Vernon and they connected on 70 passes for 956 yards and 5 touchdowns.
Renfree only threw 13 touchdowns (11 INTs), which is a number that needs to double if the Dukies expect to have any shot at the postseason. Renfree is a big signal-caller at 6'5, 225-pounds, but the lack of a running game (115th in nation) has put way too much of the onus on him.
Grade: C+
Pittsburgh Panthers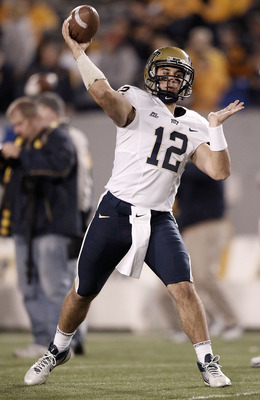 Jared Wickerham/Getty Images
Tino Sunseri had a roller coaster of a ride in 2011 and the hope is that he can regain his compsure in a watered down Big East.
West Virginia is gone and the Panthers have a shot at winning the conference if Sunseri can find an answer to his accuracy issues (10 TD/ 11 INT).
Grade: B
South Florida Bulls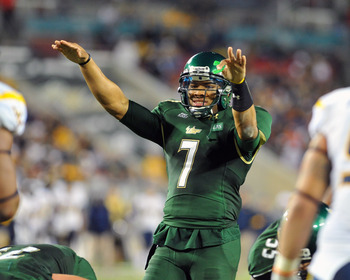 Al Messerschmidt/Getty Images
The topsy-turvy career of B.J. Daniels has been crazy since the Tallahassee native can look like a near All-American on one play, and then like a near scrub on another.
No disrespect towards the Bulls because they have solid talent and have been so close to pulling off a double digit victory season.
Daniels is mobile and smart, but can he stay healthy and remain accurate for an entire season?
Grade: B
Cincinnati Bearcats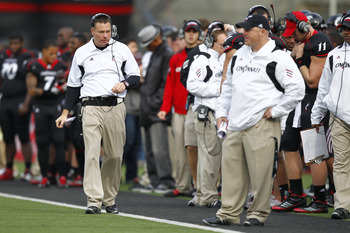 Tyler Barrick/Getty Images
Zach Collarros made the Bearcats a near BCS squad last season, so who can replace him?
Munchie Leagaux is an athletic, quick and lanky (6'5", 195-pounds) signal caller that has the ability to come right in without skipping much of a beat.
Grade: B
Louisville Cardinals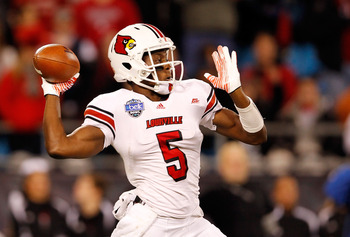 Streeter Lecka/Getty Images
I would prefer to go all in and buy as much of Teddy Bridgewater's stock as possible. The future star and potential Big East Player of the Year in 2012 has a ton of his weapons back.
He should improve quite a bit and the sophomore has the talent to shine like an even brighter star next season.
Grade: B+
Connecticut Huskies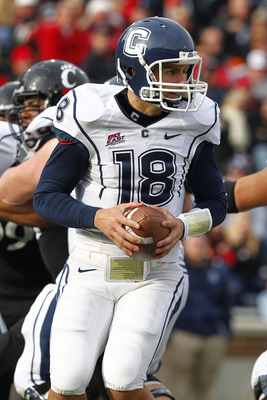 Tyler Barrick/Getty Images
Falling short of a trip to the postseason is always tough, but the Huskies hung in there all season arguably thanks to their quarterback.
Johnny McEntee would have liked to be a bit more consistent in his junior season (12 TD/ 8 INT), but he finished the year on a strong note.
Expectations won't be raised much (if at all) higher so the Huskies could easily sneak into the postseason thanks to the underrated play of their signal-caller.
Grade: B-
Rutgers Scarlet Knights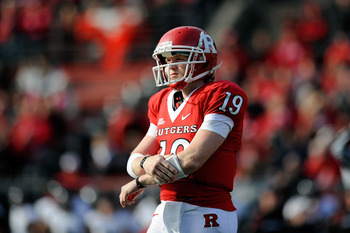 Patrick McDermott/Getty Images
Chas Dodd competed with Gary Nova throughout the season, but still finished as the starting quarterback having started all but four games.
The passing game was a work in progress and turnovers need to be cut down, but the Knights offense was still respectable thanks to the quarterback position.
Grade: B
Syracuse Orange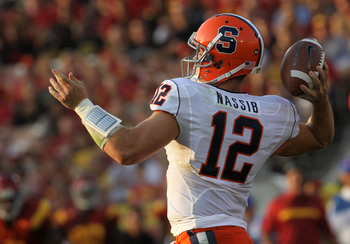 Stephen Dunn/Getty Images
Ryan Nassib will be for his senior season and he will be looking to avoid another basement finish in the Big East.
Nassib had his most memorable game of the season in an upset bid over West Virginia, where he threw four touchdowns and no picks (22 TD/9 INT for season).
Cuse has a few issues on their squad, but none of them are regarding the quarterback position.
Grade: B+
Boise State Broncos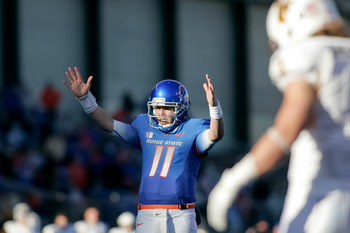 Otto Kitsinger III/Getty Images
The legacy of Kellen Moore may never die, but his days at Boise as the starting quarterback are finally over and it may feel strange in 2012.
Joe Southwick will be the expected start with Grant Hedrick coming in on occasion as the duel-threat quarterback.
The medical redshirt season and return by D.J. Harper should help everybody out and the receiving corps are underrated.
Southwick will be ready for the challenge with Chris Petersen once again looking like a genius.
Grade: B
Air Force Falcons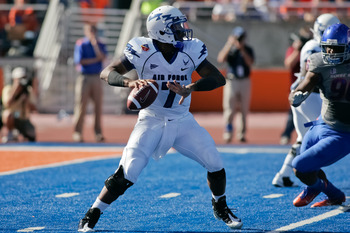 Otto Kitsinger III/Getty Images
Tim Jefferson has been the starter for the past three season and the Falcons must now be ready for a different option.
Tucker Tipton may be the guy to replace Tim Jefferson, the programs all-time winningest player. Whoever replaces Jefferson will just need to take a deep breath and take it one play at a time.
Running back Asher Clark is gone and the Falcons need to replace a total of 16 starters (8 on both sides of ball). This doesn't serve too well for the newbie.
Grade: C
Colorado State Rams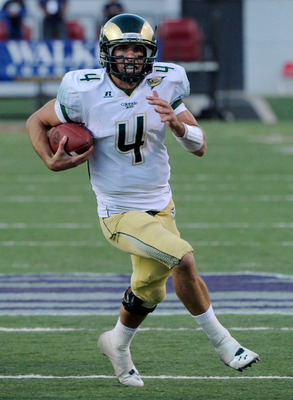 Ethan Miller/Getty Images
Pete Thomas was expected to avoid a sophomore slump, but he could not catch a break with the Rams. In fact, Thomas has since transferred to Vanderbilt where he will have to sit out the 2012 season before being allowed to play.
A true freshman one season ago by the name of Conner Smith (6'5"- 220 pounds) will likely get immediate playing time for the Rams.
Grade: C
San Diego State Aztecs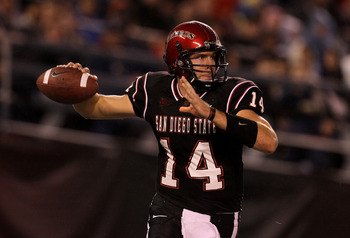 Stephen Dunn/Getty Images
The Aztecs are essentially losing every single important player on the roster. This could be a tough year upcoming for Rocky Long and the boys because they really are going to have a major drop-off at quarterback.
Who will be the starter next season? Adam Dingwell, Jake Bernards and Chad Jeffries did not see the field last season but one of them should be starting in a completely revamped Mountain West.
Grade: D+
Wyoming Cowboys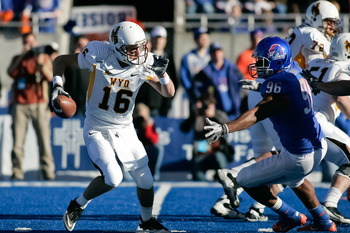 Otto Kitsinger III/Getty Images
Brett Smith had a sensational freshman season as he threw only 11 interceptions and ended up with 20 touchdowns and 2,622 yards.
Look for more of the same under Dave Christensen's fourth season and the Cowboys should be solid once again.
Grade: B
New Mexico Lobos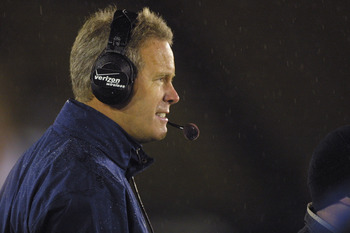 Scott Halleran/Getty Images
B.R. Holbrook and Tarean Ausitn combined to throw for 2,196 yards and 7 touchdowns alongside 8 interceptions.
The Lobos were 92nd in the nation for passing offense last season and despite the return of a ton of skill players, none of these quarterbacks are going to turn this program into Mountain West contenders.
Grade: C-
UNLV Rebels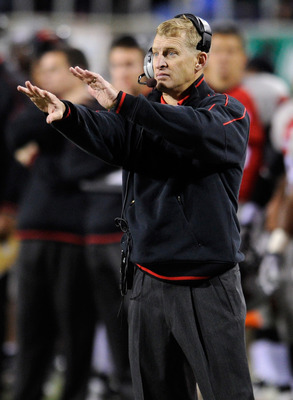 Ethan Miller/Getty Images
Caleb Herring had a decent sophomore season throwing for 1,004 yards on top of his 8 touchdowns and 6 interceptions. However, head coach Bobby Hauck wants to just keep his job and going 4-21 through two seasons is not the way.
Sean Reilly was expected by many to start last season but he saw limited action and will need outduel Herring in the spring if he wants any chance of starting. Whoever does end up starting, they will rank at the bottom of the Mountain West.
Grade: C-
Nevada Wolf Pack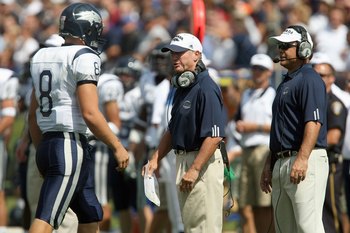 Jonathan Daniel/Getty Images
Cody Fajardo and Tyler Lantrip split time for most of the season, including their seven-point loss in the Hawaii Bowl to Southern Miss.
Fajardo was just a redshirt freshman but looks like the guy to start in 2012 with Lantrip graduating. From the little we saw from Fajardo it is safe to say he is a pocket passer (efficient) that can spin it for a youngster (68.8 completion percentage).
Grade: B
Fresno State Bulldogs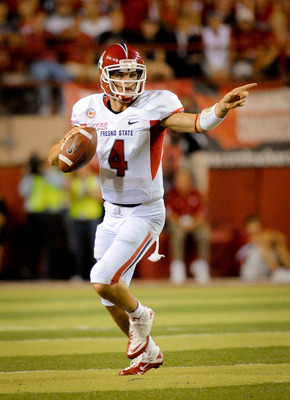 Eric Francis/Getty Images
Derek Carr deserves little if any of the blame as to why Pat Hill was let go and why and the Bulldogs went just 4-9.
Carr threw for 26 touchdowns and 9 interceptions along with his 3,544 yards passing. Fresno was 27th in the nation for passing offenses and their defense just happened to be abysmal.
Carr should be the top quarterback in the Mountain West next season and Tim DeRuyter has a great chance to go bowling right away.
Grade: B+
Hawaii Warriors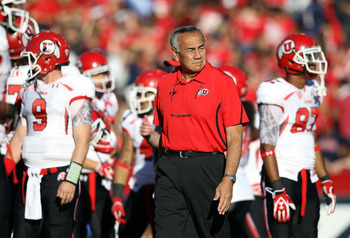 Christian Petersen/Getty Images
Shane Austin and Bryant Moniz are both gone, so David Graves should be the favorite to get the starting gig. However, Cayman Shutter (6'1", 185-pounds Jr) looks like a solid backup at the very worst. He buried on the depth chart for the past few seasons but will get a chance to shine during the spring.
Norm Chow will look to get the offense back on track since it has been the defense that has sort of carried the team.
Austin had a tad less playing time than Graves, but his running ability may give him an edge. For now, both will battle it out all spring as Chow takes over his first official head coaching job.
Grade: C+
Houston Cougars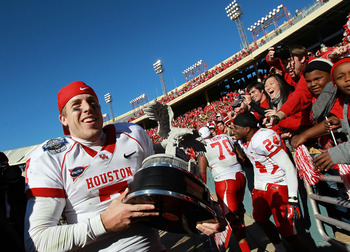 Ronald Martinez/Getty Images
The Houston Cougars passing offense was so filthy last year that there was no team on their schedule that came close to slowing it down (save Southern Miss).
Case Keenum averaged 450 yards a game and whoever the replacement is (David Piland), will have his work cut out for him.
Grade: C
Tulsa Golden Hurricane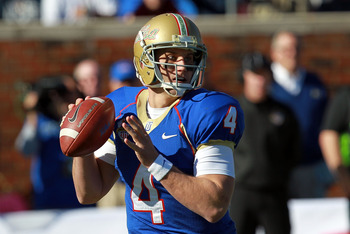 Ronald Martinez/Getty Images
Kalen Henderson will likely be the guy to replace G.J. Kinne since he did so this past season during the Oklahoma State game.
Henderson isn't nearly the size or runner Kinne was, but the system that Bill Blankenship runs is productive.
Grade: B-
SMU Mustangs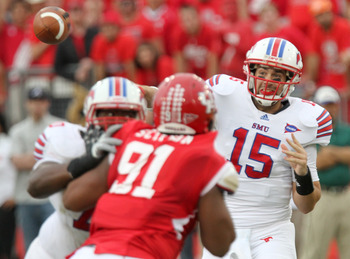 Thomas B. Shea/Getty Images
J.J. McDermott was inconsistent by just looking at his 17 touchdowns and 16 interceptions, but the Mustangs caught fire towards the end of the season.
June Jones has this team headed in the right direction (three bowls in four years) and they will be picked to win C-USA by arguably most experts this season.
A lot is gone on offense (including McDermott), but the chances of Texas transfer Garrett Gilbert to shine right away alongside star running back Zach Line and wide receiver Darius Johnson has fans pumped.
Those guys could make any thrower look decent and a full year of starting under the belt of McDermott should go a far way.
Note: Kyle Padron has since transferred
Grade: B
Rice Owls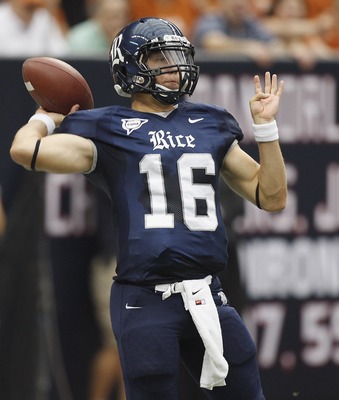 Bob Levey/Getty Images
Taylor McHargue started in all but the final four games last season, still he ended up with 1,072 yards with 8 touchdowns and 5 interceptions.
He shared half of the work with Nick Fanuzzi, who has since graduated. Head coach David Bailiff is looking to get back to the postseason and the chances are decent with McHargue leading the way.
Grade: C+
Tulane Green Wave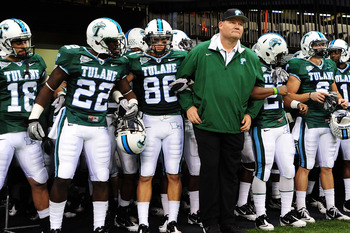 Stacy Revere/Getty Images
Ryan Griffin and the Green Wave would like to improve upon a 2-11 record, but that will be easier said than done.
Tulane has not been to a bowl game since 2002 and the hope is that running back Orleans Darkwa will be able to help cut down Griffin's 10 interceptions (as well increase his 13 touchdowns).
Grade: C+
UTEP Miners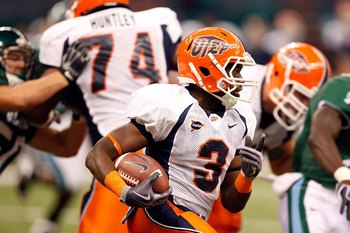 Ronald Martinez/Getty Images
Nick Lamaison complete 58 percent of his passes, but managed only 12 touchdowns for the season in his eight starts (10 INTs).
The Miners have put Mike Price on the hot seat so hopefully heading into the spring, a ton of improvement can be made under center (went 5-7 last year).
Grade: C-
Southern Miss Golden Eagles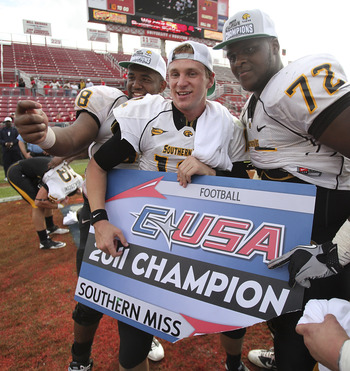 Bob Levey/Getty Images
Austin Davis is gone and so is head coach Larry Fedora, so what is up next for Southern Miss?
Arsenio Favor and Chris Campbell will battle for the starting gig next season, but they will be hard pressed to touch the season that Davis had (30 TD/11 INT).
Campbell did not see the field last year and Favor only attempted just three passes on the season. Clearly, experience will be lacking under newly hired coach Ellis Johnson.
Grade: C
UCF Knights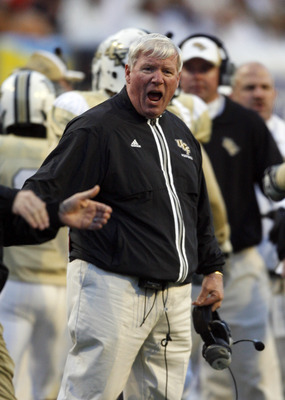 Joe Murphy/Getty Images
Jeff Godfrey was the man in Orlando two seasons ago, but he was had a miserable sophomore season and has since transferred.
Blake Bortles would be the guy as of now until somebody else emerges during the spring. The talent hasn't completely dropped off, but certainly the quarterback position was nearly non-existent last season.
Some teams were able to throw for more than 11 TDs in the first month of the season, and yet UCF had that for the entire season.
Grade: D+
ECU Pirates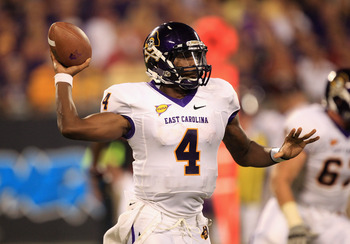 Streeter Lecka/Getty Images
Dominique Davis was a solid performer last season, but he is gone and Rio Johnson must fill in admirably.
The Pirates will have some issues since Johnson does not elite talent nor experience to come in and not miss a beat.
Grade: C
UAB Blazers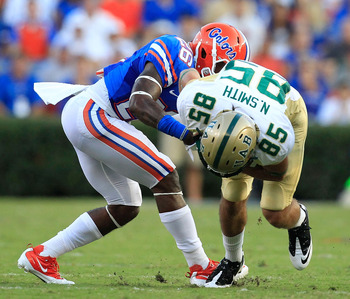 Sam Greenwood/Getty Images
The last bowl game for the Blazers was in 2004, and the quarterback position is one of the many holes they have.
Jonathan Perry saw significant time and actually started in eight games last year. His 10 touchdowns and 8 interceptions weren't too shabby, but the Blazers still have a ton of work left to be relevant (12 TD/ 15 INT for UAB QBs).
Grade: D+
Marshall Thundering Herd
Al Messerschmidt/Getty Images
Rakeem Cato led the Thundering Herd to a bowl victory and his season was good enough for Marshall to post a winning season (7-6).
Cato returns his star wide receiver in Aaron Dobson and for that reason alone gives you optimism.
Grade: B-
Memphis Tigers
Chris Graythen/Getty Images
Memphis has been tough to watch for the past few years because of the quarterback position. Right when their season kicked off, Mississippi State destroyed them 59-14.
Memphis only threw for 10 touchdowns as a team last season, which was tied for the fifth fewest in the FBS. Taylor Reed started last season, but barring he turns into a superstar these Tigers will be disappointed yet again.
Grade: D
Louisiana Tech Bulldogs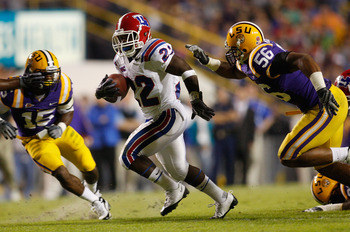 Chris Graythen/Getty Images
Colby Cameron is read to off on the WAC competition, but he will need elevate his play of consistency up a whole level. Not starting in the first six games skewed his numbers a bit, but he hardly turned it over (3 INTs)
Grade: B
Idaho Vandals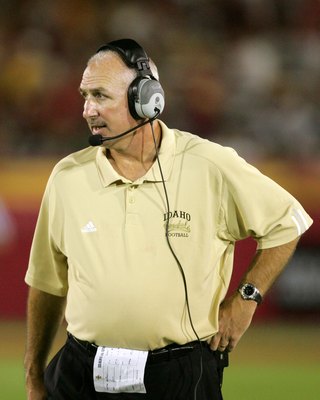 Kevin Terrell/Getty Images
The Vandals sure do miss Nathan Enderke because the team combined for 11 touchdowns and 16 interceptions. Brian Reader has run out of eligibility so the starting gig is up for grabs between a few. Either way, things do not look all that well.
Grade: D
San Jose Spartans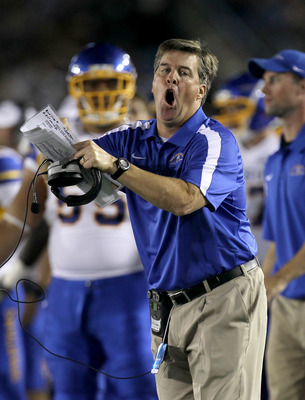 Stephen Dunn/Getty Images
Spartan signal-callers combined for just 13 touchdowns and 15 interceptions, so clearly there needs to be some sort of improvement to start expecting a bowl trip. Matt Faulkner is gone so in comes Dasmen Stewart and a few other young options.
Grade: D
Utah State Aggies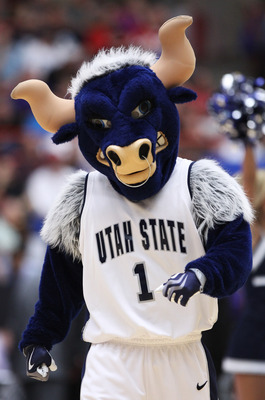 Christian Petersen/Getty Images
Chuckie Keeton saw time in eight games as a freshman and he should be named the starter over Adam Kennedy eventually.
Keeton threw 11 TDs and had just 2 INTs whereas Kennedy had 11 TDs and 4 INTs.
Grade: B-
New Mexico State Aggies
Scott Cunningham/Getty Images
Matt Christian is out of eligibility and his 15 touchdowns and 8 interceptions will be missed a bit. Andrew Manley will get his crack as the next starter and the Aggies need to put up as many points as possible since their defense was 112th in points allowed last year.
Taveon Rodgers is gone at receiver, but Kenny Turner shockingly declared for the NFL Draft. The playmakers aren't growing on trees in Las Cruces so more of the onus will be put on whoever is named the staring signal-caller.
Grade: C
Toledo Rockets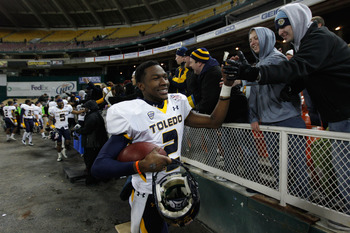 Rob Carr/Getty Images
Talk about arguably the most underrated and deadliest one-two combo in America in terms of quarterback at a non-BCS school.
Austin Dantin had 17 total touchdowns and just 4 interceptions whereas Terrance Owens totaled for 19 touchdowns with only three interceptions.
Eric Page would of brought a ton of fun to the offense had he stayed, but they will be just fine.
Grade: B+
Western Michigan Broncos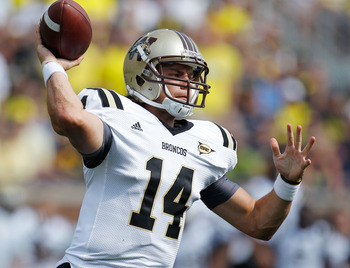 Gregory Shamus/Getty Images
Alex Carder was a beast in the MAC as he ended the season with 31 TDs and 14 INTs. Losing All-American wideout Jordan White may prevent Carder's number from escalating, but this signal-caller can thread it.
Grade: B
Northern Illinois Huskies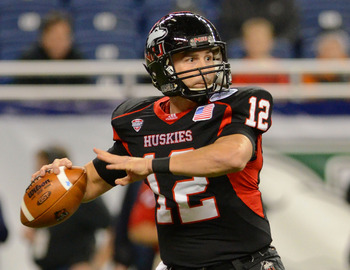 Mark A. Cunningham/Getty Images
Chandler Harnish was one of the most productive quarterbacks in the country last season and he carried NIU to a 11-3 season. It was a magical runt that included a MAC title, but Jordan Lynch is going to quickly take this team into contention.
Maybe they won't win the MAC but Lynch is a solid runner that will only improve in time as a passer.
Grade: B-
Central Michigan Chippewas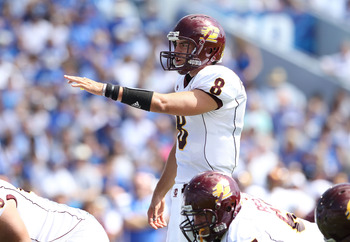 Andy Lyons/Getty Images
Ryan Radcliff has a solid arm, but he cannot control it as he is often sporadic. He had 16 interceptions which is far too many, but those should will be cut down with a few receivers emerging such as freshman Titus Davis.
Grade: B
Ball State Cardinals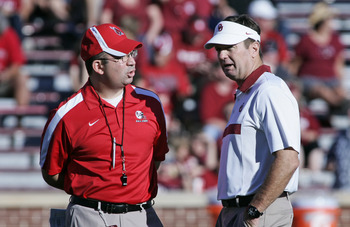 Brett Deering/Getty Images
Keith Wenning (19 TD/11 INT) matured throughout his sophomore season and he showed what he is capable of at the end of last season.
He threw for 10 touchdowns with only four interceptions in the final four games, and there a ton of talented players returning around him.
Grade: B
Eastern Michigan Eagles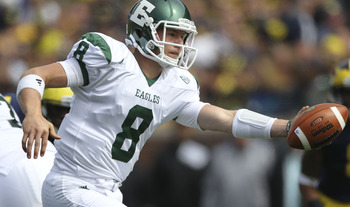 Leon Halip/Getty Images
Alex Gillett had a decent sophomore season throwing for 14 touchdowns with 7 interceptions (1,504 yards). The biggest concern has to be yardage, since EM was fourth to last in the nation, averaging 126 YPG.
Grade: C+
Ohio Bobcats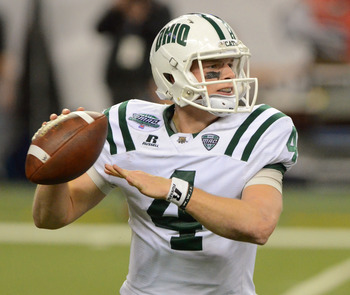 Mark A. Cunningham/Getty Images
Arguably the best quarterback in the MAC for the 2012 season, Tyler Tettleton. Throwing 28 touchdowns and only 10 interceptions is solid, but adding 10 rushing touchdowns makes him one of a kind.
Grade: B+
Temple Owls
Rob Carr/Getty Images
Chris Coyer looked good against Wyoming in the New Mexico Bowl, but he didn't see a whole of playing time during the regular season.
Entering his junior season, he will let us know if he is for real or not with star running back Bernard Pierce off to the NFL. A southpaw that can tuck it and run, Coyer is going to need to just stay consistent for coach Steve Addazio.
Grade: B-
Miami Ohio Redhawks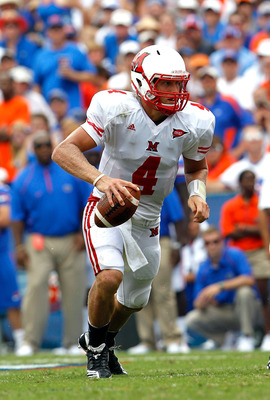 Sam Greenwood/Getty Images
Zac Dysert had a solid junior campaign and he is returning his top playmaker in Nick Harwell, which makes Miami OH a threat to win the MAC.
Dysert combined for 27 touchdowns with only 11 interceptions, and those numbers will only get better next season against the struggling pass defenses of the MAC.
Grade: B+
Kent State Golden Flashes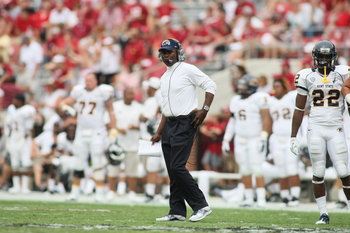 Greg McWilliams/Getty Images
Kent State was 110th in passing offense last year averaging only 145 yards per game. That is pretty atrocious and Spencer Keith better hope he gets some more help or else it will be 40 years since their last bowl ('72 Tangerine, 21-18 L to Tampa).
Grade: D-
Buffalo Bulls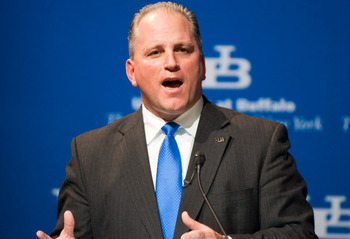 The Bulls were 76th in passing offense (210 YPG), but they were able to toss just 12 touchdowns on the season (9 INTS).
Chazz Anderson is gone and somebody (Alex Zordich) better stop the bleeding.
Grade: D
Bowling Green Falcons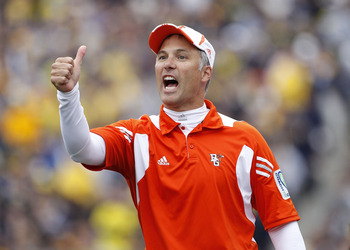 Leon Halip/Getty Images
Matt Schilz ended his sophomore season with 28 touchdowns and 13 interceptions as well as 3,024 yards. The Falcons need to just improve a tad more and they will be postseason bound (507 last year).
Grade: B-
Akron Zips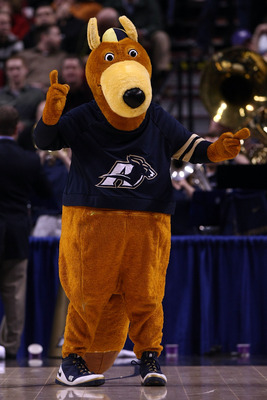 Jonathan Ferrey/Getty Images
Clayton Moore was extremely inconsistent in his sophomore season, throwing nine picks and touchdowns.
Grade: D
Troy Trojans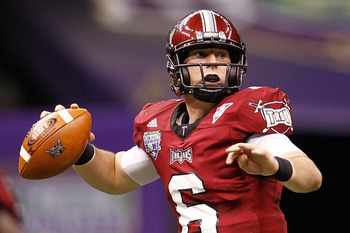 Chris Graythen/Getty Images
The Trojans did not have many (if any) issues threading the needle in the Sun Belt as they were 17th in the nation (291 YPG). Corey Robinson had 15 far too many picks (15), but his team was always playing from behind.
Grade: B
Florida International Panthers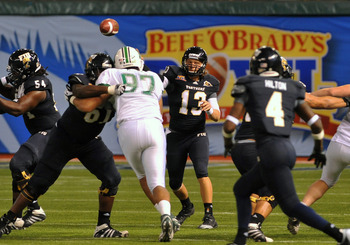 Al Messerschmidt/Getty Images
The Beef O Brady's Bowl was awful to watch because Wesley Carroll couldn't complete a pass to save his life. He was a former Mississippi State signal-caller but that didn't help his cause much.
Now, Jake Medlock will take over but the loss of TY Hilton will not help matters.
Grade: D+
Louisiana Monroe Warhawks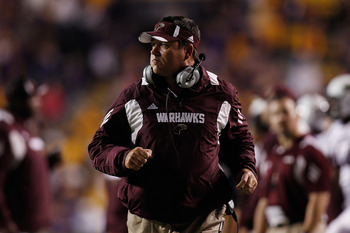 Chris Graythen/Getty Images
Kolton Browning was just a sophomore and his played showed it during the majority of the season. His 13 touchdowns were nothing to brag about and his 8 interceptions could use some tweaking. That said, the quarterback position isn't one of the main concerns for the Warhawks.
Grade: C+
Middle Tennessee Blue Raiders
Chris Graythen/Getty Images
Quick, name the starting quarterback for the Blue Raiders?
Logan Kilgore was a sophomore this past season and ended up with 18 touchdowns (12 INTs) and 2,231 yards for a Middle Tennessee squad that went just 2-10. If they end up with such a record in 2012, people still won't know or care about this Sun Belt squad.
Grade: C
Arkansas State Red Wolves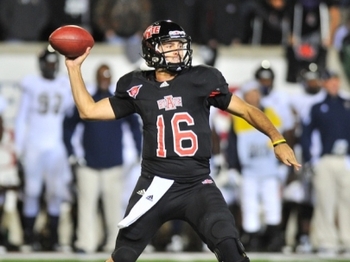 Ryan Applin is a hot-and-cold type of quarterback, but his running ability will help him prevail at the end of the day. Plus, bringing in the offensive guru known as Gus Malzahn could go a long way.
Grade: B
North Texas Mean Green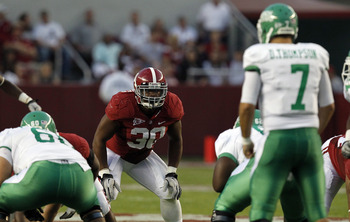 Butch Dill/Getty Images
North Texas quarterbacks combined for 14 touchdowns and 9 interceptions with only 2,272 yards passing. This team struggled on offense to do anything with consistency and it showed as they came up at 5-7.
Grade: C
Florida Atlantic Owls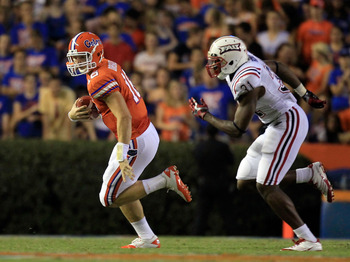 Sam Greenwood/Getty Images
The Owls were 1-11 and the quarterback play was flat out horrid. Graham Wilbert was the guy last year, but combining everybody we saw the team throw 16 picks compared to just 8 touchdowns.
Grade: F
Western Kentucky Hilltoppers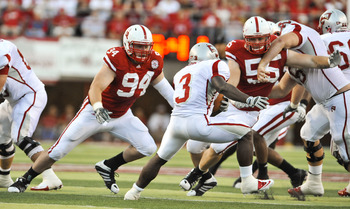 Eric Francis/Getty Images
Hilltopper quarterbacks were great at handing the ball off to Bobby Rainey, but they were not good at much else (11 TD/ 13 INT).
Give Willie Taggert a sitnking break though, they went 7-5 and were jobbed from the postseason.
Grade: C-
Louisiana Ragin' Cajuns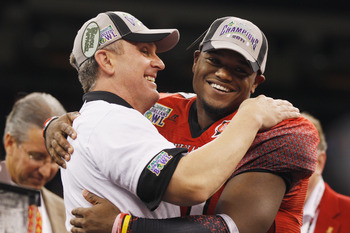 Chris Graythen/Getty Images
Blaine Gautier was superb down the stretch and they gave the Ragin' Cajuns just their first bowl victory since 1943!
Gautier tossed 23 TDs and had only 6 INTs, which means look out for 2012 with Javone Lawson back. They might just be in the Sun Belt, but the numbers could go bonkers next season (Think 35+ TDs).
Grade: B+
Army Black Knights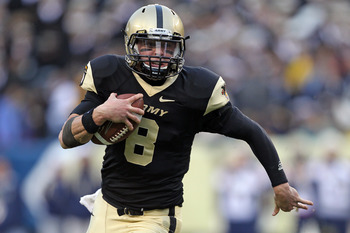 Hunter Martin/Getty Images
Trent Steelman isn't the most talented quarterbacks in the country, but I am a big fan of the guy because of the little things he does.
Fighting for extra yardage on a team that attempted (by far) the fewest passes in the nation doesn't help your cause when trailing in games.
Army relies so heavily on the running game that once they fall behind in the second half, the game is practically wrapped up. Yet, Steelman combined for 15 TDs (12 rushing) and their three wins should double next season.
Grade: B
Navy Midshipmen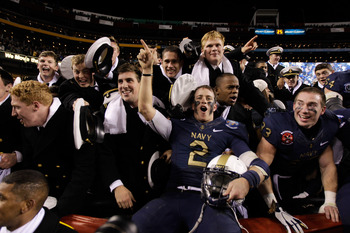 Rob Carr/Getty Images
Trey Miller will look to replace Kriss Proctor and put Navy back into the postseason (last was 2010).
Proctor combined for 21 TDs and had over 1,700 yards offensively. Miller shouldn't struggle too much filling in with Gee Gee Greene's role increasing now that fullback Alexander Teich is gone.
Grade: B-
Brigham Young Cougars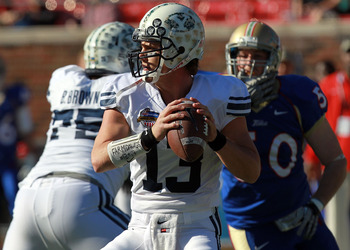 Ronald Martinez/Getty Images
Riley Nelson was fairly inconsistent throughout the season, but he was good enough to have Jake Heaps backing to Lawrence, KS.
Nelson finished 19 TDs and 7 INTs, but having Cody Hoffman by his side will elevate the southpaw's play quite a bit in 2012.
Grade: B+
Notre Dame Fighting Irish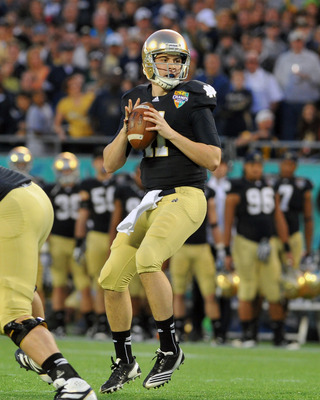 Al Messerschmidt/Getty Images
If you were Brian Kelly, who would you go with?
Which current quarterback is most prepared to take the Irish to a possible BCS bid?
Maybe the offensive talent needs to be put into perspective, but had they just put up a touchdown more in all of their losses (save Stanford), we might be talking about how the Irish are back and better than ever.
Instead, they have more quarterbacks on this roster than we have seen the Chicago Bears try out before Jay Cutler came to town.
Tommy Rees, Andrew Hendrix, Gunner Kiel and Everett Golson will all battle it out during the spring. The eye-popper and most electrifying option has to be Golson, since he can flat out scoot and escape pressure.
Kiel could be the pressure if Golson doesn't develop into an accurate passer and Rees has all of the experience whereas Hendrix may have the best physical tools.
Since Brady Quinn left (Jimmy Clausen had his moments), the Irish have not come close to appearing in a BCS bowl and it goes to show how vital the position is.
Talk about a tough team to grade at the moment because the talent truly is there with All-American tight end Tyler Eiffert returning. I like this teams' chances (I think I have said that before though, uh oh) and feel the grade below can only improve in time.
Grade: B
Keep Reading