Chicago Blackhawks Farm Report: Alexander Salak Has Worn Out His Welcome
March 1, 2012

Justin K. Aller/Getty Images
For Chicago Blackhawks goalie prospect Alexander Salak, a disappointing season managed to get even worse in the last two weeks. When Salak was signed back in June, he had to be thinking that he was headed for a season of NHL hockey. Instead, he may have just written his own ticket back to Europe.
Salak, obtained from Florida last February in the trade that brought Michael Frolik to Chicago, had a solid training camp for the Blackhawks, but that was where the good times ended.
For those of you unfamiliar with the Salak saga, the young goalie was sent to Rockford in favor of Ray Emery. He then proceeded to pout about it for the first few weeks of the season, and was ineffective when he finally started playing. Just when his game was coming around, he injured an ankle and was out for two months.
Salak beat the Chicago Wolves 2-1 in his return to action February 10th, stopping 27 shots. He also looked good in relief of Carter Hutton the next day and in a hard-luck 1-0 loss to Peoria February 15th.
That may just be the high point of Salak's year.
After giving up four goals in a 4-3 overtime loss to Toronto, Salak suffered a meltdown late in Rockford's game with Hamilton.
In the span of 38 seconds late in the third period, Salak allowed three goals to sink the IceHogs. Salak followed the collapse with an on-ice tantrum directed at his teammates and was pulled from the contest.
Salak has had very few bright moments in Rockford this season and has often lost his head in games. The Hamilton incident is merely an exclamation point on a dreadful performance in the 2011-12 campaign.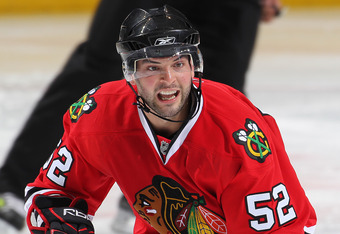 Claus Andersen/Getty Images
Hutton started and won three straight games since taking over for the sulking Salak in Hamilton. He allowed three goals in wins over Chicago and Milwaukee before shutting out the Wolves in a 1-0 overtime win in front of Hall Of Famer Tony Esposito.
Salak did get to present Esposito with an IceHogs sweater before the game. There was no word if Tony-O gave Salak any advice on how to grow up, but the Rockford net belongs to Hutton for the foreseeable future.
Hutton was rewarded with a one-year NHL contract from the Blackhawks last week. Expect him to get the call if the 'Hawks are in need of a goalie down the stretch. The IceHogs lost in a shootout with Abbotsford Wednesday night at the BMO Center, but Hutton continued to play well, allowing two goals on 37 shots to help Rockford pick up a point.
The 26-year-old has come to Rockford and taken advantage of a limited opportunity. By displaying a professional attitude and fitting into the team dynamic, he has parlayed that chance into a starting job. Salak has done the polar opposite, and is now at a crossroads with regards to his future with the organization.
Rough February Dashes Playoff Chances
The IceHogs went 4-5-1-1 for the month, even after sweeping last weekend's three games. Rockford really needed to continue a hot January to have a realistic shot at the AHL playoff picture. As it is, the IceHogs sit above just Texas in the Western Conference with 55 points.
With 19 games to play and the team eight points out of the final playoff slot, it doesn't look good. On the other hand, 12 of those games come against Milwaukee, Peoria, Houston and San Antonio. Those four teams occupy the 6-9 seeds in the standings. Winning nine or ten of those games might make things interesting.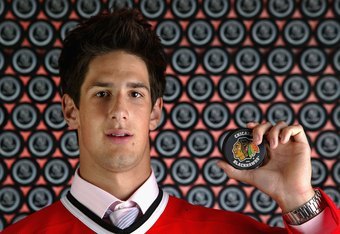 Harry How/Getty Images
New Faces
With Andrew Shaw and Brandon Bollig joining Jimmy Hayes with the Blackhawks, and captain Brandon Segal being traded to the Lightning organization, there are a lot of new faces in new places.
Wednesday saw the debut of Marc-Olivier Vallerand, signed by Rockford to a 30-day PTO. He had 27 goals and 23 assists with Greenville of the ECHL this season, and registered a successful shootout attempt in his first game.
Also scoring a goal in Wednesday's contest was Matt Fornataro, who was the player sent to Rockford in the Segal trade. Fornataro has two goals since coming over from Norfolk and is seeing a lot of time on the power play.
With Segal's departure, defenseman Brian Fahey was named the team's captain for the remainder of the season. Assisting him are defenseman Ryan Stanton and forward Rostislav Olesz.
Forward Paul Zanette has also been recalled again from Toledo of the ECHL, while veteran Wade Brookbank was also signed to a PTO last month and is appearing in the lineup on occasion.
Danis-Pepin Unimpressive Again
One of the new faces in the last few weeks has been hulking defenseman Simon Danis-Pepin, one of Chicago's two second-round picks in the 2006 NHL Draft. Pepin is a 6'7", 230-pound specimen who has had difficulty climbing the ladder in the Blackhawks organization.
Despite his size, Danis-Pepin is not a physical defenseman. He also is not fleet of foot. He possesses an impressive slap shot, but rarely gets the chance to show it off.
He has no points in nine games in Rockford this season. Danis-Pepin has had difficulty staying in the AHL over the last three seasons. Most of his time has been spent in Toledo, where he has 3 goals and six assists in 25 games.
The physical presence has not translated to results on the ice. It wouldn't surprise me if the 'Hawks did not re-sign the big Montreal native when his contract expires.