UNC Basketball: 4 Teams That Could Upset Tar Heels in the 2012 ACC Tournament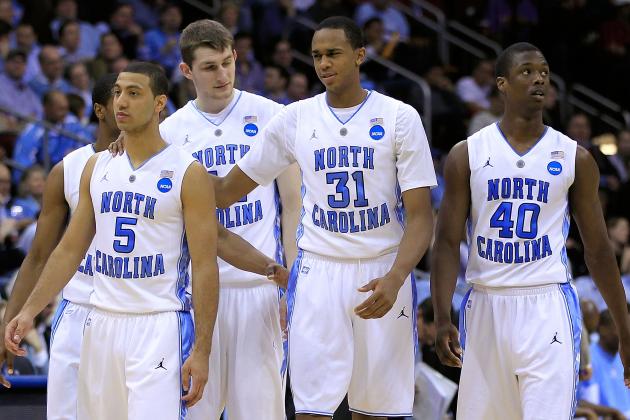 Chris Trotman/Getty Images

The North Carolina Tar Heels are hoping they will be the ones cutting down the nets on March 12, in the 2012 ACC Tournament. UNC hasn't won the ACC Championship since 2008, and the school is hungry for their 18th.
It will not be an easy road getting there—even if they get in as a No.1 or No. 2 seed. In all honesty, I could have listed every ACC team as a possible upset. That's just the way it is in America's best conference.
Wake Forest and Boston College are the least likely to give North Carolina trouble, but any of the others can cause serious problems on any given night. Harrison Barnes had to put up 40 points in last year's tourney to beat Clemson in overtime.
Next to Duke, NC State is Carolina's biggest rival and is always a threat because of that. The rivalry has become less competitive over the last few years, so I don't view them as a serious threat this year.
There are four teams—in my mind—that could cause some serious havoc for the Tar Heels, if they end up meeting in the tourney.
Begin Slideshow

»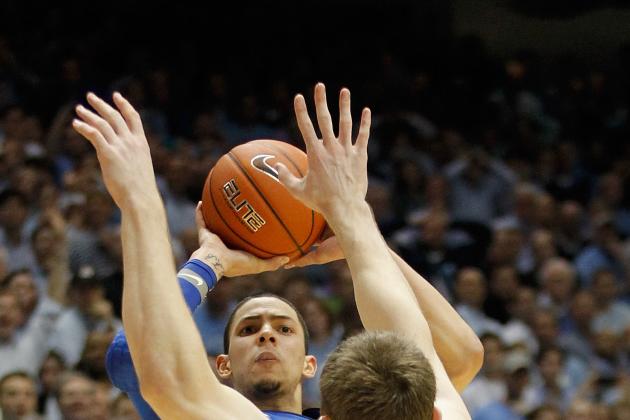 Streeter Lecka/Getty Images

Let's go ahead and get the obvious one out of the way. Duke always poses a threat to North Carolina in the ACC Tournament, and this year is no different. Even if the Tar Heels can pull out a win at Camden Indoor on Saturday, there's no sure bet on who will win the next meeting.
In 2011, the Tar Heels finished their regular season with an 81-67 victory over Duke. That was followed up by a 75-58 Duke win over Carolina in the 2011 ACC Championship.
In a game Tar Heels fans would like to forget, Duke overcame an 82-72 deficit with 2:38 left to beat Carolina 85-84 in their first meeting of 2012. The Heels had dominated the first 17 minutes of the second half, just to watch it slip away in the waning minutes.
The perimeter game of Duke guards Austin Rivers and Seth Curry pose the biggest threat to North Carolina's title hopes—if these two teams meet again. Rivers and Curry lead the team in scoring and shoot 39 percent from three-point range. The rest of the team isn't too shabby from that distance, either.
Duke's Ryan Kelly and Andre Dawkins are both shooting above 40 percent from behind the arc. As a team, the Blue Devils are shooting 39 percent from there and have knocked down 252 three-pointers on the season. That's a problem when the Tar Heels are notorious for poor perimeter defense.
Through 1998, the Tar Heels were 6-0 in ACC Championships versus Duke. Since, the Blue Devils are 3-0 and have won 10 of the last 13 tourneys. I think it's about time for a change—but that's easier said than done in this Tobacco Road rivalry.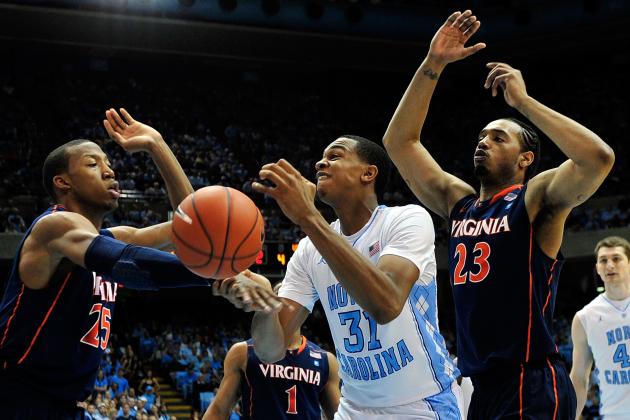 Grant Halverson/Getty Images

I don't know that I've seen a team play more suffocating defense than the Wahoos. According to The Sports Network—as of Feb. 26—they are ranked second in the nation in points allowed per game at 52.2. This doesn't bode well for a Tar Heels team that likes to run.
In their first meeting, Virginia had a 41-39 lead with just under 16 minutes left. That's when North Carolina hit the gas and went on a 20-5 tear and never looked back. The Heels won the game 70-52.
The Tar Heels never could go on that run in the second meeting. They barely slipped by the Cavaliers on the wings of Tyler Zeller's 20 points and game-sealing dunk with 13.3 seconds left on the clock. Not only was Virginia's defense off-the-charts good, but they did this to the Heels with their star forward—and leading scorer at 16.9 points per game—Mike Scott on the bench for 18 of the 40 minutes. The referees may not hand Carolina the same blessing next time.
Scott joins Zeller as a top candidate for ACC Player of the Year.
Virginia also causes problems on the perimeter when Joe Harris and Sammy Zeglinski catch fire. Fortunately Zeglinski didn't have one of his better days, going 3-of-10 on three-pointers in Carolina's 54-51 victory.
This could be the scariest matchup of all for the Tar Heels. When they are forced to slow down and play in the halfcourt, they become very beatable. Nobody has held Carolina to fewer points than the Cavaliers of Virginia.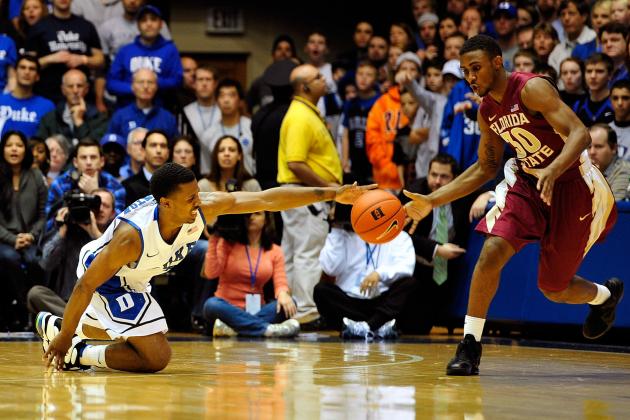 Grant Halverson/Getty Images

Remember that 33-point stomping North Carolina took from Florida State on Jan. 14? Don't expect that to happen again, but a win is no sure bet against these super-athletic Seminoles.
That was Florida State's largest margin of victory in conference play this season. It was also Carolina's second-lowest point total of the season, only scoring 57 points. They had no answer for the Seminoles senior guard Deividas Dulkys. Only averaging 7.1 points per game on the season, Dulkys lit the Heels up with a season-high 32-point game. The man went 8-of-10 from the arc, for crying out loud.
Like I said, don't expect another blowout. But these kids at Florida State can ball and shouldn't be overlooked. They are currently third in the ACC behind Carolina and Duke at 10-4—and have a win against each.
While they give up more points per game than Virgina, their defense can be ruthless. Florida State averages eight steals and six blocks per game. Fortunately for North Carolina, the Seminoles also turn the ball over 16 times per game to help even things out.
In the Seminoles' last six games they are 3-3 with losses to Boston College, Duke and Miami. Consistency is their issue, and that's what makes them less intimidating than Virginia—despite the spanking.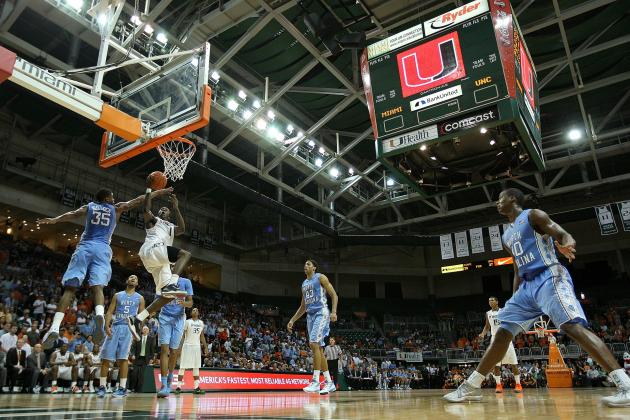 Mike Ehrmann/Getty Images

While the Miami Hurricanes have lost both games to North Carolina and have lost three of their last five, they still pose a threat to the Tar Heels. A good perimeter game causes all sorts of trouble for UNC's defense, and that's where Miami is best.
Miami's backcourt flaunts two preseason All-ACC picks in guards Malcolm Grant and Durand Scott. Together they account for 25 points and five assists per game. They aren't deadly accurate from the arc, but they can light it up on any given night. As a team, they are shooting 36 percent from three-point range, and all but three players have taken a shot from there.
Miami's bench has also stepped up and become one of the deepest in the ACC. Their last win came against the Florida State Seminoles, where the bench scored 27 points—led by Trey McKinney Jones with 11. The bench is guard-heavy and continues to cause problems for opposing teams on the perimeter.
Miami's big man and leading rebounder Reggie Johnson has been reinstated by the NCAA, after facing a suspension for rules violations. This only makes the Hurricanes more deadly.
North Carolina handled Miami fairly well in the first two meetings with 13-point average margin of victory—but in the ACC tournament, none of that matters. The Hurricanes are athletic enough to run with the Heels and accurate enough to out-shoot them. And don't forget the Tar Heels had to overcome a 19-point deficit with under 10 minutes left to beat Miami in last year's ACC tourney.
One thing you can be sure of, the ACC Tournament will not lack excitement and intensity. There will be upsets. There will be buzzer-beaters. There will be blood. And there will be a champion. Who will be crowned is anyone's guess.