Dallas Cowboys Owner Jerry Jones in Family Feud?
February 29, 2012

Rich Schultz/Getty Images
There may be trouble in Jonestown. And for long-suffering Cowboys fans, that is the good news.
Todd Archer, Cowboys reporter for ESPN.com on February 26, quoted Jerry Jones:
"I see the talent level being able to put us in a competitive situation for the Super Bowl," Jones said in a 90-plus-minute session with reporters on the team's luxury bus Friday afternoon from the NFL scouting combine in Indianapolis. "I saw it at the start of that [2010] season and I see it with what we had last year, that there's a talent level that can compete for a Super Bowl."
All indications are that, despite the Cowboys' defense reaching historic lows and offensively finding new and creative ways to blow games they had won, Jerry Jones believes his team is positioned, as is, to do something they have not done in 16 years; namely, compete for a Super Bowl.
While Jerry remains a true believer, son Stephen Jones is not drinking daddy's Kool-Aid.
The day after Jerry made his annual proclamation that all is well and the Cowboys are positioned to compete, Clarence Hill of the Fort Worth Star-Telegram quoted Stephen as saying,
"Obviously we are not pleased with where we are on defense. We got to get better over there. I don't know that we got good enough talent to win over there. We have to improve it."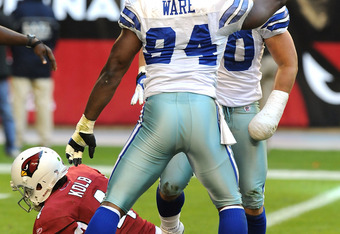 Norm Hall/Getty Images
Some may see this as troubling, as a sign of front office disintegration and family infighting. I, however, as a lifelong Cowboys follower and Jonestown nonbeliever, find it hopeful. I resigned myself a couple years ago to the notion that Jerry Jones has lost his sense of direction and grip on reality where the Cowboys are concerned.
People who understand the dynamics of the constant pursuit of excellence and success will tell you that you have to forget the past. You have to forget past failure, lest you become paralyzed with fear or self-doubt. But you also have to forget past success, or you will grow complacent or conceited and the competition will catch and surpass you.
You have to get your ass out of the past before you can set foot in the future. And you can quote me on that.
Jones built a Super Bowl dynasty shortly after buying the Cowboys. His team won three Super Bowls in four years. At least, that is how he remembers it. Most everyone else remembers that he hired Jimmy Johnson, who built Jones a football juggernaut. Then, he fired Johnson for not sharing the limelight enough, and he has been ignorantly but systematically dismantling and destroying a once-proud franchise ever since.
Jerry Jones will never see it that way. He will always believe in himself because he remembers how good he used to be. He is too ignorant, apparently, to understand that if his evaluation of the team's talent is accurate, then this team's problems are far deeper than even the most harsh Jones critic can imagine.
If this team has the talent to win a Super Bowl, then they lack something else. Maybe it is heart. Maybe it is chemistry. Maybe it is direction. Talent can be acquired. But you cannot give a group of gutless wonders the heart or will to win.
I, for one, believe the guys on this team have heart, for the most part. I believe they have the will to win. I even believe they have the coaching staff that can get them to the Promised Land. I do not believe they have the personnel.
I am with Stephen Jones in this debate. What the Cowboys need is more impact players, especially on defense. They have one in DeMarcus Ware. They potentially have another in Sean Lee. And that is it.
In this family feud, survey says...