USA vs. Italy: Clint Dempsey and Players Who Must Step Up Without Landon Donovan
February 29, 2012

Scott Heavey/Getty Images
In what promises to be the biggest test of Jurgen Klinsmann's short tenure as the United States men's soccer coach, the Americans will take on Italy on Wednesday in a friendly across the pond. While a win would be huge for the USA, it will be without star midfielder Landon Donovan.
While Donovan will sit the match out due to bronchitis, there are plenty of other capable players who can step up in his place.
Although Donovan is the unquestioned star and leader of the squad, there is certainly some other talent. Other players must put in big performances on Wednesday if the US is going to pull off the upset.
Here are three players who must step up for the Americans with Donovan on the shelf. 
Clint Dempsey
While Donovan may be the United States' biggest offensive spark, Fullham star Clint Dempsey isn't far behind.
Dempsey has 10 English Premier League goals for the Cottagers this season and 24 career goals as a member of Team USA, so he certainly has a history of success on the offensive end.
While Dempsey is an attacking midfielder by trade, there is a possibility that he could play up top as a striker against Italy. Whatever the case, Dempsey will be charged with picking up much of the offensive slack left.
Donovan is viewed as more of a playmaker, while Dempsey is a finisher, but Dempsey will likely need to create a lot of his own offense on Wednesday. Regardless of where he is playing on the pitch, the United States needs Dempsey to be at his best in order to have a chance. 
Jozy Altidore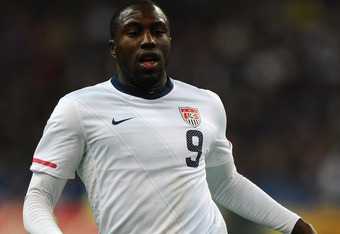 Mike Hewitt/Getty Images
For the past few years, striker Jozy Altidore has been touted as a future American star.
He has certainly had his moments with 13 career goals in 45 appearances for the USA, but he hasn't developed as quickly as many had hoped. Even so, he is still a big, speedy offensive weapon who can be extremely dangerous when given space to operate by the opposition.
Altidore is at his best when he has another capable striker to work with.
When Charlie Davies was becoming a major contributor prior to getting involved in a car crash, Altidore was raising his game to another level. With that said, it wouldn't be surprising to see a tandem of Altidore and Dempsey up top.
Altidore has performed well of late with his Dutch squad AZ Alkmaar, so perhaps he can carry that into Wednesday's match. 
Sacha Kljestan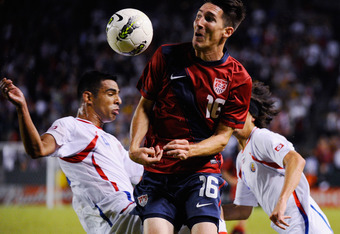 Kevork Djansezian/Getty Images
Dempsey and Altidore may be able to cover for Donovan in the scoring department, but when it comes to his all-around wizardry and ball-handling skills in the midfield, that will be incredibly tough to replace.
It seems as though the player who will be charged with attempting to do so is Sacha Kljestan. He is an unheralded player, but he has had some good moments in 34 appearances as a midfielder for the Americans.
He plays a solid, two-way game and is a good passer, so there is hope that he can fill in for Donovan in this one game at least.
With Jose Torres and Jermaine Jones also out, the United States' midfield is in a state of disrepair for its game against Italy.
If Kljestan can be a stabilizing force and play mistake-free soccer, though, the Americans should be in decent shape.