Joe "The Irish Bomber" Smith to Go "ALL IN" March 30th at Foxwoods!
February 29, 2012

Friday March 30th, Long Island power punching light heavyweight Joe "The Irish Bomber" Smith makes his second ring appearance after having his jaw shattered in August 2010 on the undercard of Jimmy Burchfield's CES Boxing's "ALL IN" card at Foxwoods Resort and Casino in Mashantucket, Connecticut.
Back in August 2010, Smith was a perfect 6-0 with 6 KOs. He had his jaw shattered by a freak punch from Eddie "Thunder" Caminero early in the second round. The rugged two-time New York Gold Glove winner continued to fight on until finally retiring, unable to bear the pain while ahead on the judges scorecards. Smith was later diagnosed with a shattered jaw requiring surgery and metal plates.
After months of out of the gym and a special diet recovering from the surgery "The Irish Bomber," in his first bout, returned to the scene of the crime and his heavy handed ways by stopping Adrian, Michigan's Santos Martinez in two rounds last July.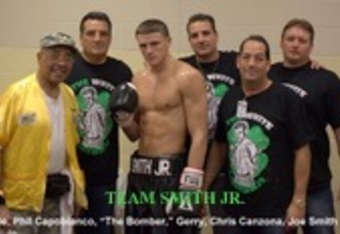 Smith, 7-1, 7KOs was trained by the "Fighting" Capobianco's, Gerry and Phil, with the assistance of  distinguished Contender trainer Tommy Gallagher. He has been in the gym training and doing some recent sparring with unbeaten "Irish" star Seanie Monaghan by helping him prepare for his St Paddy's Day fight on the undercard of Martinez / Macklin at Madison Square Garden.
Smith, looking to put the freak shot behind him, plans a belated St. Patrick's Day going "ALL IN" March 30th by taking on an opponent yet to be named.
CES Boxing's "ALL IN" will be broadcast live on ESPN's Friday Night Fights. Headliners are Philadelphia's "Hammerin Hank" Henry Lundy, 21-1-1, 11 KOs in a 10 round NABF Lightweight Title fight versus Saint Louis, Missouri's Dannie Williams 21-1, 17 KOs and New Haven, Connecticut middleweight Elvin Ayala 24-5-1, 11 KOs defending his WBC USNBC title in a 10 rounder against Orlando, Florida's Hector "Macho" Camacho Jr. 53-4-1, 28 KOs.
Also scheduled for action are: Providence, Rhode Island female featherweight Shelito Ncent, 1-0, taking on Mystic, Connecticut's Karen Dulin, 2-10, 1 KO, Shelton, Connecticut super middleweight Nicholas Lavin, 2-2, 2 KOs facing Jacksonville, Florida's Steven Chadwick 0-3  and Philadelphia super featherweight Frank Trader 8-0, 2 KOs, New Haven, Connecticut welterweight Edwin Soto 7-0-2, 3 KOs, New Haven, Connecticut super bantamweight Josh Crespo 0-1-1, New Haven, Connecticut  welterweight Christian Lao 3-1, 1 KO and Rosedale, New York southpaw super middleweight Ronson Frank 16-0, 8 KOs in separate bouts against opponents not yet named.
Tickets for "All In" at Foxwoods Resort and Casino, Mashantucket, Connecticut are $40.00, $65.00 and $125.00 (VIP ringside) and can be purchased by calling CES at 401.724.2253/2254, or the Foxwoods box office at 800.200.2882, online at www.cesboxing.com or www.foxwoods.com.
For more on boxing or Joe Smith Jr. go to www.StrictlyBusinessBoxing.com