Missouri Valley Tournament 2012: Bracket, Dates, Start Time and TV Schedule
February 29, 2012

Jim McIsaac/Getty Images
The Missouri Valley Conference is one of the top mid-major conferences in college basketball. It features several marquee teams, including ranked squads from Wichita State and Creighton, which should make this weekend's conference tournament unpredictable.
Since rising to prominence over the past decade, the MVC tournament has become the unofficial start of March Madness. It's a period of time college basketball fans have been waiting for all winter, and now it's finally set to begin.
Let's examine everything you need to know about this year's marquee event.
Where: Scottrade Center in St. Louis, Mo.
When: Thursday, March 1 to Sunday, March 4. Check local listings for start times.
Watch: Early-round games on FOX Sports Midwest, other affiliates and ESPN3.com. Championship Game on CBS.
Bracket: Complete MVC Tournament Bracket
Here are the top contenders to claim the Missouri Valley Conference's automatic bid:
No. 1 Wichita State Shockers
Jim McIsaac/Getty Images
Not only are the Shockers favored to emerge victorious from this tournament, but they are a potential NCAA sleeper as well. The trio of Garrett Stutz, Joe Ragland and Toure' Murry will cause matchup problems for just about any team in America.
They have plenty of big-game experience after winning last season's NIT, and carried over that momentum to have a tremendous regular season. The Shockers defeated UNLV in early December and don't have a really bad loss on their résumé.
Wichita State will make the tournament regardless of their finish in St. Louis, but the Shockers would love to win the MVC to help boost their seeding.
No. 2 Creighton Bluejays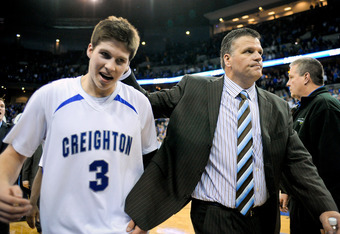 Eric Francis/Getty Images
Creighton was on pace to have a season that could have even trumped that of Wichita State before a three-game losing streak in early February caused the team to regroup. The Bluejays have rattled off four straight wins heading into the tournament, so they should be in good shape.
They are led by the conference's biggest star in Doug McDermott. The sophomore forward is averaging 23 points per game (fourth in the nation) and eight rebounds. He gives them a puncher's chance in every game the team plays.
The Bluejays' biggest problem has been depth beyond McDermott. Creighton will need role players to step up if it's going to claim the title.
No. 5 Northern Iowa Panthers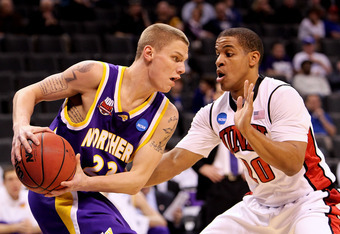 Ronald Martinez/Getty Images
Northern Iowa is a rock-solid sleeper team. The Panthers are best remembered for knocking off heavily-favored Kansas during March Madness two years ago, and once again have the look of a team that could make some noise if given the opportunity.
Ali Farokhmanesh is gone, but a strong rotation pushed the Panthers to a 19-12 record. Anthony James leads the way at 13 points per game. He's followed by six other players averaging at least six points. Seth Tuttle is one of the conference's most underrated players due to his efficiency.
There's a logjam of teams with a 9-9 conference record, but none of those fringe contenders has a better chance of making a stunning run than Northern Iowa.
Predicted Champion
Wichita State Shockers