Zach Randolph Injury: Memphis Grizzlies Still Haven't Cleared Z-Bo for Contact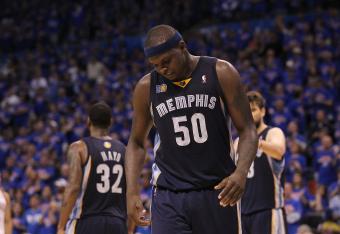 Ronald Martinez/Getty Images
Zach Randolph has been working hard to return to the Memphis Grizzlies lineup. His progress in recovering from a partial MCL tear had been fantastic for a while, leading some to wonder if he could return early. However, since Randolph still hasn't been cleared for contact drills, the Grizzlies must wait as his return date remains up in the air.
Randolph, who suffered the tear against the Chicago Bulls on January 1, had made great strides for several weeks with his knee. MRI results had shown progressive improvement and no need for surgery. He began non-contact drills in the week before the All-Star break, working out through the break with the Grizzlies training staff.
Now, his progress has slowed as he's still feeling uncomfortable doing some things while wearing the knee brace. Randolph has managed to run the court and shoot the ball without too much pain. The problem comes when Randolph tries making hard cuts on the court like he would in a set piece, as The Commercial Appeal noted on Tuesday.
Randolph becomes hesitant when making those cuts and when moving laterally.
That's a tricky issue for him. The Grizzlies like to run pick-and-rolls with Randolph, and have him spin off for jump shots on the wing.
Currently, Randolph seems like he can't do those things seamlessly as he should in a game.
With that, Grizzlies fans shouldn't look for Randolph when Memphis hits the court against the Dallas Mavericks on Wednesday, as The Commercial Appeal illuminated on Wednesday.
Now, the questions that remain pertain to when Randolph will start contact practice, a question he has tried to sidestep.
"When I'm ready," Randolph demurred in Wednesday's Commercial Appeal article.
That's some response from a player reputed to be belligerent. To be fair, an injured athlete has a right to be restive.
The next question, when he'll be back in the Grizzlies lineup, brought a similar response.
"I don't know," he told the Commercial Appeal. "When I think I'm right. When I can do everything I'm used to doing."
With this uncertain picture, the fallback is the timetable posited several times by The Commercial Appeal, where Randolph would return on March 7 against the Golden State Warriors. The Grizzlies have a nice three-day break before that. That would give Randolph time to practice with the team.
Some might chalk this up to Randolph's undeserved reputation for laziness. However, as hard as Randolph has worked to get to this point, basketball observers should give him the benefit of the doubt.
Besides, recovery from knee injuries needs to be handled delicately. Players who come back too soon often can't do the things they did before the injury. Also, they risk aggravating the injury.
Fortunately, the Grizzlies are handling Randolph's recovery carefully. He needs to come back in full form. If Randolph were to come back without fully healing, he might slow the team down and cause them to drop in the standings. Also, they don't want him to aggravate the injury in a game and miss the rest of the season.
Hopefully, Randolph comes back soon in full form.
This article is
What is the duplicate article?
Why is this article offensive?
Where is this article plagiarized from?
Why is this article poorly edited?

Memphis Grizzlies: Like this team?