WWE vs. the Rock: John Cena Takes 2-0 Series Lead on RAW, "Wristgate" Ensues
February 29, 2012

WWE's RAW Supershow had one main selling point of the return of the Rock, who was to address a suddenly surging John Cena. Cena has had more of an edge to his usually cookie-cutter character as he ever has coming off of a fervent and scathing promo last week. 
The bottom line of the ongoing feud between Cena and the Rock creates a dynamic between the consummate company guy and the Hollywood outsider. While John Cena and the WWE propaganda machine has been persistently trying at least shave some of the Rock's support off the top come WrestleMania, these efforts have proven to be futile as the People's Champion has basically been Teflon. 
The WWE has responded accordingly. While they have not yet completely given up on various "turn the crowd against the Rock" talking points for Cena, they have more than acknowledged Cena's ubiquitous fan resistance by teasing the possibility of a heel-turn multiple times through the year. 
But this past Monday on RAW, a near 52-week concerted effort to swing momentum in John Cena's favor while chipping into the Rock's seemingly unbreakable mystique seemed to finally start to pay dividends.
The key to Cena's home-stretch momentum may very well be an elaborate master plan dating back to last week, when Cena earned rare universal cheers from the live crowd after tearing down that jezebel Eve for her promiscuously heelish actions.
With the wind to his back, Super Cena triumphantly returned to the ring that same night and cut one of the best promos of his career.  Cena lashed out against the Rock—who he defiantly referred to as "Dwayne"—as his WrestleMania match with the Rock quickly spiked in intrigue.  
This week seemed to be yet another show-long effort aimed at Cena getting to the Rock. Call me a conspiracy theorist, but the Jericho-Punk exchange that kicked off the show appeared to be a subtle attempt to condition fans to boo the star who left the WWE for bigger and better ventures.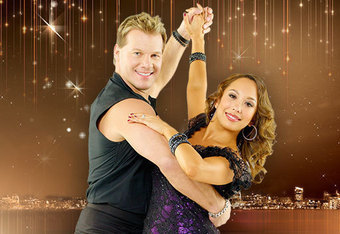 Jericho easily garnered the most heel heat of the night and with every barb flavored with tinges of "you left, and I'm still here," fan apathy towards Jericho only seemed to increase as a hot Oregon crowd unanimously backed Punk. 
And while the Rock certainly had fans Tweeting eating out of his hands by the time his promo came around, for the first time ever he seemed out of rhythm after a sizable layoff from the WWE. 
Throughout an entertaining promo that was poignant when it had to be yet far too self-indulgent for its own good, the Rock seemed more interested in getting various chants to trend on Twitter than explaining what he intended to do to Cena come April 1st. 
With every laconic sip of Arrowhead water designed to give the Rock time to go over his notes (we'll get into that soon enough), he suddenly seemed every bit as Hollywood as Cena has insisted he was for well over a year. 
That self-indulgent dynamic of Rock's promo vindicated Cena's accusation of the Rock returning to launch his Twitter account, as this is not the first time we've seen these kind of pandering antics from "Dwayne."
But just as Rocky's speech reached its peak in momentum, Cena unexpectedly came out and did to the Rock in three minutes what the Rock had dedicated the previous 15 minutes of talking (and trending) time to do to Cena. 
In a feud that has been basically one-sided, with the Rock dominating both physical and verbal confrontations, John Cena finally got one over on the Rock.  
In a rare juxtaposition with what had been an at-times erratic promo from the Rock, John Cena was smooth. He was deliberate. Focused. 
He embarrassed the Rock.
After turning around Rock's "Kung Pao B---h" barb by cleverly reveling in the insult, retorting that both he and Kung Pao Chicken are always there, Cena undressed the People's Champion by pointing out that the Hollywood actor had to write his promo on his wrist ("nice tattoo").
Burn.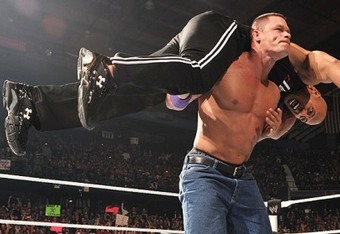 There was a certain aura of realness to that final exchange that one simply cannot manufacture in a creative war room. Cena's vexing "wristgate" comment literally stopped the Rock dead in his tracks and the uneasy tension that ensued was as magical and potentially profitable as it was awkward. 
WWE hardcore legend and three-time best-selling author Mick Foley best described the showdown on his Twitter account by the time all was said and done:
"That promo felt kind of uncomfortable to watch. Not sure if that's a good thing or a bad thing."
The Rock has always had a distinct advantage whenever he returns for in-ring segments with Cena as his star power is palpable whenever he and Cena stand in the same ring together. 
Fans can perceive how much more charisma is being juiced out by the Rock than Cena, not to mention the Rock is physically larger in stature which also helps to cast a large shadow over the WWE's posterboy.  
However, after cutting a brief yet potently smarmy promo against his WrestleMania foe, Cena confidently marched to the back, leaving the Rock to cast his own shadow by his lonesome. It was the first power move Cena has demonstrated against the Rock since hitting him with an Attitude Adjustment approximately one year ago.
No longer given the benefit of intimate, dimmed lighting effects, the Rock was left to pace by himself underneath the humanizing bright lights. The Rock went on to sloppily finish off his promo, clearly rattled from what had just transpired as his final barbs at Cena seemed rather silly since the man had already said his peace and left, leaving Rocky to basically cut a promo on a curtain. 
The Rock insisted that there was no difference between Dwayne Johnson and the Rock as he hastily closed his promo.  But with no lighting, no indoor sunglasses and no seemingly no clue that Cena was going to "go there" with him, it became quite clear that the man anxiously pacing back and forth was no longer the Rock but indeed was the very human Dwayne Johnson. 
Congratulations are in order to John Cena, who now has a 2-0 lead over the Rock in the last two weeks of promo cutting. Congratulations are also in order to Tyler Reks and Rock Bottom feeders alike. You just had your WrestleMania moment, albeit vicariously.
Want to turn your girlfriend into a pro wrestling fan?  Head over to B/R Video for Big Nasty's latest piece, then follow Big Nasty on Twitter @ThisIsNasty and thank him later!