Penn State Nittany Lions Football: 4 Best Kickers in School History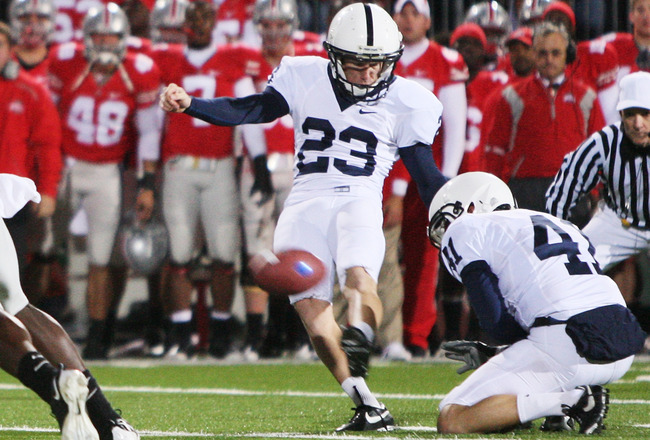 Jamie Sabau/Getty Images
The time has come to celebrate one of the least-celebrated positions in college football: the place kicker.
In recent Penn State history, there have been many solid kickers who have come and gone.
Here are the top four kickers ever to put on a Nittany Lions uniform. Three of them have played within the last 20 years.
4. Matt Bahr (1976-1978)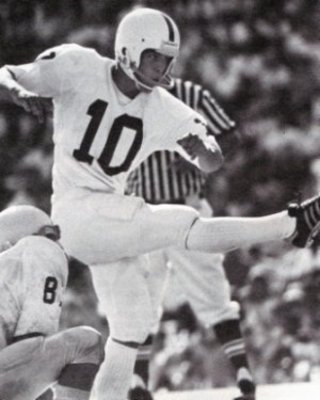 On four separate occasion, Matt Bahr made four field goals in one game.
During his senior year, he made 22 field goals (out of 27 attempts), which is tied for the most by any Penn State kicker in a single season. This field-goal percentage of 81.5 is good for third-best among Nittany Lions who attempted 20 field goals or more in a season.
3. Brett Conway (1993-1996)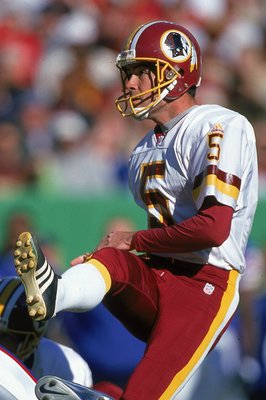 Doug Pensinger/Getty Images
During his Penn State career, Brett Conway converted 45 of his 61 field goal attempts, which, along with point-after-touchdown attempts, places him third in scoring in Nittany Lion history.
This field-goal percentage of 73.7 is good for third-best out of kickers who made at least 20 field goals in their career.
2. Travis Forney (1996-1999)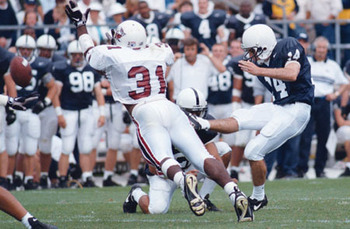 Forney sits in third place in Nittany Lions school history for most career field goals made (47). His 74.6 field-goal percentage is second-best among kickers who made 20 or more field goals in their career.
Forney made five field goals in a game against Michigan State in 1998. He converted 20 or more field goals in two consecutive seasons.
In 1999, he converted all 44 of his PATs.
1. Kevin Kelly (2005-2008)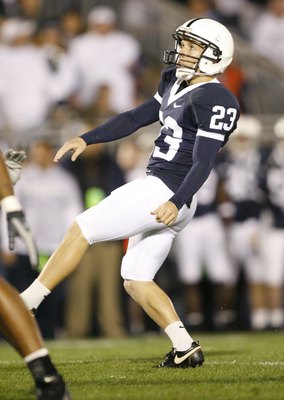 Hunter Martin/Getty Images
Kevin Kelly's 425 points put him at the top of Penn State's all-time scoring list.
With 78 field goals, he is at least 28 ahead of any other kicker in Nittany Lions history.
Kelly's most accurate season, a 20-for-24 performance in 2008, is the best by any Penn State kicker who has attempted at least 20 field goals.
He holds the NCAA record for most consecutive games with a field goal, 31.
Keep Reading

Penn State Football: Like this team?