Fantasy Baseball Rankings 2012: Jose Reyes and Stars Guaranteed to Disappoint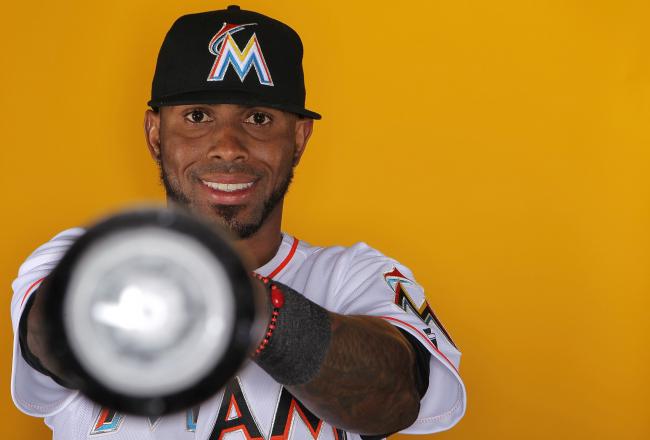 Marc Serota/Getty Images
If you've got a fantasy baseball draft coming up, you had better familiarize yourself with the stars who will be in high demand. You're going to want to target some of these guys.
Notice how I said "some." I did not say "all."
Some stars are basically Trojan horses. You'll welcome them into your midst and expect great things out of them, and the next thing you know there will be a bunch of Greeks laying waste to your fantasy roster. It happens all the time.
Don't let yourself be victimized by these types of stars. This season, that means avoiding the five guys listed below.
5. Ryan Vogelsong, SP, San Francisco Giants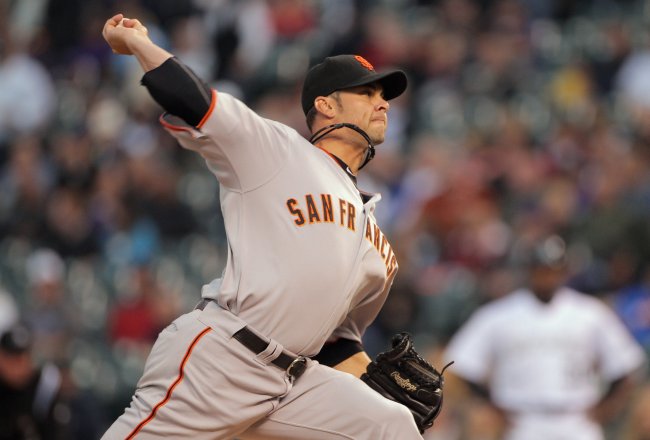 Doug Pensinger/Getty Images
I'm aware that I'm definitely stretching the definition of the word "star" by including Ryan Vogelsong on this list. But when you finish with the sixth-lowest ERA in the majors, you've earned that right.
Some owners are going to draft Vogelsong hoping to capitalize on similar success this season. Don't be one of them. Last season's success was pretty fluky.
Yes, Vogelsong had a really good ERA, but he got it while walking a few too many guys and striking out too few. He pitched to contact, and was a little too successful doing so. Given the kind of stuff he's working with, hitters should have managed better than a .280 BABIP against Vogelsong.
Vogelsong was definitely better than we'd been led to believe he was, but he clearly overachieved. His ERA was in the 2.00s, but his FIP was in the high 3.00s. That's a sign Vogelsong is bound to level out.
And for what it's worth, Vogelsong did level out after the All-Star break last season. His ERA didn't balloon, but opponents went from hitting .226 off him to hitting .262 off him.
4. James Shields, SP, Tampa Bay Rays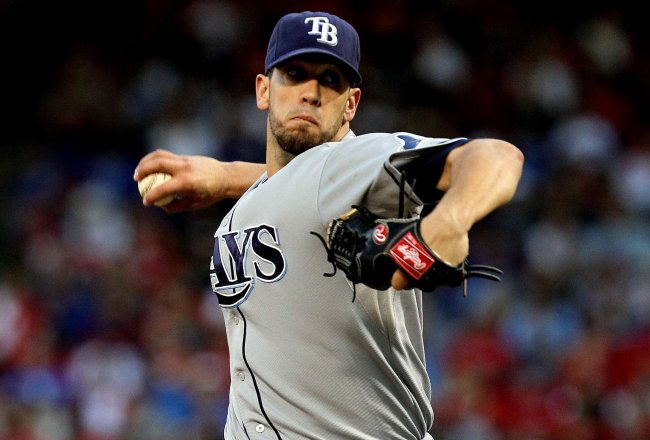 Ronald Martinez/Getty Images
James Shields was absolutely brilliant in 2011. He went the distance in a third of his starts, pitching four shutouts along the way.
The odd part is that Shields didn't change all that much from his horrid 2010 season. His strikeout and walk rates remained constant, and he upped his ground ball total. Other than that, all that really changed was Shields' ERA.
BABIP told us something useful about Vogelsong, and it does the same with Shields. His was even lower than Vogelsong's, checking in at a ridiculous .258. In 2010, Shields' BABIP was .341.
So in 2010 and 2011, we basically got two very different versions of Shields. One was unlucky, the other very lucky.
Shields is getting better as a pitcher, so it's not like he'll be a huge bust for whomever drafts him. But whoever drafts him is going to get a pitcher with an ERA in the mid-to-high 3.00s, not the high 2.00s.
3. Michael Young, INF, Texas Rangers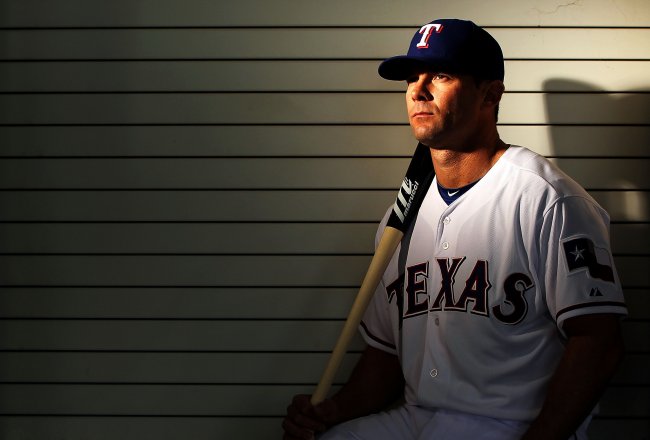 Jamie Squire/Getty Images
Michael Young went from being disgruntled trade bait to being an All-Star last season. Hats off for that.
Because he finished with the second-highest batting average in the majors, Young is sure to get a lot of looks in fantasy drafts. Getting hits has never been a problem for Young, but anybody drafting him looking for anything more than that is going to be let down.
Hitting for power is not Young's forte. He's had 20-homer seasons in the past, sure, but he had just 11 home runs last season and that's pretty much par for the course. He occasionally has seasons in which he elevates the ball, but Young is generally a line drive hitter with merely decent power.
Last season, Young's GB/FB rate was 1.79 and he upped his LD percent to 26.2, the highest mark he's posted since 2007. His ISO was .136, well below the ISO figures he posted in 2009 and 2010.
Because Young tends to make solid contact when he hits the ball, you kinda have to look past BABIP (his was high for the record). What you can't look past is the fact that Young is essentially a singles/doubles hitter at this point in his career. He's only going to have value if he racks up a lot of RBI.
He won't. The word from The Dallas Morning News is that Young will bat sixth this season, as opposed to his customary second. There won't be many RBI for him to pick up after the three, four and five guys have taken their swings.
2. Justin Verlander, SP, Detroit Tigers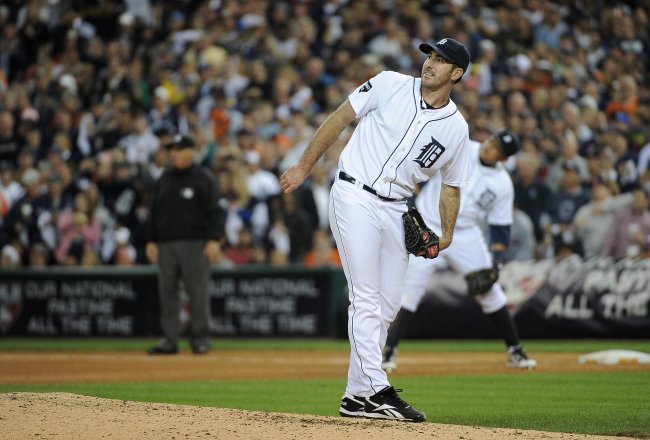 Harry How/Getty Images
Somebody in your league is going to take Justin Verlander in the first round hoping he'll repeat his success from 2011.
That's asking too much of Verlander.
As brilliant as Verlander was, he wasn't that much better on the mound in 2011 than he was in 2010. He struck out a few more guys and walked fewer guys. But oddly enough, he gave up more home runs too. Since there was rarely anybody on base, these didn't hurt him.
There are going to be more guys on base this season. Verlander is bound to walk more guys in 2012 than he did in 2011, and he's not going to be able to sustain a .236 BABIP. That's a ridiculously low number.
In the last three years, Verlander's FIP has been in the high 2.00s, but he posted an ERA well over 3.00 in both 2009 and 2010. He just didn't get very lucky.
With Miguel Cabrera at third and Prince Fielder at first, I'll wager Verlander is going to go back to being unlucky. He'll still win games and he'll still dominate on occasion, but he's not going to end up being worth a first-round draft pick.
1. Jose Reyes, SS, Miami Marlins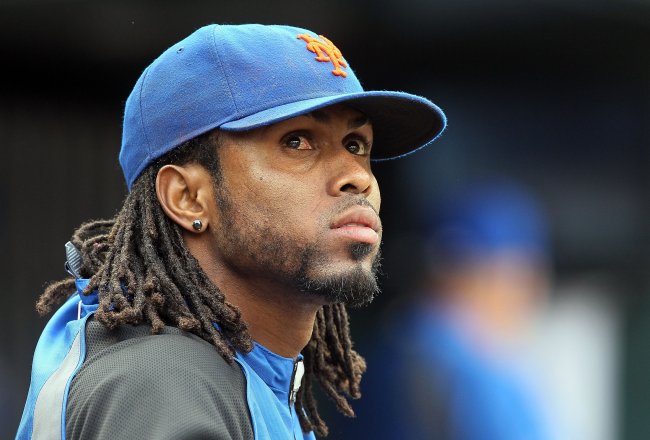 Jim McIsaac/Getty Images
I shouldn't have to justify this one. My guess is that most people are expecting Jose Reyes to bust in Miami.
First of all, the big concern with Reyes is his ability (or lack thereof) to stay healthy. He hasn't played a full season since 2008, and his hamstrings seem to suffer from some kind of hex.
My other concern is that there's simply no way Reyes is going to be as great as he was in the first half of 2011, when he hit .354 and had an OPS well over .900. Reyes is good, but he's not that good.
Over or under 40 stolen bases for Jose Reyes in 2012?
Sure enough, Reyes wasn't that good in the second half of the season. He tailed off to hit .305 with a .784 OPS, which is right about where he should be.
Another thing worth noting is that we don't know how Reyes' hitting tendencies are going to translate over to Miami's new ballpark. He was able to find the gaps at Citi Field for doubles and triples to drive up his slugging percentage, but he was primarily a singles hitter when the Mets played on the road.
In theory, this will translate to more stolen bases, but I wouldn't be so sure. All that running can't be good for Reyes' hammies, and the Marlins may prefer their huge investment to play it safe, especially seeing as how the heart of their order is loaded with big bats. Reyes doesn't need to push the envelope in Miami like he did in New York.
Worst-case scenario, Reyes will be Carl Crawford. Best-case scenario, he's not going to be the Reyes from the first half of 2011. He'll be good, not great.
Follow me on Twitter. We'll talk about baseball and toast, which is warm and crunchy.
This article is
What is the duplicate article?
Why is this article offensive?
Where is this article plagiarized from?
Why is this article poorly edited?