SEC Tournament: 12 Most Important Players to Keep an Eye on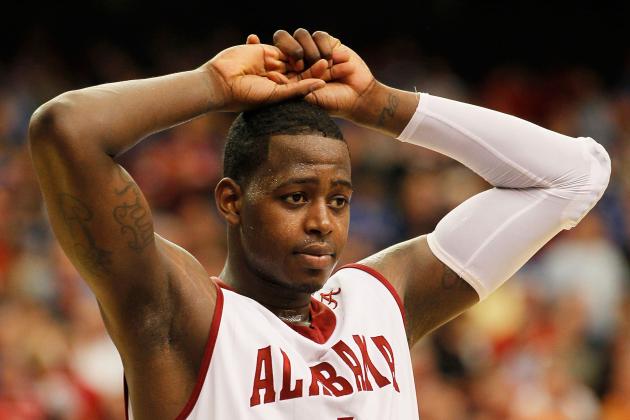 Kevin C. Cox/Getty Images

Conference tournaments are a time for bubble teams to state their case for playing in March, a time for top schools to defend their regular-season championships and a time for little-known teams to surprise everyone and win it all.
The SEC Tournament is no different.
Teams like the Alabama Crimson Tide and Mississippi State Bulldogs were initially billed as NCAA Men's Basketball Tournament locks.
Thanks to a late-season slide, however, both are on the bubble.
Teams with young players like the Arkansas Razorbacks and Georgia Bulldogs can use the tournament to prepare for next season and gain valuable experience.
Every team wants to either end the season or head into March on a high note, but obviously, not all can.
Certain players can be key in determining whether their team advances to the championship game or bows out early on.
Here are the 12 most important players to watch in this year's SEC Tournament.
Begin Slideshow

»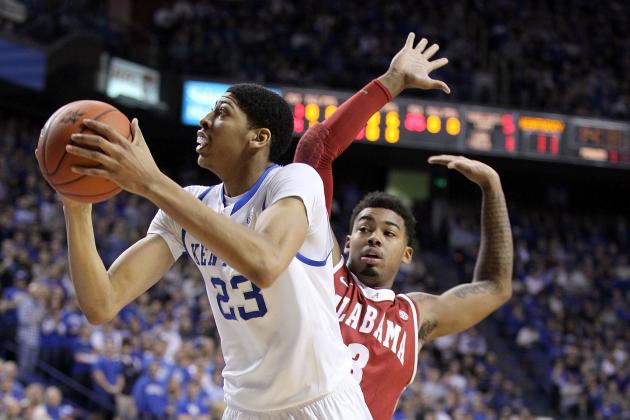 Andy Lyons/Getty Images

Anthony Davis is one of the most important players in the country, never mind the SEC.
His 4.8 blocks per game easily lead the nation. Just ask any opponent Davis has faced and he can tell you that the number of shots Davis alters far exceeds that number.
Davis is one of the most effective shot-blockers in the history of college basketball, but he has also learned to assert himself on offense as well.
In the Kentucky Wildcats' most recent game against the Vanderbilt Commodores, Davis missed just one shot out of 11 en route to a career-high 28 points.
Davis' post moves improve every game and when he is clicking on offense, opponents should just step back and let him do his thing.
He simply has a knack for coming up with a big play when his team needs it.
Be it a block of John Henson's last-second shot to preserve a one-point Kentucky win or a turnaround jumper just before the shot clock sounded to seal a win against Vandy, Davis is there. And he delivers.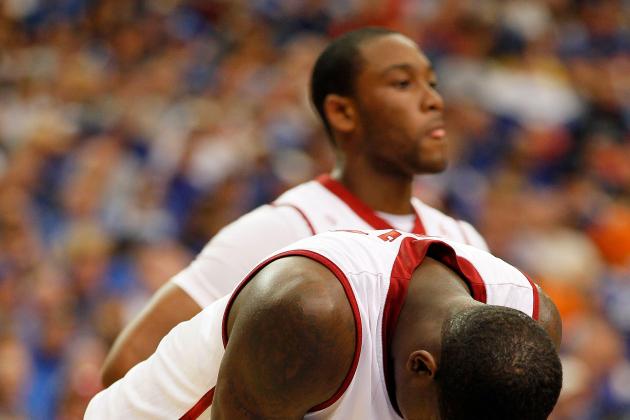 Kevin C. Cox/Getty Images

JaMychal Green has always been the most important player for the Alabama Crimson Tide. The attention paid to him will now only intensify thanks to a four-game suspension late in the season.
In his first game back after the suspension, Green scored nine points and grabbed three rebounds, a far cry from his season averages of 13.9 points and seven rebounds per game.
It will be interesting to see how Green continues to respond, especially in the fast pace of a tournament and when gearing up for postseason play.
The Crimson Tide seemed a lock to make the NCAA Men's Basketball Tournament early in the year. The team was ranked in the top 25 and had a veteran team that was bolstered by young stars.
But then the losses began to mount. Alabama started off just 2-4 in the SEC, with Green scoring and rebounding in double figures just twice in the six-game span.
Alabama should get a tournament berth this season, but if the team can make a solid run through the SEC Tournament, it can breathe easy on Selection Sunday.
Whether they do or not depends largely on the senior leadership of Green.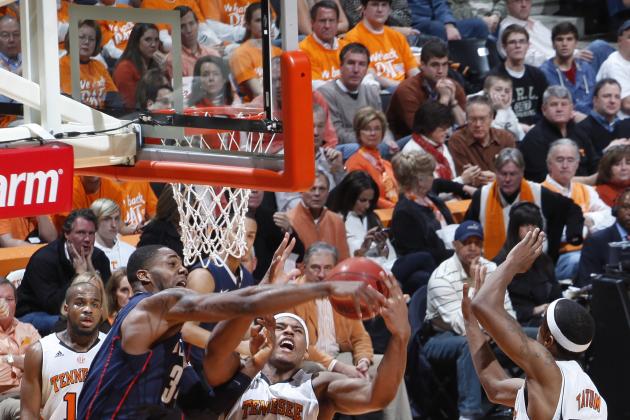 Joe Robbins/Getty Images

Jarnell Stokes should still be in high school. He turned 18 in January, graduated from high school a semester early and began playing college basketball for the Tennessee Volunteers.
Stokes is now starting for the Volunteers and going up against some of the best big men in the country.
What a change a few months can make.
Stokes has played against Festus Ezeli, Anthony Davis, Alex Oriakhi and Andre Drummond. He is averaging eight points and seven rebounds per game.
Stokes is key for Tennessee because he has the size (6'8", 250) to match up physically with just about anyone in the country. He adds an extra dimension to a team that often relied on guards for the majority of its production.
The SEC Tournament will be a great chance for Stokes to get postseason experience and, most importantly, play more minutes. The more he plays the better he gets.
As Stokes improves and continues to learn the college game, his stat lines should look much more like the monster 16 points and 12 rebounds that he recorded against the Connecticut Huskies late in January.
Stokes is the main building block of Tennessee's post-Bruce Pearl basketball. The Volunteers have lost just five of the 13 games Stokes has played in, so it seems like they will be in pretty good shape.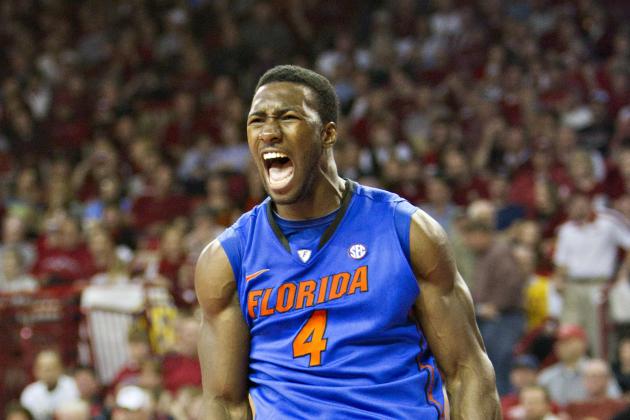 Wesley Hitt/Getty Images

The Florida Gators are a guard-heavy team. No one is denying that, but, unfortunately for Florida, no one seems eager to change it either.
For the Gators to have success in March against bigger teams like the North Carolina Tar Heels and Kansas Jayhawks, the team must be able to rely on a big man to get the job done.
And that is where Patric Young comes in.
Young has drastically improved from a fairly unproductive freshman campaign, but still, his averages of 10.3 points and 6.4 rebounds per game are not cutting it for the Gators.
Young has been an up-and-down player all season, sometimes coming through with 14-point, 12-rebound performances as he did against Jared Sullinger and the Ohio State Buckeyes.
Conversely, Young also has almost nonexistent nights, such as when he scored just four points and grabbed three rebounds against the South Carolina Gamecocks.
If Florida wants to advance in the NCAA Men's Basketball Tournament, it needs Young to make his presence felt. Guards Kenny Boynton, Bradley Beal and Erving Walker have too much pressure on them.
Young is shooting 61 percent from the field and should simply be given more touches. It will open things up on the perimeter for the three-point-loving Gators and make opposing bigs work to guard Young.
The SEC Tournament is great preparation for the NCAAs. If Young can produce at a high level in his conference, it will give him confidence and practice to play a big role for Florida in March.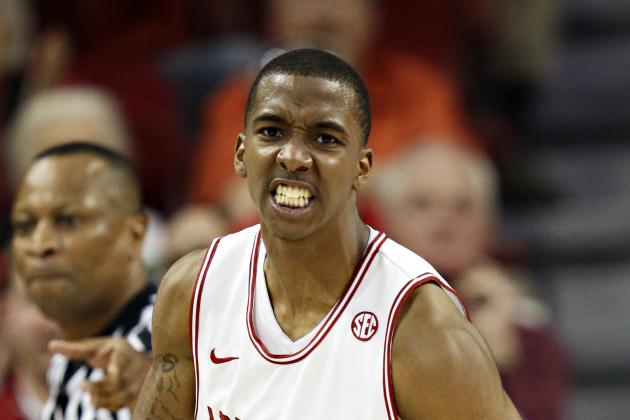 Wesley Hitt/Getty Images

Despite being just a freshman and coming off the bench for virtually the entire season, BJ Young is far and away the most important player on the Arkansas Razorbacks roster.
He is the team's leading scorer and ranks third in both assists and steals per game.
Young has gained confidence from his increased playing time this season and has shown it in big games against ranked opponents.
The Razorbacks knocked off the No. 19 Michigan Wolverines behind Young's 15 points, four rebounds and three assists. He scored 24 points in a win over the No. 16 Mississippi State Bulldogs.
Young is a great player who continues to improve as the season goes on. The SEC Tournament will be a great chance for Young to showcase his skills.
Young could surprise some teams, as Arkansas has flown a bit under the radar this season, as has their freshman star.
And who knows? The Razorbacks could surprise some teams and make a deep run through the conference tournament.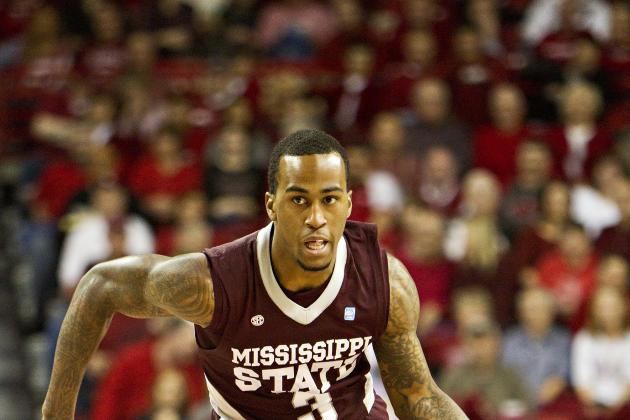 Wesley Hitt/Getty Images

Dee Bost is the heart of the Mississippi State Bulldogs' basketball team. He is not only a senior, but the squad's emotional leader on the floor who can always be counted on to deliver in crunch time.
Bost is leading the team in assists and is second in scoring. His contributions go far beyond just stats, however.
When the Bulldogs lost their second game of the season to the Akron Zips, Bost responded by scoring 16 points and grabbing seven rebounds in the team's next game. The game after that, against the then-No. 18 Texas A&M Aggies, Bost scored 20 points in an upset win.
During last season's turmoil with players getting suspended, leaving the team and just general discontent, Bost stuck with the program and has been rewarded with a successful senior season.
Mississippi State is on a five-game losing streak now, however, and it is time for Bost to step up again.
His play in the SEC Tournament will likely have a huge impact on whether or not the Bulldogs move off the NCAA Tournament bubble and into the big dance.
Given what Bost has shown in his four seasons in Starkville, expect some huge games from the senior.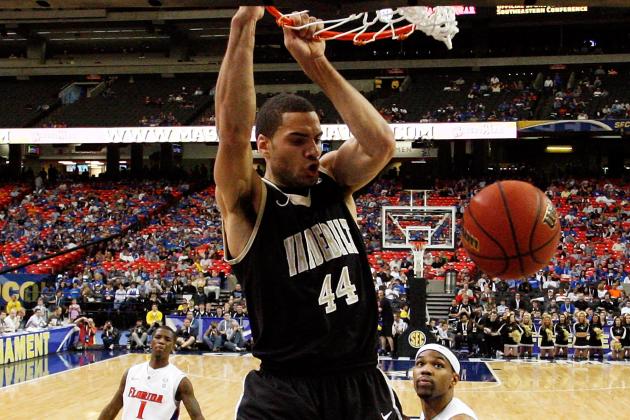 Kevin C. Cox/Getty Images

Jeff Taylor has had a good season for the Vanderbilt Commodores.
But it should be a great season.
Taylor has great ability—he is shooting 46 percent from three as well as ranking second on the team in points, rebounds and assists.
However, he has a tendency to disappear in games.
Against the South Carolina Gamecocks, Taylor scored just four points. In Vanderbilt's first loss of the year, to the Cleveland State Vikings, Taylor had just nine points and six turnovers.
Yet, in a big win against the Marquette Golden Eagles, Taylor scored 19 points and had four rebounds. In a near upset of the No. 1 Kentucky Wildcats, Taylor had 19 points and nine rebounds.
Taylor should be Vanderbilt's leader. He has experience and skill and has faced off against SEC teams for four years.
The Commodores had big aspirations at the beginning of the season. Despite sliding in and out of the polls all year, their goals are still within reach. But Taylor must lead them there.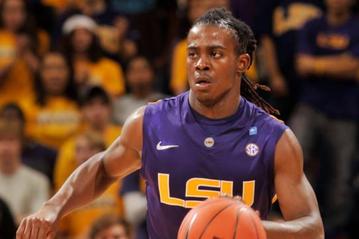 The LSU Tigers have an interesting mix of young and veteran players on their roster. The team does have senior leaders, but in many of its wins, LSU must thank its freshmen, specifically Anthony Hickey.
Hickey is a great point guard. He can see the floor and anticipate when his teammates will be open.
Hickey is key to LSU's success because he is the player that gets the offense going.
Many of the Tigers' other threats, such as Jordan Hamilton and Johnny O'Bryant, need to be set up to get their shots. Hickey is the man to do it.
Hickey's all-around game speaks volumes to his success. The freshman is averaging nine points, 3.7 rebounds and 3.8 assists per game.
To be putting up those numbers as a freshman, especially on an LSU team that was not expected to put up much of a fight in the SEC, is impressive.
LSU has played some good games this year, upsetting Mississippi State and narrowly losing to the Virginia Cavaliers and Marquette Golden Eagles.
The Tigers might be able to knock off a few teams in the SEC Tournament, especially if Hickey is on his game.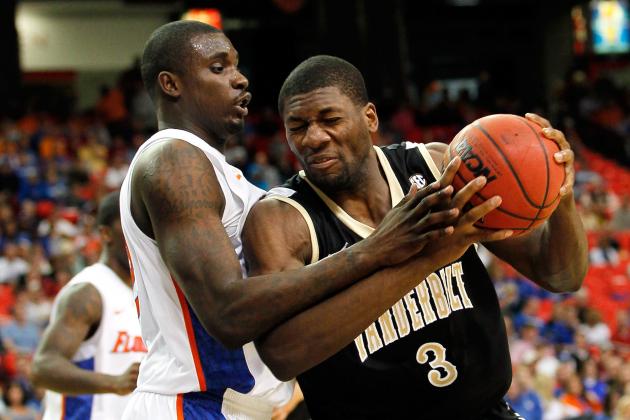 Kevin C. Cox/Getty Images

Festus Ezeli was supposed to be one of the best big men in college basketball this season. He was billed as the answer to the Vanderbilt Commodores' postseason woes and the key piece in the national championship puzzle.
Unfortunately, Ezeli missed the first eight games of his senior season before playing two games, then sitting out two more due to a knee injury.
He has come back and played well in conference play, but he is simply not the dominant force many expected him to be.
Ezeli's scoring and rebounding statistics are both down from last season and his turnovers are way up. It is clear that he is still working himself back into game shape because of his knee.
That is not to say that Ezeli is not capable of having monster games. He had a good 12-point, 14-rebound performance in a narrow loss to the Mississippi State Bulldogs and played well against the top-ranked Kentucky Wildcats both times the two teams met.
Ezeli must play better and consistently if Vanderbilt is to reach the high standards the team set at the beginning of the season.
The SEC Tournament will be a great indication of how Ezeli will perform in the NCAA Men's Basketball Tournament.
If his knee can keep up with the pace of tournament play, Ezeli might gain confidence and up his level of play. That would bode well for the Commodores as they advance to the NCAAs.
Andy Lyons/Getty Images

Throughout his two-year career as a Kentucky Wildcat, Terrence Jones has been an enigma.
He had a stellar freshman campaign that faded off as the season wore on. He began his sophomore season with renewed focus and toughness and seemed poised for a breakout sophomore season.
However, inconsistent play continues to plague Jones. He scored 26 points and grabbed nine rebounds against the St. John's Red Storm, then had 14 points and seven rebounds against the North Carolina Tar Heels.
Jones followed those games up with a four-point, one-rebound, six-turnover lack-of-effort against the Indiana Hoosiers.
Similarly, Jones followed up a string of three good games with a four-point performance against the Florida Gators.
The point is, when Jones is playing well, Kentucky is almost impossible to beat. He brings another dimension to the team when he is rebounding and aggressive on offense.
For the Wildcats to make it through the SEC Tournament and NCAA Tournament unscathed, Jones absolutely has to make his presence felt.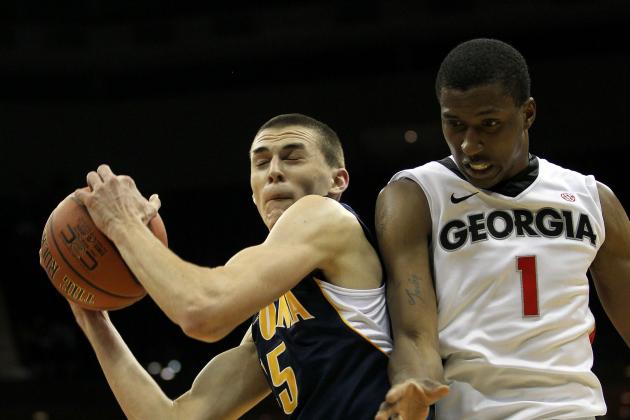 Jamie Squire/Getty Images

Occasionally, the SEC Tournament is a place for teams in the middle or bottom of the conference to come out of nowhere and punch their tickets to the NCAA Men's Basketball Tournament.
My pick for most likely candidate this season? The Georgia Bulldogs.
The team is near the bottom of the conference standings, but boasts wins over the Florida Gators and Mississippi State Bulldogs.
Kentavious Caldwell-Pope is one of the biggest reasons for Georgia's success against good teams. When he comes to play, the team is deadly.
Case in point: Caldwell-Pope scored 20 points and had eight rebounds and three assists in a win over Mississippi State. He then had three games in a row in which he scored 10 points or less—all Bulldogs losses.
In the next game, however, Caldwell-Pope erupted for 18 points, five rebounds and four steals. The result? An upset win over No. 11 Florida.
Caldwell-Pope is a great player and Georgia is a scrappy team. Combine those two factors and the Bulldogs could potentially surprise everyone and make a huge run to the SEC Tournament Championship.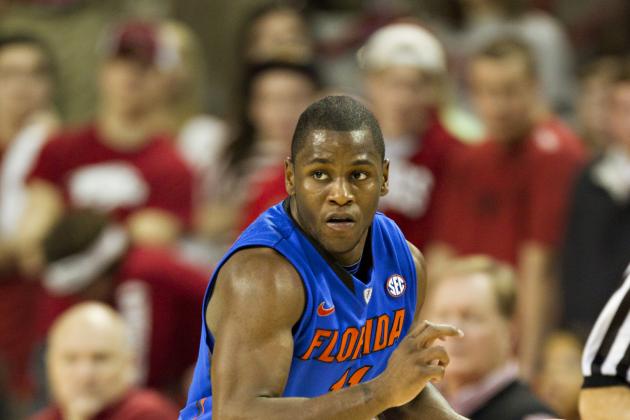 Wesley Hitt/Getty Images

Erving Walker is arguably the most important player on the Florida Gators roster. The senior guard epitomizes Florida basketball this season: slightly undersized, but tough and hungry.
In some games, Walker seems able to score at will. He has scored over 20 points four times this season, including a 31-point outburst against the Arkansas Razorbacks.
But according to coach Billy Donovan, Walker is not the vocal leader that the Gators need him to be.
The question now becomes, will Donovan's comments energize Walker and fire him up to perform at a higher level? Or will the senior be disheartened and not play his best basketball?
The coming weeks are key for Florida. The team has lost games to much worse teams, but it has also played evenly with some of the best squads in the country.
Florida's success in March will depend a large part on whether Walker plays like the senior leader that he is.
If the Gators can make a big run in the SEC Tournament and Walker plays well, the team could be in for some success in the NCAA Tournament. If not? Florida might be shown the door early.