Michigan Basketball: How the Wolverines Can Still Win the Big Ten Title
February 29, 2012

Streeter Lecka/Getty Images
The Michigan Wolverines should be sending the Indiana Hoosiers some thank you gifts.
With No. 20 Indiana taking down No. 5 Michigan State Tuesday night, Michigan's Big Ten Title hopes are very much alive. As of Tuesday night, here is a breakdown at the top of the Big Ten Conference:
1. Michigan State Spartans 13-4
2. Ohio State Buckeyes 11-5
3. Michigan Wolverines 11-5
For Michigan to win a share of their first Big Ten Title since the 1985-1986 season, two things must happen.
First and foremost, the Wolverines must take care of business. They have two conference games remaining, both away from Ann Arbor. The first is Thursday night against Illinois (17-12, 6-10 Big Ten).
In their first meeting a few weeks ago, the Wolverines easily took care of the Fighting Illini in Ann Arbor. Illinois has been struggling mightily over the past month or so, as they have lost nine of their last 11 games.
Michigan will then head to Happy Valley to play the worst team in the Big Ten, Penn State (12-17, 4-12 Big Ten) on Sunday. The Nittany Lions offense has been abysmal this season, averaging only 62 points per game and shooting 39 percent from the field.
Given their high level of play this season, the Wolverines are certainly expected to win these two games.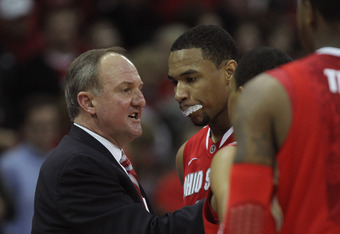 Jonathan Daniel/Getty Images
Second (ironically), Michigan is going to need a little help from their good friends over in Columbus. They will need Ohio State to defeat Michigan State on Sunday afternoon. The Spartans beat the Buckeyes 58-48 in Columbus earlier this season.
If all goes to plan, the fate of the Wolverines will be completely in the hands of the Buckeyes. Michigan would be a half-game behind the Spartans before OSU and MSU tip-off in East Lansing.
In other words, if Michigan beats Illinois and Penn State, the entire complexion of the Big Ten is dependent upon the outcome of the showdown between the Buckeyes and the Spartans.
I never thought I would say this, but Go Buckeyes.