Kobe Bryant: Latest Updates on the Black Mamba's All-Star Game Injury
February 29, 2012

A hard foul from Dwyane Wade only took Kobe Bryant out of action in the 2012 NBA All-Star Game for a brief moment. However, the errant foul has become far more disastrous than we previously thought. 
Keep it here for the latest on Kobe Bryant and his injuries sustained at Sunday's All-Star game.
Update: Thursday, March 1 at 10:10 a.m. ET by Tim Daniels
Kobe Bryant is no longer dealing with headaches associated with the injury he suffered during the All-Star Game, but now he's having neck pain. So much pain, in fact, that he had to receive constant massages during last night's game.
Kevin Ding of the Orange County Register provides the details:
What it boils down to for Kobe Bryant is a pain in the neck.

"Feels like it's just constant throbbing at the base of my head, where my neck is," Bryant said late Wednesday night after the Lakers beat Minnesota. "It's just kind of getting those muscles to relax a little bit."
It's a situation that warrants watching, but Bryant is as tough as nails, so the Lakers star will likely keep fighting through the pain. Stay tuned for more details as they become available.
Update: Wednesday, Feb. 29 at 9:55 p.m. EST by Ryan Rudnansky
According to Mike Trudell, official Lakers reporter, Kobe Bryant will play tonight against the Minnesota Timberwolves:
Kobe Bryant WILL start tonight. He was cleared to play by neurologist Dr. Williams.

— Mike Trudell (@LakersReporter) March 1, 2012
Update: Wednesday, Feb. 29 at 3:15 p.m. EST by Alex Kay
Mike Trudell, official Lakers reporter, has found that Kobe will play and start today if he is cleared by neurologists.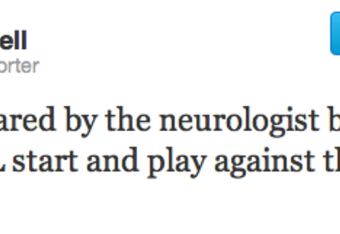 According to Trudell's Twitter feed, the Lakers have a mask for Bryant's broken nose and the superstar has passed every test so far, including neurological evaluations and bicycle, Axon and treadmill fitness.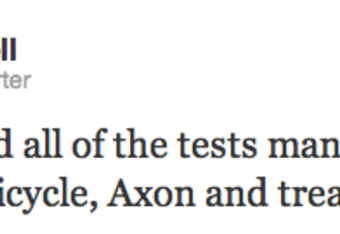 He's been symptom free since yesterday afternoon and should be cleared soon if there are no setbacks in his 24-hour window.  
Update: Wednesday, Feb. 29 at 8:00 a.m. EST by Alex Kay
Kobe may not be active for tonight's game against the Minnesota Timberwolves. 
According to The Los Angeles Times' Mike Bresnahan, the star shooting guard suffered a concussion in the All-Star game and has to be free of symptoms for 24 hours and then pass a number of rigorous, league-mandated tests before returning to the court.
Steve Blake is likely to replace Bryant if he is unable to go tonight.
Stay tuned here throughout the day for the latest and most recent updates on Kobe's status up until tipoff. 
Update: Tuesday, Feb. 28 at 9:00 p.m. EST
According to Kevin Ding of the Orange County Register, it turns out Bryant did sustain a concussion after Wade's hard foul in the All-Star game and will be listed as day-to-day.
Ding tweeted on Tuesday:
Neurologist's review of Kobe determines a concussion was suffered. Kobe will be re-evaluated tomorrow. Could still play tomorrow night.

— KEVIN DING (@KevinDing) February 29, 2012
The Official Lakers Blog's Mike Trudell reports the latest on Kobe Bryant and his nose injury. According to Trudell, the blow to Bryant's nose has given him a broken nose and some rather alarming symptoms. 
Kobe Bryant went to see ear, nose and throat specialist Dr. John Rehm on Tuesday after suffering a broken nose at Sunday's All-Star Game, and because Bryant is experiencing further symptoms, Dr. Rehm recommended an MRI and that Bryant see a neurologist.

Bryant, who did not practice with the team on Tuesday, is expected to see the neurologist and undergo the exam this afternoon; the Lakers will provide an update as soon as one becomes available. 
That doesn't sound like a player that will be suiting up immediately. Bryant's status may be uncertain, but it's clear that the Lakers will rule out any other maladies before he takes the court again. 
The injury in question took place late in Sunday's All-Star game when Bryant was going up with the ball to score. At that moment, Wade came from behind to lock up Bryant and instead hit his face. 
Yahoo! Sports anchor Deb Carson had the breakdown on Monday.
YahooSports: #Lakers Kobe Bryant has mild concussion in addition to a broken nose, after being fouled by Dwyane Wade during All-Star Game.

— Deb Carson (@DebCarson) February 27, 2012
Here is a video of the play in question. 
As always, keep it here for all the latest on Kobe Bryant's injury.