War Machine Blogs from Jail: Looking Forward to Meeting Floyd Mayweather
February 28, 2012

War Machine, formerly known as Jon Koppenhaver, recently blogged from his jail cell that he's looking forward to meeting Floyd Mayweather when the WBC welterweight champion joins him at his present residence—Clark County Jail, Las Vegas, Nev.
In addition, War Machine, a former participant on the reality television series The Ultimate Fighter, gave the lowdown on what the five-division titlist should expect once holed up in the Vegas prison.
War Machine's blog via his Twitter account:
Sooo Vegas jail, yeah I'm in the hole again, and I guess @FloydMayweather will be my neighbor come June. Maybe he'll give me some boxing tips? Pros and Cons: Vegas jail is much cleaner and has way better showers. Vegas has better clothes, oh, and here you get a pillow! In Vegas, we get 1 hour out of our cell every day as opposed to every other day. Oh s**t, the amount of trash produced per inmate is disgusting, S.D. needs to get on it. Here, we use 3 disposable plastic spoons/day while in S.D. we had over a pound of trash/day from chow. The food, weird. EVERY dinner here is good, the worst one still better than the best of S.D. AND complete opposite for breakfast. S.D. has good breakfast, Vegas sucks. Lunch sucks @ both. S.D. wins because you get a lot of extras there, here you get none. In S.D. you get a lot of fruit too, where it's scarce here. Now Commissary changes everything and makes S.D. 100x better than here. 1st off, they charge f***ing 80 cents for a stamped envelope here!!??! Food wise, you get a way better selection in S.D. and you can order $100 of s**t per week, here... $15!! WTF?! That's INCLUDING your overpriced stamps too! Oh s**t! And in S.D. you get nightly e-mails printed up; here, snail mail only! Ugh, yeah, Vegas jail sucks. Even the visits here are on a screen, you can't even see people through a glass. A TV SCREEN... blah.
In December of 2011, Justice of the Peace Melissa Saragosa sentenced Mayweather to a 90-day stint in jail for assaulting Josie Harris, his ex-girlfriend and mother to his three progeny.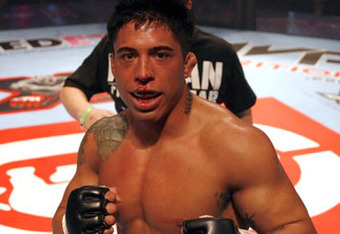 The aforementioned lockup was supposed to commence on Jan 6, 2012; however, after a supplication on behalf of "Money's" defense counsel regarding the financial potentials that could be realized in Las Vegas if Mayweather were allowed to fight on Cinco de Mayo, his jail term was therewith deferred until June 1.
May 5 was the date pencilled in for a projected super-fight with WBO welterweight titlist Manny Pacquiao; however, that fight has been shelved for the meantime, and Mayweather will now meet WBA super welterweight champion Miguel Cotto on said date whilst Pacquiao will lock horns with undefeated Timothy Bradley on June 9.
Conversely, War Machine (12-4 MMA, 1-1 UFC) who was sentenced to a one-year jail term in 2010 for felony assault, is currently serving another one-year stint in prison for some "old ass s**t," as he Tweeted.
In November of 2011, following his release from said 2010 spell in the clink, the ex-porn star threw down with former UFC combatant Roger Huerta, winning via third-round TKO.
For additional information, follow Nedu Obi on Twitter.