Boston Red Sox: Snitches Get Stitches... or Pinstripes...or Traded?
February 28, 2012

Welcome to the world of speculation.

This entire article is going to be based purely on my own speculation as to who the supposed "snitch" was in the Boston Red Sox clubhouse after the collapse of 2011.  There are no solid facts to  back up what I am going to say here, just circumstantial evidence and fodder for thought.  The issue is not going away, so we may as well talk about it, right?

That being said, the entire issue still has life to it after Red Sox pitcher Josh Beckett did an interview with WEEI-FM's Rob Bradford and caused a bit of a stir in the media, having this to say:
"Somebody made that stuff up, just like somebody made up that we were doing stuff … This is stupid. I don't understand what the big deal is. Somebody was trying to save their own ass, and it probably cost a lot of people their asses. The snitching [expletive], that's [expletive]. It's not good.

"There's two things with the clubhouse thing that I have a problem with: If I'm going to say something about the clubhouse, my name is going to be on it. The second thing is you never want to be remembered as that guy because that will follow wherever you go. It's just mind-boggling to me."
This leads one to wonder, uh, again, who was the snitch that infamously leaked all of this information to Bob Hohler in his now infamous Boston Globe piece?
There are three names in particular that come to mind.  As I've said, for no reason more than examining the words Beckett chose and deciphering the meaning for the sake of argument.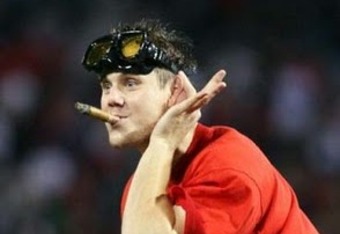 Jonathan Papelbon
Could it be that the fun-loving, cold-blooded closer was the man to run to the press?  Off the cuff it would seem unlikely, after all, it was Pap who had a beer box on his head, dancing around in his underwear after the 2007 World Series victory.
However, consider this: Papelbon was also one of the only players performing well and walking the line as the season wore down. While many of the others on the pitching staff exploded, Papelbon stayed his course and put up a pretty impressive 14.0 K/9 ratio in September, his best of the season.
Then of course, when his free-agent eligibility rolled around, Papelbon had gone to Philadelphia in less time than it takes him to go to the plate.
Sorry Phillies fans, expect your ninth innings to last an eternity now.
Realistically speaking, Pap never allowed the Red Sox the opportunity to match any other offers out there.  He wanted to split town and he did so mighty quickly and threw on a nice new pair of red pinstripes.  Does this make him "that guy" that this type of thing "will follow wherever you go" or is it just coincidence?
Marco Scutaro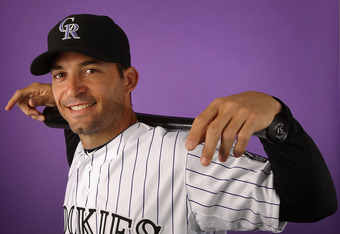 Christian Petersen/Getty Images
As with Papelbon, Marco Scutaro was one of the very few players that maintained a high level of play and effort in September. 
In fact, Scutaro would hit .387 that month with a 1.019 OPS.  In short, he played out of his mind while the rest of the team (seemingly) faltered.  As a 10-year veteran is it hard to imagine him speaking up about any issues that may have occurred in the clubhouse?  
While I will admit that this scenario seems unlikely, is that not precisely why it could have happened?  
Midway through the winter Scutaro was abruptly traded away for what was being rationalized as luxury tax relief (weeks later, principal owner John Henry would state that the Sox would go over their budget this season) while unloading the team's starting shortstop and giving the position over to (no offense) two utility men and a rookie with no bat.
It just feels funny.  It did then, it does now.
However, a counter-argument can be made in the case of both men I just mentioned: they're gone.  With that being the case, one would assume that this really would be a non-issue and Beckett would never had uttered a word about the whole situation.
Which leads me to believe that the snitch still exists.  Can't you see pitcher Beckett walking around the clubhouse pulling a Jack Nicholson in "The Departed" and sputtering out the line: "We gotta rat in my crew!"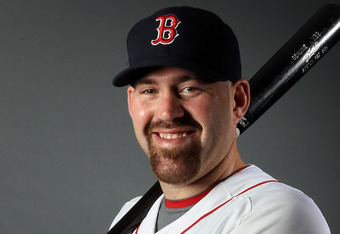 Elsa/Getty Images
I digress.
The reality is, this interview with Rob Bradford was Beckett's way of telling the rat...erm, snitch, that he knows who it is and he is not pleased with them.  That brings me to my third suspect:
Kevin Youkilis
Right after the season ended, famed sportswriter for ESPN Boston, Jackie MacMullan, wrote an article that indicated Youkilis as being a problem in the clubhouse.  MacMullan would write:
"Kevin Youkilis has always been a hot button. On occasion, his intensity and his honesty were his biggest assets, but not this season. The injured Youkilis showed up every day the way he wanted Ellsbury to, but he turned so sour and cynical that his carping and insistence on inserting himself into other people's affairs turned him into a detriment."
Could it be that the injured Youkilis was getting so agitated with his teammates for slacking off that he just blew a gasket and let it all out? 
Youkilis is the type of player that I could envision boiling over with anger watching the disgraceful play on the field knowing he can't be out there trying to help out the matter.
Could the "wherever you go" line from Beckett be a direct stab towards Youkilis, who is in the final guaranteed year of his contract?  The same Youkilis whose name seems to pop up in every possible Red Sox trade rumor conceivable this winter?
It could be.
Regardless of who it was, it definitely was the wrong thing to air out.  What goes on in a clubhouse should stay in a clubhouse.  This isn't a Watergate situation.  This is baseball, govern thyself.
If the alleged snitch is still a member of the Red Sox, this needs to be addressed and will likely, even if not desired by the team, end up happening on a somewhat public basis.  If the snitch is gone, then it is time to let sleeping dogs lie.
If anything at all can be learned from the collapse and the aftermath, it is this: if the Boston Red Sox are going to win, they're going to have to do it as a team, not as a team divided.