WWE News: CM Punk and Chris Jericho's Amazing Opening to Monday Night Raw
February 28, 2012

While everyone is trying to guess if John Cena busted The Rock for cheating on his promo with tiny notes written on his wrist, we are passing by one of the best wrestling promos of all time.
It wasn't about making stupid catch phrases trend on Twitter, or being hypocritical by being a bully in an anti-bullying company. No, this promo was done by two individuals who are the best in the world. 
Monday Night Raw started with the announcement that we would get a rematch of the Daniel Bryan vs. CM Punk match from Friday Night SmackDown. Punk came to the ring and waited for Daniel Bryan's music to hit, but instead of "Flight of the Valkyries," we got "Break the Walls Down."
Chris Jericho came out and climbed into the ring to confront CM Punk.
Jericho with mic in hand began a speech that had me applauding at home on my couch and cringing that the crowd wasn't responding in the manner I thought they would. He said he didn't have to put that he was Best in the World on the back of a T-shirt—the fans would instead put it on signs and bring them to the arena. He didn't give himself that moniker, the fans did.
He's part of a dying breed that have toured the world honing their craft and becoming stars before they even got to the WWE. This is where I would have thought the crowd would pop, but still only boos. Still the sheep of booing the bad guy and cheering CM Punk.
Imagine being an artist, a painter and traveling the world learning style after style from the greats that are out there. That's Chris Jericho—he's a wrestling artist. He was a champion in Japan, Mexico, Canada, and multiple parts of the United States. Who else can say that?
Why a crowd who chants "You Can't Wrestle" was not appreciating what he has done, or who he is, was beyond my comprehension, I was cheering loudly at home, while the rest of the sheep waited for Punk to burp and then cheer. 
He went on to talk about how this gave him a chip on his shoulder, how he wasn't very popular in the back, but it didn't matter if he was the top-slotted guy or where he was on the card, he went out to the ring and delivered the best matches you'd ever see. I stood and applauded at that comment.
Keep in mind this is a guy who stood up to Goldberg in the WCW and the WWE—he didn't care what type of golden boy he was, he knew he was a muscle-bound flash in the pan who did nothing but squash matches.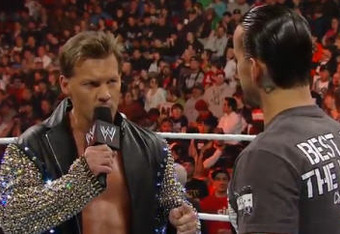 Punk interrupted him and of course this made the crowd go crazy. Jericho went on, telling Punk he's plagiarized him and he's nothing but a Jericho wannabe. I'll admit it—I too am a Jericho wannabe.
Punk then goes on to say his problem with Jericho is that he's insinuating that he's stolen anything from him. He says everything he's had, he's worked for and he's earned.
He then brings up that before there was a Jericho or a CM Punk, there was another guy they watched when they were kids, Bret The Hitman Hart, "The best there is, the best there was, the best there ever will be." He asks Jericho if he invented Brett Hart. He points out Brett is Canadian, and asks Jericho if he invented being Canadian. This made me chuckle.
Jericho goes on to say how he's faced legends and battled them all in every type of match, but Punk calls him out and asks if he's trying to prove to Punk, the fans or himself if he really is The Best in the World. Punk points out that while he did have his time—he was the champion and he did beat Stone Cold and The Rock in one night—he was never really The Man, like Punk is the man.
This I disagree with.
Jericho absolutely was the man in the same way Punk is, because Punk really isn't the big man on campus even though he's the WWE champion, this site proves that. Sure, CM Punk is loved by everybody right now, but John Cena vs. The Rock and HHH vs. The Undertaker are overshadowing these two guys who are cutting top-spot promos, no matter what time slot they're booked in. 
He talks about how Punk was born to be this, but Jericho has chosen to be what he is, that this is what Punk does, while Jericho chooses to be a rock star, or a radio or game show host. Then the great line, "While I was swimming with the sharks, you chose to be dancing with the stars."
But Jericho had a great comeback, while he was becoming a bigger star than Punk will ever be, all he could think of was that Punk was ripping him off.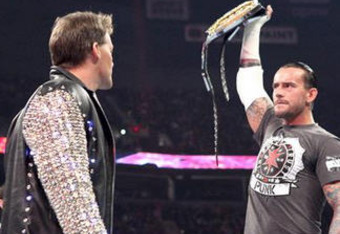 All of the vignettes, all the Best in the World and the light-up fancy jacket are just window dressing, Jericho came back to beat Punk at WrestleMania, and to shove down Punk's throat that he is the Best in the World at what he does, and he is it, every single night.
The power, the rawness of this part of the speech gave me chills. Jericho top of the game right there—BOOM.
Punk goes on to say I don't need Chris Brown and you don't need Mickey Rourke or inflatable letters to tell how awesome we are, and screw your stupid Lite Brite jacket. They just need him and Jericho in a ring to put on one of the greatest wrestling matches ever at WrestleMania or anywhere.
Again an amazing retort, the verbal battle between these two was phenomenal, you can have your HHH and Undertaker challenging one another, you can take your hash tags and chants of The Rock and keep them.
These two are whom everyone else should be taking notes on. They had power, emotion, reality and you know that the match between the two of them will not disappoint. This may very well top the Jericho vs. Shawn Michaels match at WrestleMania and go on to truly be one of the most outstanding matches of all time. 
Check out my WrestleMania 28 Sketchbook slideshow here on Bleacher Report
See more stuff over at the BOOM page
Follow me on Twitter @BOOMPAGE or my promoter @Captoutstanding
And check back all this week for more of my articles. 
In the meantime...BOOM!