March/April 2012 Preview and Predictions
February 28, 2012

Jonathan Daniel/Getty Images
March/April Preview
Vancouver Canucks March/April 2012 Schedule:
Thursday, Mar. 1st vs. St Louis Blues
Saturday, Mar. 3rd vs. Buffalo Sabres
Tuesday, Mar. 6th vs. Dallas Stars
Tuesday, Mar. 8th vs. Winnipeg Jets
Saturday, Mar. 10th vs. Montreal Canadiens
Wednesday, Mar. 14th vs. Phoenix Coyotes
Saturday, Mar. 17th vs. Columbus Blue Jackets
Monday, Mar. 19th @ Minnesota Wild
Wednesday, Mar. 21st @ Chicago Blackhawks
Thursday, Mar. 22nd @ Dallas Stars
Saturday, Mar. 24th @ Colorado Avalanche
Monday, Mar. 26th vs. LA Kings
Wednesday, Mar. 28th vs. Colorado Avalanche
Friday, Mar. 30th vs. Dallas Stars
Saturday, Mar. 31st vs. Calgary Flames
Tuesday, Apr. 3rd vs. Anaheim Ducks
Thursday, Apr. 5th @ Calgary Flames
Saturday, Apr. 7th vs. Edmonton Oilers
Now that the trade deadline has eventfully passed, the Canucks are about to enter the stretch drive. In March and the first week of April, the Canucks will play their remaining 19 games of the regular season, and then the games that really matter can start.
Of the 19 games remaining, the Canucks have only five on the road, with the remaining 14 at home. It looks even better if you focus on the last two weeks of the regular season, with only one of the last seven games being on the road, and even that is just a quick jaunt over the Rocky Mountains to Calgary.
The Canucks have ground out the most road wins in the NHL, largely through their unbalanced, road-heavy schedule early in the season, and they will get some much-needed rest and practice days at home while their potential playoff opponents are racking up more travel miles.
Six of the games are against Northwest Division opponents, but frankly, the Canucks wrapped up the Northwest Division title back in January. They currently have a 17-point lead over second-place Colorado, so all these divisional games are a chance to put Calgary, Minnesota and the Avalanche out of the playoffs. Edmonton, of course, already played their way out a long time ago.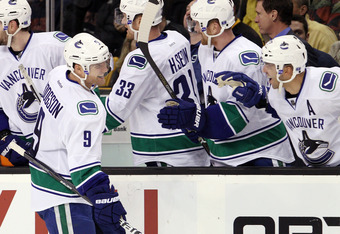 Elsa/Getty Images
Notable Games
Saturday, Mar. 3rd vs. Buffalo Sabres
I'll be honest, this game was a mean-nothing game before the trading deadline. But now with former Canucks prodigy Cody Hodgson driving the offence in Buffalo, it'll be an interesting game. Expect to see a lot of love for Cody in the stands, as he was a fan favourite. Also of note will be how Zach Kassian responds to playing his old team. 
If Kassian can out-perform Hodgson in this Hockey Night in Canada matchup, or if the Canucks can make Hodgson look mortal now that he is no longer sheltered behind Henrik Sedin and Ryan Kesler, that would go a long way to quelling the angst in Vancouver over this trade.
Of course, if Hodgson puts up a motivated performance and is first star, we might have a riot at Rogers Arena.
Saturday, Mar. 10th vs. Montreal Canadiens
Anytime the Habs come to town, it is a special game. And while this game won't exactly be noteworthy for its playoff implications, with the Habs currently in the Eastern Conference basement, don't expect the Canucks to take any mercy on them. Expect players with Quebec connections (Alex Burrows, Roberto Luongo, Chris Higgins, Maxim Lapierre) to flourish in this game.
Wednesday, Mar. 21st @ Chicago Blackhawks
The way the Blackhawks are playing, this could be two points they desperately need to make the playoffs. Or it could be a game they need to win to take the Central Division lead. Either way, any game between these two teams is always fun to watch.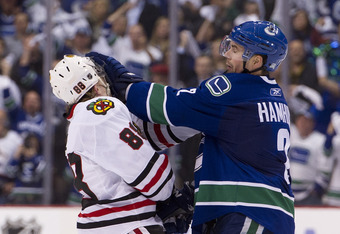 Rich Lam/Getty Images
Plus, as any fan of either the Canucks or Blackhawks know, these two bitter rivals are sure to meet in the playoffs for the fourth year in a row, so this is the last chance to set a tone for the inevitable grudge match.
Canucks to Watch
Zack Kassian: The hulking power forward has a lot of fan expectation on him after his deadline-deal acquisition. How will he respond? And no matter what he does, will it ever be good enough for Vancouver fans after giving up Cody Hodgson?
Sami Pahlsson: Will Pahlsson centre the third or fourth lines? Did his exile in Columbus erode his once noteworthy skills as a shutdown centre? Which wingers will he find chemistry with?
Cory Schneider: How many starts will Schneider get down the stretch? The Canucks only have two back-to-back situations in their last 19 games. With the Northwest Division title well in hand, will Schneider get seven or eight starts to give Luongo a rest before the playoffs start? 
Barring a playoff meltdown or injury by Luongo, this could be the last chance for the Canucks to showcase Schneider before the expected trade this summer.
March/April Predictions
Prior to the Phoenix game on Feb. 28th, the Canucks had already gone an astounding 9-1-3 in a very road-heavy month of February, exceeding my prediction of a more pedestrian 9-5 month. 
Down the stretch, I predict they go 12-5-2. There will be more experiments with line combinations, veteran players getting nights off and an easy work environment with all the home games against non-playoff teams. 
The Canucks won't want to slack and go into the playoffs on a skid, but it isn't realistic to expect that they will duplicate their runs from January or February, either.