Fantasy Baseball Sleepers 2012: Cole Hamels and Contract-Year Studs to Bet On
February 28, 2012

Dilip Vishwanat/Getty Images
With the 2012 MLB season fast approaching, the fantasy nerd in all of us is meeting the baseball nerd in all of us and loving every second of it.
Spring training and fantasy drafts? It's almost too much fun for our own good.
If you are looking for some super-secret sleepers to win your league, look for all of these players if they fall in your draft. They are all going to have huge contract years.
Early-Round Sleeper: Cole Hamels
When you look at the career statistics for a pitcher like Cole Hamels, it's stunning to think that the Philadelphia Phillies' homegrown star has only won 15 games once in his career. This season will be different.
With a contract on the line and the help of pitching mentors like Roy Halladay and Cliff Lee, Hamels is looking to take his always stellar ERA and turn it into wins for your fantasy team. As long as the Phillies bats wake up in 2012.
I will be looking for 18 wins this season with an ERA around 2.30 and enough strikeouts to make taking him higher than many people expected worth it. You could also watch him fall a bit as he is still the No. 3 starter on the Phillies.
Mid-Round Sleeper: Huston Street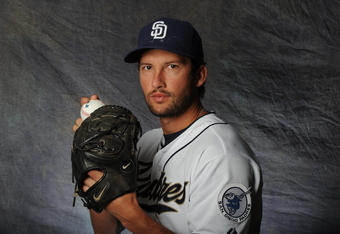 Rich Pilling/Getty Images
Over the last few seasons, Huston Street has become one of the better closers in MLB and will continue that again this season. That's why you need to make sure he is on your fantasy roster.
Not only has he been one of the better closers in the league, it's his consistency that has kept him there for so long. While he won't dazzle you with enormous speed, Street knows how to get people out.
The move to the San Diego Padres pitching staff will be not much different than what he had in Colorado or Oakland, with just as many close games. I expect many 2-1 games and Street to have 34 saves.
Late-Round Sleeper: Kelly Johnson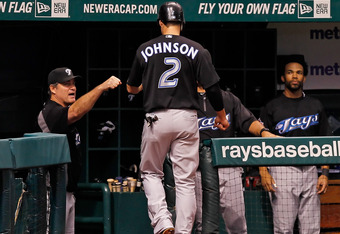 J. Meric/Getty Images
In just 33 games with the Toronto Blue Jays, Kelly Johnson was already hitting better than he had been for the majority of his time in both Atlanta and Arizona. Some guys just hit better in the AL.
With a park that loves giving up home runs and a player like Jose Bautista who has found the secret of his swing, the hope is that Johnson will give you solid numbers on an offense filled with big power ability.
I could see the Blue Jays starting Johnson towards the seventh hole in the batting order, but letting him slide up when he is playing better. If he can start making solid contact again, I expect Johnson to be a nice backup second baseman or even a starter in deeper leagues.
Check back for more on the Major League Baseball as it comes, and check out Bleacher Report's MLB Page to get your fill of all things baseball.