Chelsea vs Napoli: Picking the Ideal Starting XI to Make the Quarterfinals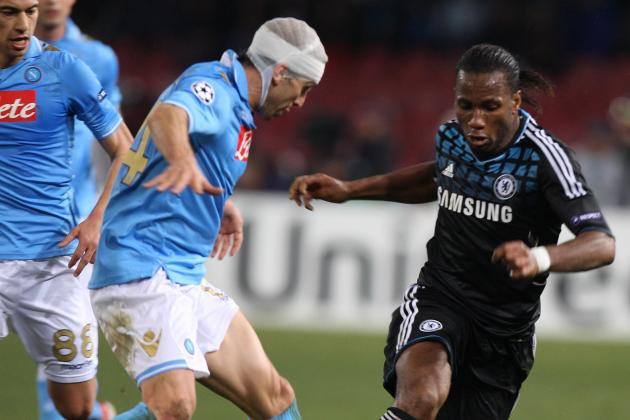 Paolo Bruno/Getty Images

When Chelsea host Napoli for the second leg of their Champions League tie, it will be the most important game of the Blues' season.
After a disappointing start, Chelsea have to find a way to make up 3-1 deficit given away in the first leg.
Their only saving grace is the away goal they scored, thanks to Mata.
Despite this, Chelsea are going to need to give a performance worthy of champions, and not one of the shaky displays that have become all too familiar in recent weeks.
Andre Villas-Boas is going to have to field his strongest side, and get his tactics right.
I would expect Chelsea to carry on with their 4-1-2-3 formation.
This is an ideal starting line-up if the Blues are going to have any chance of making the Champions League quarter-finals.
Begin Slideshow

»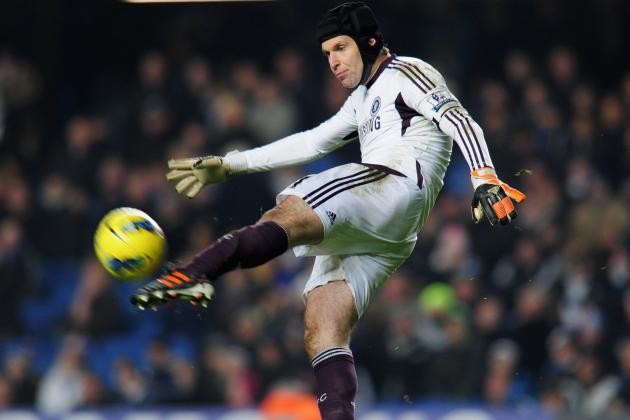 Shaun Botterill/Getty Images

Not really any competition for Petr Cech in this position, he is Chelsea's No.1 for a reason.
Although it has not been his best season in a Chelsea shirt, he has still proven at times, why he is considered one of the best goalkeepers in the world.
Without Cech's brilliant saves, Napoli could have put five in the Chelsea net in the first leg.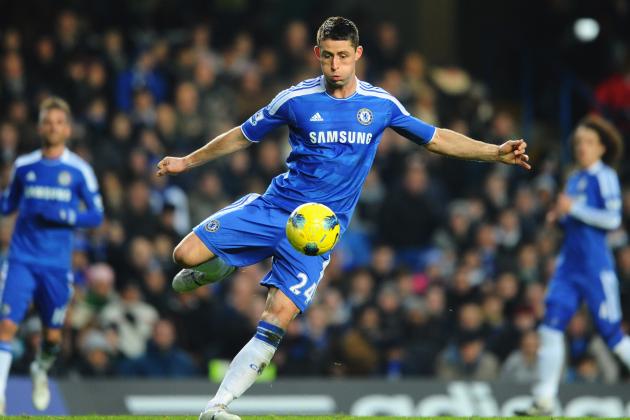 Mike Hewitt/Getty Images

Injuries to key players has made the Chelsea defence basically pick itself.
Chelsea will be without their captain once again, as John Terry will reportedly be out for at least another four weeks.
Chelsea's other defensive injury comes in the form of Jose Bosingwa, who himself got injured within the first 10 minutes of the first leg against Napoli.
This may be a blessing in disguise, as it does not give Andre Villas-Boas an opportunity to play him.
When I read the team sheet for the away leg at Napoli, and saw Bosingwa in place of Ashley Cole, I nearly spat out my beer.
RB - Branislav Ivanovic: Ivanovic is the obvious choice for right-back in a game of this magnitude. He would be the best candidate for this position even if Bosingwa had been fit.
His only other competition would come in the form of Paulo Ferreira, but Ivanovic is a more solid defender and has proven he can be an aerial threat from set-pieces.
CB - David Luiz & Gary Cahill: With John Terry out, there are no other options but for the new partnership to play together again.
If they perform like they did in the victory against Bolton, we have nothing to worry about. Obviously, Napoli will provide a tougher test, but for the first time for a while, the Chelsea defence looked composed and confident.
Chelsea need a clean sheet, but they also need goals, and both Luiz and Cahill have goals in them, and if Luiz can do some of his famous forward runs, he could cause the Napoli defence some problems.
LB - Ashley Cole: Chelsea's result could be influenced greatly by the performance of Ashley Cole. There is no doubt that on a good day, Cole is one of the best full-backs on the planet.
He will need to put in a consistent defensive performance, but it would be good to see him back doing his overlapping runs, and sending in some dangerous crosses and causing Napoli's defence some problems.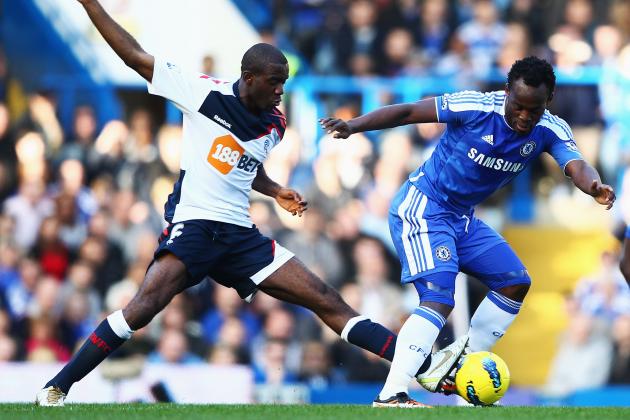 Clive Mason/Getty Images

Oriol Romeu has been a breath of fresh air since he joined Chelsea. But all Chelsea fans were very relieved to see Essien return to action after his long absence.
The Ghana international has been one of the best central midfielders ever to wear a Chelsea shirt.
Against Napoli, Chelsea will need him to run the midfield and control all action between the defence and midfield.
Essien has the vision, and passing accuracy to make conduct counter-attacks from the back four to the front men, which may be a weapon Chelsea will want to exploit.
Although he can play well in almost any midfield position, for a game this important, Essien should be played in the defensive midfield role so that he can protect the sometimes vulnerable defence, and also make the midfield run fluidly.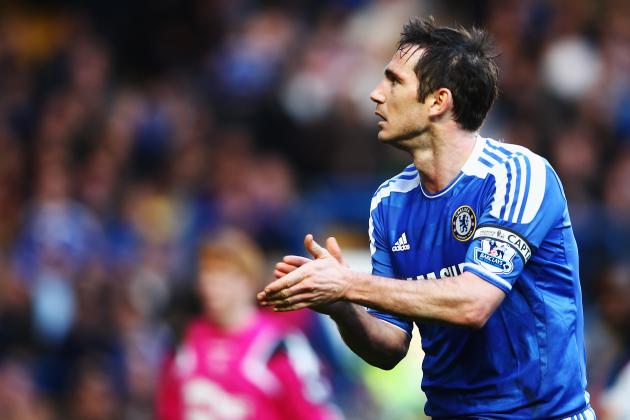 Clive Mason/Getty Images

There has been a lot of rotation in the Chelsea central midfield as of late, with some big names not always getting starts in big games.
One of the main casualties has been Frank Lampard.
Lampard being dropped for some big games has been widely publicised and reports of a split in the dressing room are quite disturbing.
Lampard isn't invincible and can be dropped, but when it is for Malouda that is a different story. Malouda has had an up-and-down career at Chelsea, but this season, he just looks a class below the standard Chelsea should be aiming to reach.
Chelsea should leave him out of the game at Napoli and instead go with two players who have been performing well this season.
Frank Lampard: Every time he has been dropped, he seems to return with a bang.
He is Chelsea's top scorer this season, and his last performance at Bolton was much more like the Frank Lampard of old.
With John Terry out injured for the tie against Napoli, Chelsea will look to Lampard to lead the team along with players like Cech and Drogba.
Chelsea will need goals—two, to be precise—and Lampard can score goals, as well as provide them for others.
Ramires: After a hit-and-miss start in a blue shirt, Ramires has come out of his shell to become one of Chelsea's better midfielders this season.
Against Napoli, Chelsea are going to have to move the ball quickly from defence to attack in order to catch the their shaky defence off guard, and Ramires would be an ideal tool in these tactics.
He gives 100 percent every game and gets an unlimited energy source from somewhere, allowing him to make make forward runs all game without ever really tiring.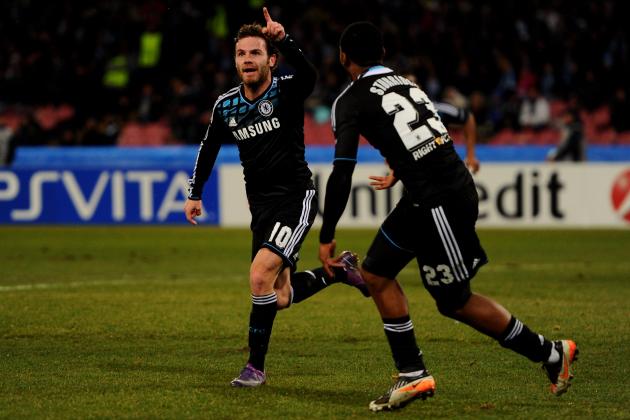 Mike Hewitt/Getty Images

If there was a poll on who Chelsea's best player was this season, it would be between Juan Mata and Daniel Sturridge.
There are no other players that deserve their place in the first team more than these two, and there should be no surprises in the wing positions against Napoli.
The only goal threats in the away leg, looked like coming from these two, and if the team are on song they could cause their defence problems all night.
RW - Daniel Sturridge: The key to Sturridge causing Napoli problems in this game will be his pace. At times in the first leg he looked like he was walking past the defence but like he occasionally does he shoots instead of getting his head up and looking for the cross.
LW - Juan Mata: Mata will more than likely not stay in a wide role, and drift in to the middle to provide through balls to the Chelsea front-men.
If Mata can make runs in behind the back four, he has proven he can get on to the end of crosses and score.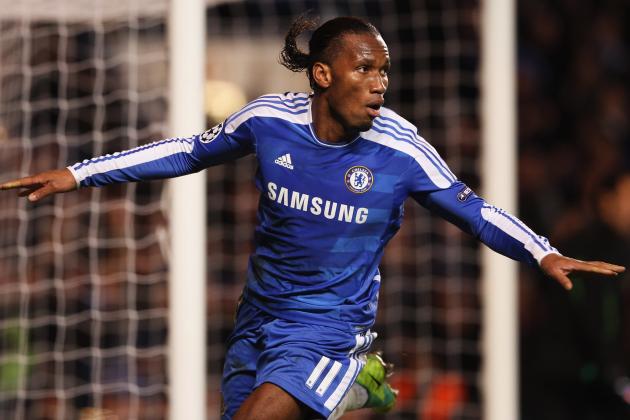 Scott Heavey/Getty Images

As much as I would like to see Fernando Torres get some more game time, and get his ever elusive goal, I just don't think a man who quite clearly cant score at the moment, should start in this very important game.
It hasn't been Drogba's most prolific campaign by any means, but he has looked much more likely to score than Torres.
If Drogba has a good game, he will cause the defence all sorts of problems and his strength alone could give Chelsea an advantage.
It all depends on what mood he is in, and hopefully his goal at Bolton will give him a lift and he can perform to his full potential and bring some good form to the Champions League tie.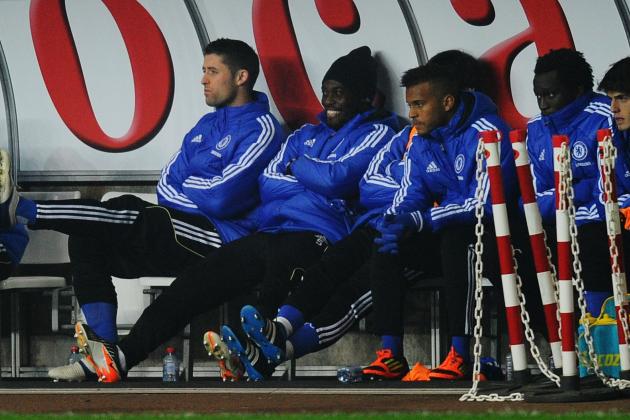 Mike Hewitt/Getty Images

The bench could be an important weapon in a Chelsea victory, depending on how the game pans out.
Chelsea may need some impact subs should the game not be going their way, or if the Blues get the two goal advantage they require, they may wish to shut up shop, somewhat.
Ross Turnbull
Raul Meireles
Romelu Lukaku
Ryan Bertrand
Fernando Torres
Oriol Romeu
Salomon Kalou (unfortunately)