Daytona 500 2012: Dale Earnhardt Jr. Was the Lone Hendrick Car to Survive
February 28, 2012

Streeter Lecka/Getty Images
The Daytona 500 was a wild ending to an already wild Speedweek.
There was some great racing, close finishes and a lot of wrecks.  While Hendrick Motorsports owner Rick Hendrick had to be thrilled that his No. 88 car driven by Dale Earnhardt Jr. came home second, I'm sure he's just as thrilled that Speedweek is over.
After some strong performances by the Hendrick Motorsports stable, only Dale Earnhardt Jr. finished on the lead lap.
Jimmie Johnson was spun out on Lap No. 2 by Eliott Sadler and slammed the wall head-on. Then he was hit in the driver's side door by David Ragan to finish his night. He placed 42nd.
Jeff Gordon blew his motor after 81 laps, finishing 40th, and Kasey Kahne was caught up in wreck with 11 laps to go and ended up 29th.
It has been a long week in Daytona for Hendrick Motorsports.
It started in the Budweiser Shootout when none of the four Hendrick cars finished on the lead lap.  All four cars were caught up in wrecks. Jeff Gordon ended up flipping his car for the first time in his 20-year NASCAR career.
Even during the Duel races, the Hendrick cars were strong at times, but could not get in position to win.
It looked liked the Hendrick Motorsports cars did not have the typical strength they have at restrictor-plate races.  The Roush Fenway Racing teams were very strong and showed it with Matt Kenseth winning the 2012 Daytona 500.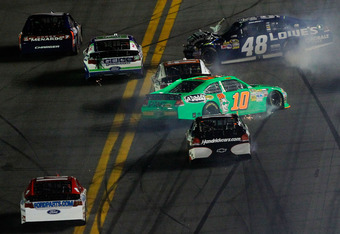 Tom Pennington/Getty Images
While Earnhardt Jr. was close, he just could not mount a run to get past Kenseth.  He made the mistake of trying to push Kenseth's teammate Greg Biffle.  
It almost looked like Biffle was holding Earnhardt Jr. back a bit to prevent him from getting to Kenseth. 
As Earnhardt Jr. struggled to make his moves, it showed that he probably was not the strongest Hendrick Chevrolet in the Daytona 500 field.
Gordon probably had the best chance to win if his motor didn't let go.  He was able to make great moves throughout the Speedweek races, but he never got the chance to show it last night.  
I was surprised at how quiet Kasey Kahne was during the Daytona 500.
He never really mounted a run to the lead, and it did not look like he was lagging back to stay out of the trouble.  It appeared that he was just stuck racing in mid-pack.  
I was expecting Kahne to make a strong showing, but he just fizzled out all week long.  It will be interesting to see how Kahne and the rest of the Hendrick cars recover from Daytona.
Earnhardt Jr. did do a great job to survive a crazy Daytona 500 and start the season on a good note, but the rest of the Hendrick cars need to rebound and fast.