Jon Jones and Rashad Evans: A Guide to One of MMA's Most Intense Rivalries
February 28, 2012

Scott Cunningham/Getty Images
There are only a few great rivalries in modern MMA. Jon Jones and Rashad Evans happen to have one of the best. From a human angle, it is filled with trust leading to betrayal, friends turning into enemies and brothers-in-arms becoming an army against you. From a sports perspective, it is an intriguing matchup between two truly versatile light heavyweights, who are also two of the biggest threats in the division standing, clinched or on the ground.
From the bleachers, it is one of the most exciting, and possibly one of the best, fights of the year.
With this in mind, it is important to look over the history between these two fighters and how two teammates became some of the bitterest of enemies in the sport.
One of the biggest problems when it comes to matchmaking in MMA is that teammates often refuse to face each other. With only a handful of top-level gyms, people like UFC VP of Talent Relations, Joe Silva, often get headaches when there are several fighters in the same division that train together while ascending to the top of the rankings. With a relatively shallow pool of talent in the UFC's second-biggest division, it was foreseeable that, eventually, teammates would be put into a position where they would be forced to face each other.
In 2009, following his third straight UFC victory over Jake O'Brien, Jon Jones sought to bring his training to the next level. In August of that year, he joined the Greg Jackson camp, home of many top-level mixed martial artists including Georges St-Pierre, Carlos Condit and, at the time, Rashad Evans.
Evans was already sitting high atop the light heavyweight rankings just after losing the belt to Lyoto Machida. Though his only fight as champion ended with a harsh knockout loss, he was never particularly far from the top contender spot.
Jones, meanwhile, was approaching stardom at a previously unseen rate with his fan-grabbing fighting style that incorporated over-the-top strikes with powerful grappling. As such, when the news hit that Jones was joining Jackson and co., some questions popped up regarding how everyone would fit together.
At the time, things did not seem particularly contentious. Evans already shared the Jackson camp with another at-the-time high-tier light heavyweight, Keith Jardine. The two shared what is possibly the closest relationship between active fighters ever.
When it came to Jones, however, Evans claims that he was not open to the idea of adding another star light heavyweight to the platoon, saying flatly that "Jones was brought in…against my wishes." Greg Jackson, however, denies this was the case.
Regardless of Evans' initial reaction, when the two began training together, they seemingly became fast friends, with many pictures taken showing how close they had grown together. The two also continued their winning ways. Rashad put together back-to-back wins over Thiago Silva and Quinton Jackson, putting him in line to fight then-champion Mauricio "Shogun" Rua for the belt.
Jones, meanwhile, put together a winning streak of his own. While he lost his first bout to Matt Hamill due to a referee technicality in what was an otherwise genuinely lopsided fight, he proceeded to follow this with a devastating TKO of Brandon Vera. Then a quick TKO of Vladimir Matyushenko. Then a convincing victory over the previously unbeaten Ryan Bader at UFC 126.
Fans were shocked when, during Jones' post-fight interview after besting Bader, it was revealed that Rashad Evans had injured his knee and would not be able face Rua at UFC 128. Jones was offered the opportunity to fill in for Evans and instantly accepted.
This is the point where Jones became a household name, and the point where the relationship between the two fighters sours.
In the buildup to Rua vs. Jones, Jones was fielding questions and was asked if he was willing to face Rashad Evans, should Joe Silva match them against each other. Jones replied that he would be open to this matchup. While this news did not make huge headlines, it irked Evans in a profound way.
The animosity continued to grow when Jones stated, "I absolutely hate when people mention Rashad Evans," during a UFC 128 conference call. The air of hostility in the Jackson camp was starting to become noticeable.
Jones went on to beat Rua with almost scary ease. Evans was brought into the cage after Jones was belted, and was announced to be his next opponent. He walked out of the cage and started an interview with Ariel Helwani where he matter-of-factly stated, "I'm done with Jacksons."
The tension was now clear, and there was not a single MMA fan that did not know about the schism between Evans and his former comrades.
Though there were signs that this was coming, it still surprised many. Evans joined Jackson in 2005 after winning the second season of The Ultimate Fighter. Jackson helped Evans become the light heavyweight champion in 2008.
Evans helped make Jackson one of the most sought-after coaches in the sport. Now the two were amidst an ugly, public bridge-burning.
Evans' criticisms of Jackson were frequent and touched on many different subjects. He said he openly resisted Jones joining the camp. He said that Jackson demonstrated a complete lack of foresight in training a top contender alongside a top prospect. He said that the two of them were growing distant both as friend and mentor. He said the camp as a whole was too big, and had too many members to give fighters the individual attention they deserved.
Worst of all, he said that with Jackson's refusal to corner him in a fight against Jones, he was not dependable enough as a coach.
While Evans' gripes with Jackson were largely professional, he attacked Jones on a personal level. It started off slowly, with Evans simply referring to the situation as "awkward" when he made the initial announcement that he was leaving his long-time camp.
This was followed, however, with talk that Evans and Jones got testy with each other in a Las Vegas nightclub. Though initial reports suggested the altercation was physical, or near physical, Evans later claimed that Jones talked smack, then left without incident. Jones has yet to comment on this.
Shortly after this came a controversy over Rashad Evans sending text messages to Jones claiming he was a "fake ass white boy." Evans denied he sent the messages, but Jones presented his cell phone to media members and confirmed his claim. Evans then admitted he sent the messages amidst a lengthy argument, and in turn criticized Jones' maturity level, basically accusing Jones of tattling.
All these rumors and headlines provided a great deal of interest for their fight...a fight that did not end up happening. Jones pulled out of what was to be his first title defense at UFC 133 with a hand injury. Evans was then matched against Phil Davis, who was later replaced with Tito Ortiz.
Questions began popping up around Jones' injury as, shortly after Evans was no longer available as an opponent, he declared that his injury was not as severe as initially thought, and he would be available to fight immediately. He was then quickly matched against Quinton Jackson, who Evans had beaten the previous year.
Evans defeated Ortiz handily and remained the top contender. Jones defeated Jackson handily and remained the champion. The two, once again, were penciled in to face each other, this time at UFC 140. This fight, like the one before it, did not come to pass. Evans, shortly after calling for the fight, backpedaled and said he was unable to get medical clearance due to a thumb injury that would require surgery.
Jon Jones began an offensive just as bitter and vitriolic as anything Evans had said to that point. He started by saying that Evans was "never my friend" and is, in fact, a "jealous snake." Evans and Jones had a back-and-forth regarding individual sparring and grappling sessions, with both claiming that they had "the number" of the other.
This was followed by claims from Jones that Evans was ducking him (though Evans, unlike Jones, actually went through with surgery). He went on to say that Evans made a foolish PR play by trying to force a fight on short notice and should not be regarded as the top contender after spending a full year benched between his bouts with Quinton Jackson and Tito Ortiz.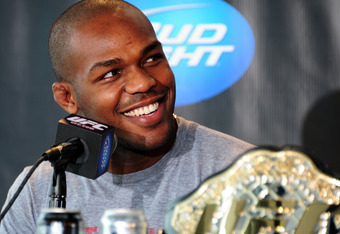 Scott Cunningham/Getty Images
The UFC, needing a headline for UFC 140, ended up having Jones square off against Lyoto Machida, who he went on to submit in the second round.
The UFC, hurting for big headline fights in early 2012 due to injuries to Anderson Silva, Junior Dos Santos and Georges St-Pierre (as well as the retirement of Brock Lesnar) went on to schedule Jones' next title defense for UFC 145 in April 2012. They said that Evans would finally get his fight if he could beat Phil Davis at UFC on FOX 2, and if he could avoid any injury that would prevent him from fighting less than three months later.
Beating Davis, who was 9-0-0 at the time, was an incredibly tall order on its own, but asking Evans to be adequately prepared for another five-round bout less than three months later, at the time, seemed almost impossible.
In what was probably equal parts luck and skill, Evans easily beat Davis and avoided injury, bringing us to this juncture in the rivalry. Evans and Jones are scheduled to fight for the belt April 21, 2012 and their belligerence in the build-up has been as intense as ever. As more interviews happen, expect more headlines to pop up discussing how the two really, really do not like each other.
Even though we have seen Jones and Evans mercilessly fighting for over a year now, we could still see their hatred put aside after the fight. Bitter rivals like Matt Hughes and Matt Serra, Matt Hughes and BJ Penn and, well, Matt Hughes and essentially anybody else he fought, all ended up on friendly terms after fighting and, occasionally, ended up training together afterward.
While Evans and Jones are enemies now for a variety of reasons, it does not mean the two will not come to an understanding after their fight. And with both fighters sitting atop the divisions, do not discount the possibility that the two may fight again.