NBA Rumors: Wizards Will Not Find Any Takers for Andray Blatche Before Deadline
February 28, 2012

Rob Carr/Getty Images
The Washington Wizards are sick and tired of Andray Blatche and have been and will continue to try and move the frustrating forward.
According to Michael Lee of The Washington Post:
The Wizards have aggressively tried to deal Blatche in advance of the March 15 trade deadline, according to multiple league sources, but struggled to find any takers. Blatche is certainly open to a change of scenery, according to a person close to him.
It makes sense that absolutely no one has interest in Washington's tall, versatile forward.
Let's break the reasons down.
Chemistry Killer
Blatche was stripped of his captaincy after the home opener, in which he berated then-coach Flip Saunders and the rest of the coaching staff—as well as his teammates—for failing to get him the ball in an embarrassing loss to the Nets.
Poor Shooter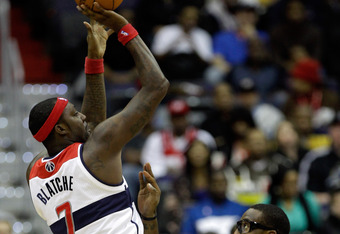 Rob Carr/Getty Images
The 6'11", 260-pounder has never been a marksman, but his touch this year is absolutely off.
In 17 games, he's making just 38 percent of his shots from the field and only managed to knock in two of his seven attempts from deep.
He also looks for his shot way too often and averages 11.3 attempts per 28.5 minutes.
Injury Prone
Blatche was already parked on the bench in favor of Jan Vesely towards the end of January, but he strained his left calf on January 28 and has not played since.
Even before the calf injury, the 2005 second-round pick was hobbled and not 100 percent healthy.
Here's the main reason, on top of all those others, that no GMs have shown interest in Blatche:
Due Over $23.5 Million the Next Three Years, Guaranteed
What a waste of a contract.
Blatche doesn't deserve a quarter of that but prior to the 2010 season, he was awarded a five-year, $35 million extension because of his bright future and breakout '09-'10 campaign.
GMs are going to pass on Andray and would rather take a chance on someone with more upside and a lot less money owed to them.
By all accounts, he's a terrible person to play with and takes more off the table than he brings to it.
There is no way that the Wizards will find anyone to take him off their hands before the March 15 trade deadline.