Minnesota Vikings: 3 Reasons We Still Haven't Seen the Best of Adrian Peterson
2011 was the first year that fifth-year running back Adrian Peterson didn't amass 1,000 yards rushing. It was to nobody's dismay, however, as he was plagued by injury and running behind an extraordinarily meager offensive line.
Throughout his career, Peterson has dazzled NFL fans with his speed and power, power especially displayed in his absolute trucking of Pittsburgh's William Gay in 2009.
As previously mentioned, Peterson has rushed for 1,000-plus yards in four of his five seasons in the NFL. Not only that, but his multiple impressive 200-yard games—strongly characterized by his 296-yard performance against the San Diego Chargers in his rookie year, which broke Jamal Lewis' single-game record of 295 yards rushing.
You would think he has done it all and then some. Actually, though, Peterson is just getting started with his career.
Here are three big reasons why we still haven't seen the best of Adrian Peterson.
Begin Slideshow

»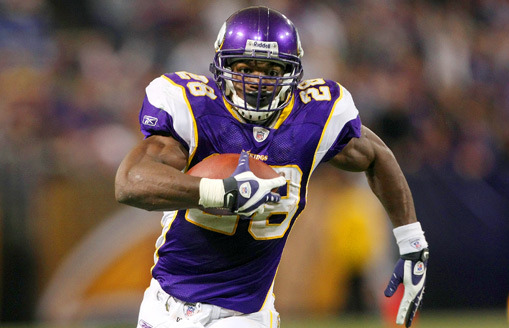 The title of this slide show is in and of itself indicative of how dominant of a player Adrian Peterson truly is.
To say that we, as sports fans, have yet to see the best of Peterson is almost a ridiculous thought. A back who has ran for at least 1,200 yards in four straight seasons and owns the single-game record for most yards rushing, you'd think he has nothing left to prove.
Well, you'd think wrong.
Reason No. 1 we haven't seen the best of Peterson: pressure, and a lot of it.
Since Peterson has joined the Vikings in 2007, the only consistent playmaker that has even came remotely close to as capable is Percy Harvin. The entire offense has revolved around Adrian Peterson, and that makes a defense's life much easier.
In essence, the Vikings haven't had a receiving corps to speak of since Randy Moss left the first time. Since then, the Vikings' offensive philosophy has been primarily West Coast, hardcore West Coast.
Ultimately, with Peterson having the brightest light possible shining on him throughout his career thus far, it's made him an easy target.
Obviously, Peterson has been nothing short of a beast in his career, being tabbed by many as the best running back in the NFL, "hands down." Just think, though, what would Peterson's production be like with four or five other playmakers on the Vikings offense?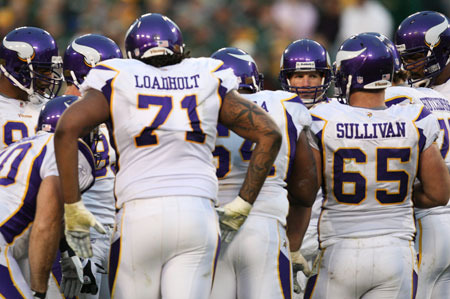 Once again, what Peterson has done in the NFL in a span of five seasons is remarkable, but there are things that could propel him to his ultimate peak. I know, scary, right?
Reason No. 2 we still haven't seen the best of Adrian Peterson: lack of offensive line.
It all starts in the trenches. Without a good offensive line, your running and passing game is poor, period. The running game especially suffers from bad offensive line play, considering the offensive line is what creates running lanes for the running back.
Enough football 101, you get the picture.
Well, take this logic and apply it to Adrian Peterson's capabilities. 2007 is the only season that Peterson has averaged more than five yards per carry and an exceptional average he had in that season with 5.6.
Since then, though, Peterson hasn't averaged above 4.8 yards per carry.
As many great games as I've seen Peterson have, I have also seen him have very stagnant games. In those games, you can just sense Peterson cannot find a hole to save his life. Who does that fall on? You guessed it, the guys up front.
Peterson is an explosive runner out of a hole, but if he can't get that first step he's easy to keep in check.
Word to the wise, the Vikings may want to consider drafting offensive tackle Matt Kalil with the third overall pick in this year's draft. A major upgrade is needed on the offensive line.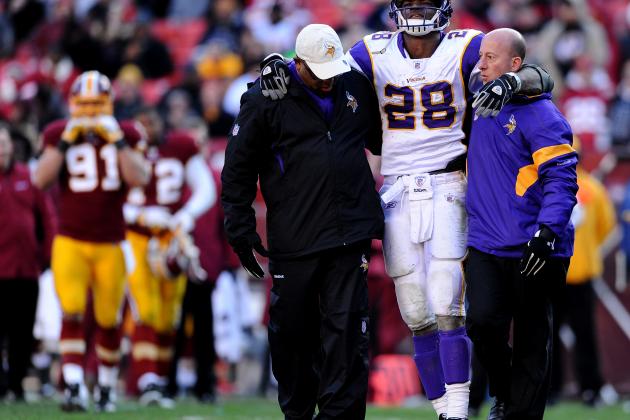 Patrick Smith/Getty Images

Is trust a potential problem? Most certainly. Do we know this for sure? No.
Adrian Peterson is an All-Star, and he knows it. His entire career, he has been playing alongside a lot of average to decent players. It's no secret that Minnesota's offensive line has been less than impressive for years now, just ask Brett Favre. It's also no secret that playmakers have been at a minimum for the purple and yellow.
With that, step in Peterson's shoes. He has been an immaculate athlete in his five years in the league, but he's not even averaging five yards a pop for his career; that says something. That says the Vikings need to bridge the gap.
In other words, they need to build this offense with playmakers to complement Peterson's abilities.
Whether he wants to admit it or not, Peterson completely understands the lack of depth and talent Minnesota currently has offensively. So, should he trust those average players to be able to block and create lanes for him?
Who knows if trust is a reason we haven't seen the best of Adrian Peterson yet, but I certainly wouldn't dismiss it.