UFC 144 Results: Ranking the Performance of Ben Henderson and Every Fighter
March 4, 2012

A week ago, Ben Henderson defeated Frankie Edgar to become the lightweight champion. Now is the perfect time to reflect upon UFC 144 and evaluate each fighter's performance.
Tier 1
24. Joe Lauzon (Lightweight) F
Joe Lauzon had been building momentum coming into his fight with Anthony Pettis. A win would have placed him a win or two away from a title shot. However, he ended up on the receiving end of a highlight-reel knockout. The fight ended in just over a minute, it is difficult to give Lauzon anything other than a "F." 
23. Tiequan Zhang (Featherweight) D-
Zhang seemed over matched by his opponent in the first round of this fight, both on the ground and standing up. In the second, Zhang was served with a big punch and he was subsequently knocked out. Zhang is now 1-2 in the UFC and could be facing eradication from the promotion.
22. Cheick Kongo (Heavyweight) D
Kongo was on a roll heading into his bout with Mark Hunt. In his previous three fights Kongo had recorded wins against Pat Barry and Matt Mitrione while drawing with top ten heavyweight, Travis Browne.
Instead of being given a top heavyweight though, Kongo received a dangerous challenger: Mark Hunt. Kongo was defeated by TKO succumbing to Hunt's strong striking. Kongo will take a big step back in the division now.
Still, Kongo was simply caught in this fight, facing a dangerous opponent with knockout power.

Tier 2

21. Norifumi "Kid" Yamamoto (Bantamweight) D+
Kid Yamamoto came out strong in his fight against Vaughn Lee. He showed some good striking and power. It seemed as though the real Yamamoto had finally arrived in the UFC.
However, Lee struck back, dominating the fight on the ground before finally locking in an armbar before the end of the round.
Yamamoto kicks off a new tier of fighters because he was off to a good start and nearly finished the fight himself.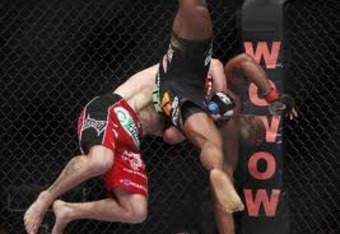 20. Steve Cantwell (Middleweight) C-
Cantwell lost to Riki Fukuda by unanimous decision. At least one judge gave Cantwell the first round though. Cantwell was dominated most of the fight during both the ground and stand-up portions. He was more effective standing, particularly in the first round.
In the third round Cantwell seemed to just allow Fukuda to take his shots at him and might have given up. He was tired and was pummeled for the majority of the fight. Still, he stuck it out to a decision and had Fukuda in trouble with a submission at one point.   
19. Quinton "Rampage" Jackson (Light Heavyweight) C-
Rampage was possibly the single most disappointing fighter of the night. He came in overweight and seemed gassed very early in his fight. He cited an injury, but at the end of the night he is ultimately responsible for his performance.
Rampage clearly lost all three rounds. He never fell into a rhythm standing. This was thanks in large part to the constant pressure provided by Ryan Bader.
Jackson's most successful bit of offense came in the clinch, especially when he managed to lift his opponent and spike him to the ground. Still, he was not able to capitalize and was completely outclassed by a better fighter.
This fight could be the beginning of the end for Jackson, although he claims if it were not for the injury, he would be better than ever...he will have to prove it in his next fight.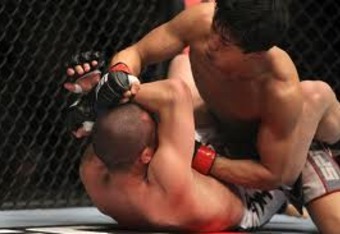 18. Eiji Mitsuoka (Lightweight) C-
Mitsuoka won the first round of his fight with Takanori Gomi. He outstruck his opponent during that period and was incredibly effective on the ground. However, he was tagged by Gomi and his unorthodox stand up in the second.
Gomi followed up on his wounded opponent leading to a TKO stoppage. Mitsuoka was very impressive despite the loss in his UFC debut and could be a surprise test for any lightweight.  
17. Bart Palaszewski (Featherweight) C-
Palaszewski came into his bout with Hatsu Hioki as a dark horse to challenge Jose Aldo. Many believed Hioki's lackluster performance against George Roop indicated he would succumb to Palaszewski's power. This was not the case.
Thought to be the better striker, Palaszewski was actually beaten in the stand-up by Hioki in the first round. The third round took place entirely on the ground where Hioki dominated.
Bart took the second round on two judge's scorecards, but it was far from definitive. Palaszewski will have to regroup against a fringe top ten featherweight if he wants to become a contender again.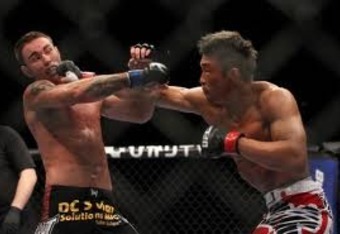 Tier 3

16. Chris Cariaso (Bantamweight) C
Cariaso was awarded a unanimous decision by the judges, however it was a hotly debated decision. Cariaso won most of the striking exchanges. His full package of strikes, punches and high kicks, were effective setting the pace for the fight early.
But in each round, Cariaso could not stuff the takedown. He may have spent the majority of the fight on his back. While there, he did not mount a ton of offense or place his opponent in any significant danger of a submission.
Cariaso was incredibly lucky to come away from this bout with a win. Still, he showed off some effective striking and did not allow Mizugaki to mount much offense from top position although he did seem to fade in the final round.

15. Takeya Mizugaki (Bantamweight) C
Mizugaki was awarded his win bonus despite "losing" to Cariaso. Clearly someone believes he was the victor. Mizugaki just edges his opponent on this list. He was able to take Cariaso down with ease and controlled him fairly well on the ground. He dominated the ground portion of the fight in all three rounds.
However, his stand-up left much to be desired. He was out struck by his diminutive opponent throughout the first two rounds. Mizugaki will likely have to take a slight step back in the division; he was thought by many to be a fringe top ten bantamweight.
He has fought tough opponents his last several opponents before facing Cariaso and will likely be served best by taking on a lower ranked opponent and regaining some momentum.  
14. Yoshihiro Akiyama (Welterweight) C+
Akiyama lost his welterweight debut. Once again he was given a tough opponent, Jake Shields, a top ten welterweight. Still, Akiyama looked very good at his new weight. Akiyama was able to stuff Shields' takedowns for two rounds. He even showed some spectacular grappling of his own, throwing Shields to the mat in each of the first two rounds.
However, Shields was able to drag the Japanese fighter to the ground in the third and take his back. The biggest problem for Akiyama in this fight though was his inability to get into his groove in the striking department. Shields did a great job of staying outside and avoiding a brawl with his opponent.
Akiyama looked timid on his feet and did not throw many strikes in comparison to Shields. Akiyama was focused on defending Shields' ground game and preventing his opponent from carrying out his game plan that he forgot to implement his himself.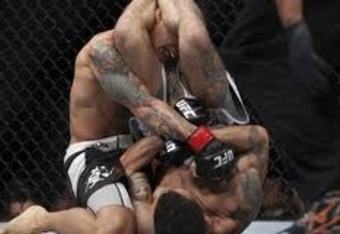 Akiyama was too distracted by the threat of a takedown that he failed to focus on his striking and that is why he lost. Still, Akiyama showed all the skills needed to be effective in the welterweight division. Maybe now he will be given an easier opponent, allowing him to build some much needed confidence.

13. Takanori Gomi (Lightweight) C+

Takanori Gomi is a difficult fighter to watch; his fighting style is ugly. It has brought him a lot of success in his career. But, Gomi had been on a slide previous to this fight. He had lost three of his last four.
The first round could not have gone much worse for Gomi. He was controlled on the ground and was not getting the better of Eiji Mitsuoka in the stand-up either., However, Gomi came out in the second period peppering his opponent with powerful punches till the referee stepped in and stopped the fight.
All of Gomi's losses in the UFC have come against quality opponents: Kenny Florian, Clay Guida and Nate Diaz. It will be interesting to see who Gomi is given next.
Tier 4
12. Riki Fukuda (Middleweight) B-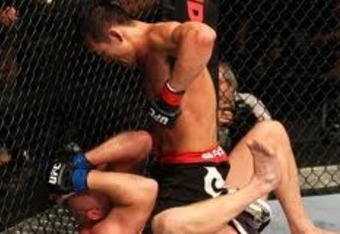 Riki Fukuda looked very good in his victory over Steve Cantwell. He was able to bring the fight to the ground in every round and was most effective there in the first. He also proved to be the better stand-up striker in the second and proved this definitively in the third round.
Fukuda was the more poised fighter throughout the fight and looked very confident. He lost a close decision to Nick Ring in his UFC debut. Having bounced back from that loss, it seems Fukuda is ready to start taking steps up the middleweight ladder.  
11. Jake Shields (Welterweight) B-
Shields had lost his last two fights, both to top five welterweights: Georges St. Pierre and Jake Ellenberger. He gets back on track and quells some doubters with his victory over Yoshihiro Akiyama.
Shields continuously tried to take Akiyama to the ground throughout the first two rounds. However, Akiyama had brilliant defense, overcoming each attempt.
Akiyama did manage to take Shields to the ground on a couple of occasions, but each time, Shields quickly sprang back up, not allowing Akiyama to do any damage.
The most impressive aspect of Shields' fight was his victories in the striking exchanges. He mixed up his strikes well, throwing some good kicks and managed to stage away from Akiyama's power.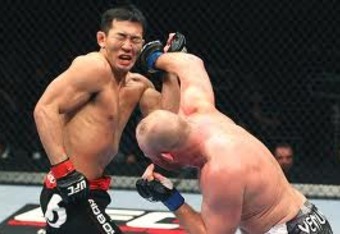 Shields' strikes did not put much hurt on Akiyama, though. After the fight Shields even looked more battered than Akiyama.
Finally, in the third round, Shields managed to take Akiyama's back and dragged him, and nearly the cage along with him (since Akiyama was grabbing it so much), to the ground. Shields dominated the third round, sealing the victory.
It was great to see Shields win a bout on his feet and to see him adapt well despite not being able to implement his game plan for most of the fight.
It has been some time, however, since he has really dominated an opponent on the ground and without his superb ground game, he will have difficulty against the elite of the welterweight division.

10. Vaughn Lee (Bantamweight) B-
Vaughn Lee survived an early onslaught by Kid Yamamoto. He then brought the fight to his level, the mat, dominating the Japanese standout there before finishing him with an armbar.
Lee showed off an impressive chin. Yamamoto rocked him early and jumped all over Lee looking for the finish, but the eventual winner was able to cover up well and turn the fight around.
In Lee's other UFC fight, he lost a split decision to card-mate Chris Cariaso. His next fight could be against someone like T.J. Dillashaw or Roland Delorme; a bantamweight on a winning steak to decide who deserves a step up in competition.  
9. Yushin Okami (Middleweight) B-
One of the questions coming into this event was the performance of Okami following his decisive loss to Anderson Silva. Yushin Okami answered doubters through two rounds of his fight with Tim Boetsch.
In those two rounds he showed superior striking. He showed the greatest stand up display possibly of his career, in fact. He also dominated Boetsch on the ground in the second round. He came close to finishing the fight from ground and pound.
He was the on his way to an easy victory. But, Boetsch came out in the third looking tear Okami's head off, knowing he had to finish the fight. He did just that, defeating Okami by TKO.
It is an unfortunate loss for Okami, his second in as many fights. However, he looked better than ever and is still a top ten, probably top eight middleweight. He should bounce back in his next fight and look to rise to the top of the division once again.

Tier 5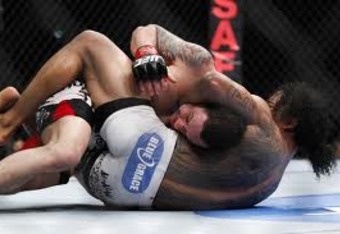 8. Ryan Bader (Light Heavyweight) B
Ryan Bader kicks off the next tier of fighters. These are all fighters who won big fights propelling them up their divisional rankings.
Bader has had a tough 2011. He was considered the top light heavyweight prospect, that is, until he ran into Jon Jones.
Then he was given a fading Tito Ortiz as a pick me up fight...well, Tito decided he was not ready for his career to come to a close and shocked Bader, along with the majority of the MMA community, with a stunning submission victory.
The loss plummeted Bader's career and left many wondering if he would be cut with a third loss. However, Bader won his next fight against Jason Brilz by first-round KO. This earned him a chance against Rampage Jackson as the co-main event on one of the UFC's biggest cards this year.
Bader dominated Rampage for three rounds last Saturday. He earned an easy decision. Rampage came in overweight and clearly did not look his best (he cited an injury, but whatever). Still, Bader's striking looked very crisp.
He also took Rampage down with ease in both the second and third rounds, delivering some ground and pound to the former champion. It was a very well executed fight by Bader. It was a safe, smart win.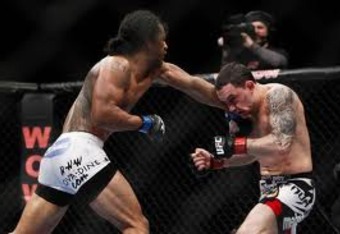 The only knock on his performance could be his inability to finish the fight. He really did not seem to go after it, either. He was content controlling Rampage and cruising to a decision.
Still, the win places Bader firmly in the conversation of being a top ten light heavyweight. He may even have a step on fighters like Alexander Gustafsson and Phil Davis, due to his victory over an elite opponent.
7. Tim Boetsch (Middleweight) B
Tim Boestch remains undefeated as a middleweight in the UFC, although it did not come easily. Dana White said it perfectly in the post-fight press conference, saying Boetsch did exactly what a fighter is suppose to do when down two rounds: tirelessly look to finish the fight.
Boetsch came out with reckless abandon, swinging for Okami's head. He mercilessly attempted and landed uppercuts, eventually dropping his opponent and earning the stoppage.
That was the third round. The first two rounds consisted of Boetsch being batted by Okami's excellent striking ability and then being dropped, mounted and pounded on. Okami showed there are holes in Boetsch's game. He can be beat both standing and on the ground.
Okami even looked to be the stronger of the two, despite Boetsch's history as a light heavyweight. The resilience of Boetsch was impressive; so was his chin and knockout power. It will be interesting to see what Boetsch can do while consistently facing top competition.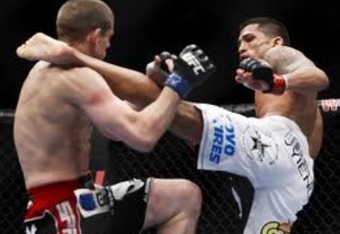 6. Hatsu Hioki (Featherweight) B

Hatsu Hioki had a lot to prove coming into his bout with Bart Palaszewski. Hioki was supposed to make a big splash in the UFC and challenge Jose Aldo for the featherweight title in short order.
However, Hioki was lackluster in his defeat of George Roop. That fight he won by split decision, and it was highly contested.
Hioki erased the memory of his UFC debut by dominating Palaszewski, winning a unanimous decision. He won the first and third rounds conclusively, while fighting equally with his opponent in the second. Hioki showed some good striking in this bout, something that seemed to be missing from his fight with Roop.
However, Hioki's takedowns and suffocating top game was the most spectacular aspect of his game. He passed guard well and looked great in transition. He also avoided getting into submission trouble, despite facing a jiu-jitsu black belt.
Hioki looked exceptional in this bout. Based upon his performance, it is possible he could be the man to dethrone Jose Aldo. Hioki's future may be dependent upon Frankie Edgar.
If Edgar chooses a rematch with Ben Henderson, then Hioki will likely receive a title shot with Aldo.
However, if Edgar moves down to featherweight, he will receive an immediate shot at Aldo's title.
Hioki will then likely face the winner of the upcoming Dustin Poirier vs. Chan Sung Jung fight to decide the No. 1 contender.
Tier 6
5. Frankie Edgar (Lightweight) B+
At last, we come to the final five fighters. These five fighters put on the elite performances of UFC 144.
Frankie Edgar is the first fighter of the top tier. He is also the only top tier performer to lose his bout. Edgar lost his title to Ben Henderson by unanimous decision. Two judges scored the bout 49-46, the third scored it 48-47, but many, including Dana White, seemed to think the fight was much closer.  
For the record: I scored the fight 49-46 for Henderson: Edgar winning the first, Henderson clearly winning the second and third and narrowly winning the fourth and fifth.
Edgar's boxing was once again on display. His strikes were very clean. He landed a great number of strikes. However, Ben never seemed fazed by them. At the end of the 25 minute fight, Ben did not have a scratch on him.
Edgar also was able to score some takedowns, although Ben was able to get back to his feet each time without any issue or damage taken. Edgar once caught Ben in a guillotine, everyone does, but he, like everyone else, was unsuccessful in producing the tap.
Edgar showed some great submission defense himself. He fended off a very deep guillotine choke which Henderson locked in the fourth round.
Edgar also showed off his great chin once again, as he was rocked by Henderson a couple times but just kept coming.This was a very good fight for Edgar.
However, despite all his efforts, he was still beaten by the bigger and stronger Ben Henderson. Perhaps this fight finally proved that Edgar needs to move down to the featherweight division.
4. Mark Hunt (Heavyweight) B+
Mark Hunt is now 8-7 in his mixed martial arts career. He has also been a professional boxer and kick boxer. Hunt was not anyone special, due to his poor record, in the heavyweight division coming into this fight.
However, he is now ascending the rankings following a first-round TKO victory over Cheick Kongo, who was streaking before losing at UFC 144. Hunt still needs to develop an all-around game. He may always have a puncher's chance in fights, but it is unlikely he ever becomes a contender in the division.

3. Ben Henderson (Lightweight) A-
Ben Henderson has had a near-perfect run in the UFC. He has run through top contenders Clay Guida and Jim Miller. Now, he has captured the title from Frankie Edgar. His first 12 months in the UFC may be the best in UFC history.
Henderson may not have struck Edgar more in their bout, but his certainly did a lot more damage. Need evidence? Just examine each fighter following the fight.
Henderson showed a lot versatility in his striking. One knock on him though, may of been his propensity to throw body kicks which Edgar was able to catch. Edgar caught a large number of kicks (Joe Rogan did correctly point out that each catch came after the kick landed, thus the kick still caused damage).
Henderson did learn to counter this, though, as Edgar caught his kick, Ben would use this opportunity to shower Edgar with punches. Essentially, Henderson's caught leg became a unique variation of the clinch and Henderson was able to use the close quarters to his advantage.
Henderson also showed to be the superior wrestler. Edgar was able to take him down, especially early in the fight, but each time Henderson quickly escaped back to his feet.
Conversely, when Henderson took the fight to the mat later on, he was able to control Frankie more effectively.
It would not have been a Ben Henderson fight if there was not an impressive submission escape.
Although, it was Frankie who escaped from a much tighter guillotine choke in the fourth round, spoiling Henderson's attempt to finish the fight.
Henderson showed off a very good chin. Edgar scored many strikes on him and caught him on the chin a couple times, but Henderson did not seem effected at all, just shrugging them off.
Henderson's composure was terrific throughout the fight, it is one of his greatest attributes. He is always calm and collected, calculating his next move and fights very mistake-free.
The biggest moment of the fight was Henderson's perfectly executed up-kick while Edgar was trying to swarm him on the ground. Henderson was also able to reverse Edgar on the ground in impressive fashion, proving he has the ability to be flashy at times.
Overall, this was a near-perfect performance from Henderson. Once again, the only knock on him could be his inability to finish. Henderson could be the very best lightweight champion of all time before his reign is done.
There are many options available to Henderson. If Edgar remains in the lightweight division then he will receive a rematch. Anthony Pettis also would like a second bout with Henderson, but more on that in a few paragraphs.
Finally, the winner of the UFC on FOX 3 main event: Nate Diaz vs. Jim Miller will be worthy of a title shot. Although, it would be difficult to justify Miller receiving a title shot just a year after being demolished by Henderson and only winning two bouts since that loss.
Gray Maynard may also be an option if he picks up a victory sometime in the near future.
2. Issei Tamura (Featherweight) A-
Issei Tamura was a late replacement for Leonard Garcia. However, he was every bit as exciting. Tamura was in control the entire fight, pressuring Zhang and dominating in all areas.
Early in the second, Tamura landed a punch perfectly and put Zhang out. Tamura was fighting one of the very worst featherweights in the UFC. He will likely receive another low-ranked in his next UFC bout.  
1. Anthony Pettis (Lightweight) A
Pettis may not have the lightweight belt, but he was the most impressive performer of the night.
Coming into his bout with Joe Lauzon, Anthony Pettis had gone 1-1 in the octagon. His only win came against Jeremy Stephens. So, Pettis came in looking to prove a lot in his fight with against fringe top ten lightweight, Lauzon.
It did not take long, as Pettis scored an early knockout with a perfectly landed high kick. Pettis showed that his strikes are not just flashy and glitzy, but they also pack a wallop and are capable of knocking guys out.
Pettis made no secret that he wanted to face Henderson and once again take his title again. However, Pettis is now only 2-1 in the UFC and lost his debut to Clay Guida, who Henderson defeated decisively. So, Pettis will likely be required to capture another victory before staking claim to title shot.
Some options are: Gray Maynard, Clay Guida (although both are coming off loses), Frankie Edgar (although unlikely) or the winner of Diaz/Miller (if Frankie is given a second shot at Henderson), perhaps even the Diaz/Miller loser would be a match for Pettis (if the winner of that fight were to receive a title shot).
That is my evaluation of the event that was, UFC 144, let me know what you think in the comments section. Please allow your discrepancies be heard. Let me know which grades and evaluations you agree with and which you think I am way off on, or even just a little off on.