NHL Trade Deadline 2012: Analysis of the Colorado Avalanche Trade
February 28, 2012

Rich Lam/Getty Images
The Colorado Avalanche have been frequent participants in the pageantry of the NHL trade deadline and this season is no different.
Today's move definitely lacked the bang of some of the big trades of the past, but it will have an affect on the team nonetheless.
The Avalanche sent Daniel Winnik, T.J. Galiardi and a seventh-round draft pick to the San Jose Sharks in exchange for Jamie McGinn and prospects Michael Sgarbossa and Mike Connolly.
My initial reaction to the trade is that I wasn't terribly happy. Daniel Winnik and T.J. Galiardi are both hard-working players that can really get the team energized.
Galiardi, when at his best, is one of the most agitating players in the game and that is one reason that the Avalanche fans like him so much.
Winnik has played great defensively for the Avalanche since joining the team and has been a huge presence on the penalty kill. 
Some Avalanche players are going to have to step up since both of these guys logged a lot of penalty-kill time.
When looking a bit more at the trade, it makes sense why the deal was made.
Galiardi has had a decent year this season, but he's been inconsistent and hasn't really been productive offensively.
He's gotten a bit into his agitator mode but just couldn't get things going enough to keep himself out of Joe Sacco's doghouse for the long-term. 
A change of scenery will likely be very good for Galiardi.
Daniel Winnik is probably the bigger loss for the Avalanche simply because of how good he is on the penalty kill, but the Avalanche are clearly feeling confident about their roster defensively to let him go.
Winnik also hasn't put up great numbers, though his role is not one that leads to a lot of goals.
The biggest interest lies with the players that the Avalanche received from San Jose.
Jamie McGinn fits along the same lines that Steve Downie did when he came over from Tampa Bay.
A gritty, physical player that can also produce a bit on the offensive side of the game. Where McGinn will fit in the lineup is yet to be determined, but if McGinn can have the same kind of impact Downie has, then there is a lot of positive to look for.
Mike Connolly and Michael Sgarbossa are very interesting prospects.
Both players are skilled guys that can provide some offense in the future, but both guys are also undersized players.
Connolly stands at a mighty 5'9" and 180 pounds while Sgarbossa stands at just 5'11" and 165 pounds.
Connolly was a runner-up for the Hobey Baker Award (awarded to the NCAA's best hockey player) during his time at Minnesota-Duluth.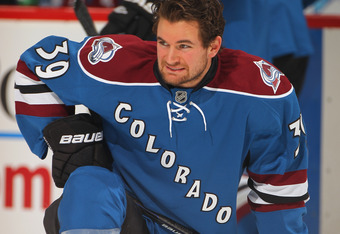 Doug Pensinger/Getty Images
The Avalanche have had success with college players in the past, namely Chris Drury, and Connolly is older than a lot of the young players that come in from the junior Canadian leagues. That added maturity can work in his favor.
Sgarbossa could be a huge find, especially if the kid can put on about 20 pounds of muscle as he grows. 
Sgarbossa currently is second in the OHL with 84 points (41 goals and 43 assists) for the Sudbury Wolves.
If he is able to transfer his game into the NHL, Sgarbossa could become a great young player to have on the roster.
Plus, there's no rush with Sgarbossa because of the solid core of young players the Avalanche currently have.
All in all, while Avalanche fans are no doubt sad to see Galiardi and Winnik go, it appears that the Avalanche got some very good value back.
Everybody wins.